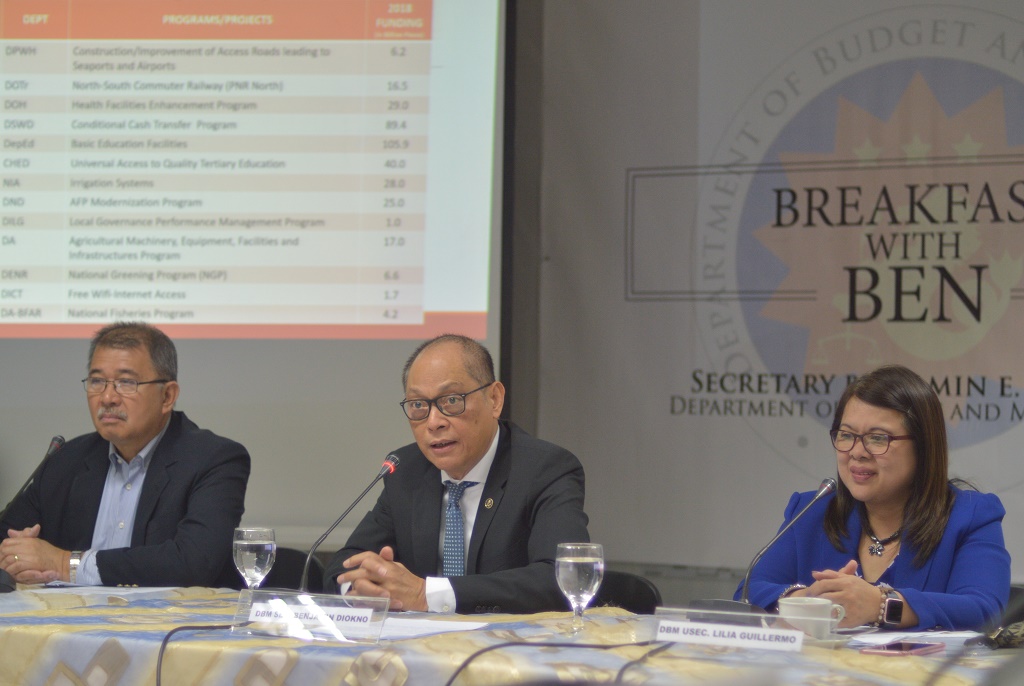 BREAKFAST WITH BEN: Photo from L-R: DOST Secretary Fortunato dela Pena, DBM Secretary Benjamin Diokno, DBM Undersecretary Lilia Guillermo. (

March 7, 2018

)
The Department of Budget and Management (DBM) and Department of Science and Technology (DOST) are collaborating in a program that aims to monitor the status and speed of implementation of government projects, especially those with high value. The program is dubbed as Project DIME, or "Digital Imaging for Monitoring and Evaluation."
Various technologies and expertise on data acquisition developed and acquired by DOST will be used in the program, including Light Detection and Ranging (LIDAR), Open Roads Platform and Geostore, and Geotagging. Satellites and drones will also be used in the program to cover areas which cannot be monitored through LIDAR.
In 2017, DBM and DOST began an initial monitoring of sample projects including DENR's National Greening Program, NIA's National/Communal Irrigation Systems, and DOH's Health Facilities Enhancement Program.
Findings from the monitoring period allowed the DBM to evaluate the status of the projects and to come up with a recommendation to continue or discontinue the funding of a project as well as other actions for the improvement of the project.
DBM has selected the programs and projects that will start to be monitored through Project DIME. These include DPWH's construction/improvement of access roads leading to seaports and airports, DoTR's North-South Commuter Railway (PNR North), DSWD's Conditional Cash Transfer Program, DepEd's Basic Education Facilities, CHED's Universal Access to Quality Tertiary Education, DND's AFP Modernization Program, DILG's Local Governance Performance Management Program, DA's Agricultural Machinery, Equipment, Facilities, and Infrastructures Program, DICT's Free Wi-Fi Internet Access, and DA-BFAR's National Fisheries Program.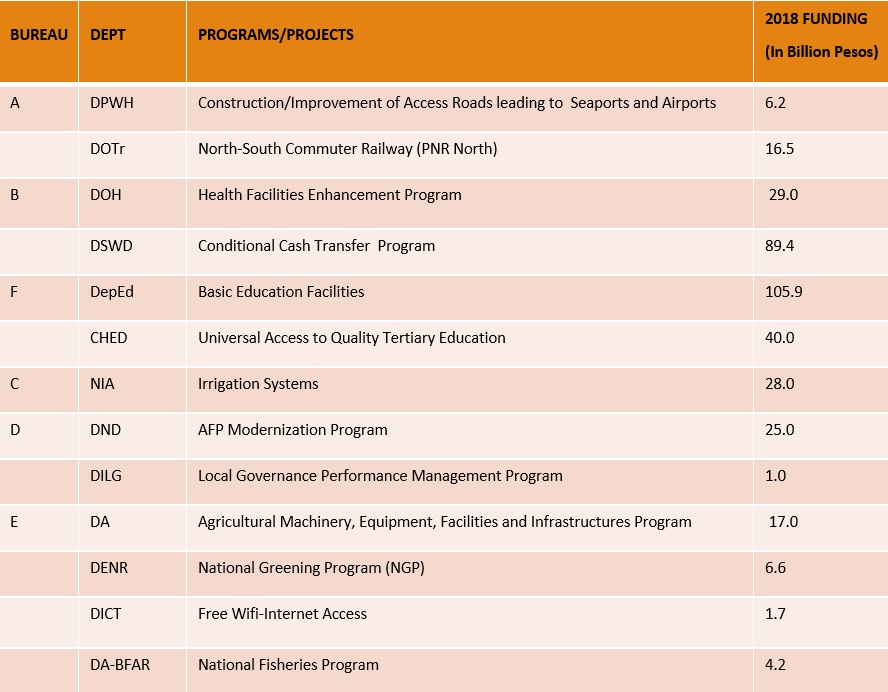 List of Suggested/Selected Programs/Projects to be Monitored
Monitoring of DOH's Health Facilities Enhancement Program, DENR's National Greening Program, and NIA's National/Communal Irrigation Systems will also be continued.
DBM will add other projects to be monitored in the future, such as those being implemented in disaster-prone areas.
"Project DIME will help ensure that every peso allocated to government programs and projects will be used efficiently and effectively," Budget and Management Secretary Benjamin Diokno said.
For more information, visit www.dbm.gov.ph. Follow @DBMgovph on Facebook and Twitter for updates.
(30)
For inquiries, further questions and requests for interview, please contact Marianne Ongjuco:
Email:

This email address is being protected from spambots. You need JavaScript enabled to view it.


Mobile: +63918-944-8109