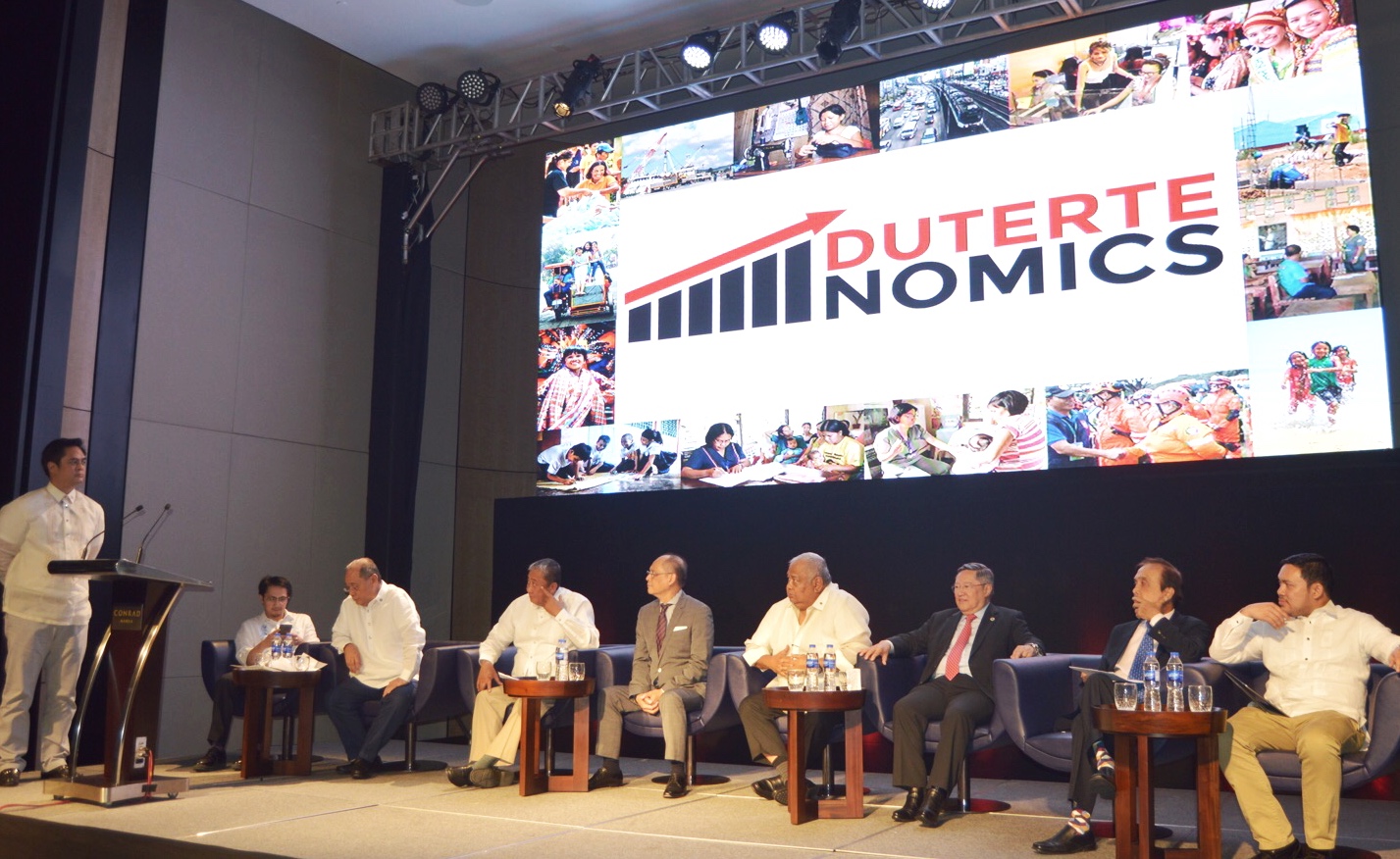 Department of Budget and Management Secretary Benjamin E. Diokno joined other cabinet members and leaders today in the "Dutertenomics" Forum organized by the Department of Finance (DOF) and the Presidential Communications Office (PCOO).
The Dutertenomics Forum, held at the Conrad Hotel in Pasay City, was attended by representatives of domestic and foreign business chambers, investors, bankers, entrepreneurs, attaches of development partners, and government officials.
Besides the budget chief, the forum also featured Finance Secretary Carlos Dominguez III, who delivered the keynote address, NEDA Director-General Ernesto Pernia, Transportation Secretary Arthur Tugade, Presidential Spokesperson Ernesto Abella, Executive Secretary Salvador Medialdea, Communications Secretary Martin Andanar, DPWH Secretary Mark Villar, BCDA President Vince Dizon, business leader John Gaisano, and Professor Richard Heydarian. The cabinet members and leaders presented on various topics with the goal of increasing the public's awareness of and encouraging support for President Rodrigo Duterte's economic and development blueprint for the Philippines, especifically the infrastructure program dubbed as "Build, Build, Build" program.
Focusing on fiscal and budgetary reforms, Secretary Diokno discussed the government's strategy for financing the infrastructure and social spending program of the Duterte administration.
In his presentation, he affirmed that the Philippines has the "necessary conditions and the right formula to successfully transform the economy into the Asian tiger it is capable of becoming."
One of the highlights of the discussion was the spending program for the Duterte administration's infrastructure projects which have been allocated an amount of P847 billion this year, or 5.3 percent of GDP. In the next six years, around P8 to 9 trillion is planned to be spent by the government solely on infrastructure projects, according to the budget chief.
He also reiterated the government's plan to reduce poverty from 21.6 percent in 2015 to 14 percent, reach a GDP growth of 7 to 8 percent in the medium-term, and advance the Philippines into a high-middle income country.
To achieve these goals, the government will be guided by the Philippine Development Plan and the 0+10 Point Socioeconomic Agenda of the Duterte Administration, said the secretary.
The government is implementing an expansionary fiscal policy in order to finance the country's bold spending program, increasing the deficit from 2 to 3 percent of GDP and plans sustain such level until 2022, with 80 percent of borrowings from domestic sources and 20 percent from foreign.
Secretary Diokno took the forum as an opportunity to talk about the DOF's proposed measures that will improve tax administration and increase the country's revenue, as well as the Budget Reform Bill which will "institutionalize budget data disclosure, civil society participation in budgeting, and all the necessary ingredients of a modern budget system."
For the complete transcript of Secretary Diokno's presentation,visit http://www.dbm.gov.ph/?page_id=19840. For more information on the Department of Budget and Management, visit www.dbm.gov.ph.