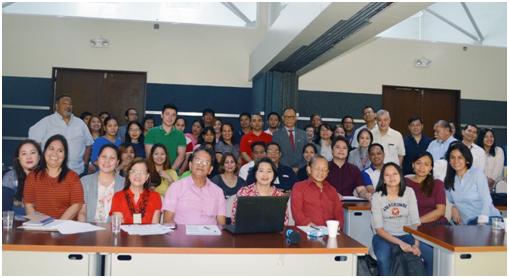 On December 1, 2017, the Procurement Service (PS), an attached agency of the Department of Budget and Management (DBM), gathered its existing partner-merchants in a forum aimed to discuss the procurement for 2018, system modernization, and changes in policies and procedures. The forum was held at the PS Complex, Paco, Manila.
The attendees were welcomed by PS-PhilGEPS Executive Director Bingle Gutierrez who expressed her appreciation of the partner-merchants' continued participation in the government's procurement activities.
Executive Director Gutierrez also emphasized in her opening remarks her confidence in the current leadership and her optimism in the modernization of the agency's systems and procedures.
"Now that [DBM] Secretary [Benjamin] Diokno is at the helm of Procurement, we can expect that there will be many reforms," said Executive Director Gutierrez.
The Budget chief afterwards delivered a brief keynote address that highlighted the importance of an effective and determined partnership between the government and the merchants.
"Partnership with a high level of purposeful cooperation is what we all should aim for – mutual commitment to successful procurement projects in the future and collaborative relationships that are devoid of conflicts and complications," said Secretary Diokno.
The PS, in collaboration with the Government Procurement Policy Board – Technical Service Office (GPPB-TSO), also conducted short lectures on Ordering and Framework Agreements, as well as on Green Public Procurement.
A panel discussion was held after the lectures to provide clarification for issues and concerns raised by the partner-merchants.
For more information, visit www.dbm.gov.ph and follow @DBMgovph on Facebook and Twitter.