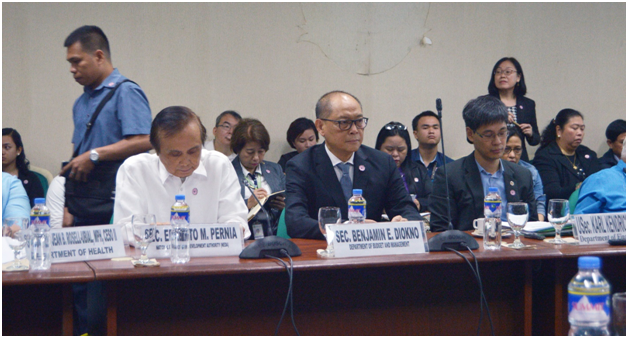 On September 13, DBM Secretary Benjamin Diokno joined NEDA Secretary Ernesto Pernia, DOH Secretary Paulyn Ubial, and DOF Undersecretary Karl Chua for the Synthesis Hearing on Tax Reform Package 1.
After Undersecretary Chua opened the discussion, the Secretaries were asked to give their remarks on the program.
"I fully support the tax reform program. I'm afraid that failure to pass the TRAIN will give the wrong message to not just the domestic community but also the international community that a President as popular as President Duterte, with a trust rating of 82%, cannot pass such a program," Secretary Diokno said.
In the midst of the discussion on introducing cosmetic tax to the package, Secretary Diokno related his own experience from preparing the 1986 Tax Reform Program.
"My experience in reforming the tax system is to focus on fewer measures with the most yield. In other words, let's not clutter with the overall reform," he said.
As his final remarks, the budget chief urged the legislators and the public to "look at how much we will benefit". Some of the benefits he enumerated include "a tax break for 99% of Filipinos, less traffic for all, better schools for our kids, and a safer, more livable country."
"This will benefit all of us," he concluded.