National government disbursements accelerated sharply this September, growing by a hefty rate of 39 percent, the fastest rate registered this year, data from the Department of Budget and Management (DBM) showed.
Government spending reached a total of PhP415.1 billion this September, up by PhP116.5 billion from last year's level of PhP298.6 billion.
The growth of government disbursements this September was mainly driven by an upsurge in disbursements in Capital Outlays (CO), particularly in Infrastructure/Other CO spending, indicating that the government has broken through the effects of the delayed passage of the FY 2019 national budget and the election ban on infrastructure spending which weighed down on economic growth during the first half of the fiscal year.
Infrastructure/Other CO spending reached PhP100.3 billion this September, corresponding to a growth rate of 53.9 percent (or an increase of PhP35.1 billion) from last year's level of PhP65.2 billion. This growth, also the fastest this year for the category, is attributed to the full and partial completion of projects of the Department of Public Works and Highways, such as the construction, upgrading, repair, and rehabilitation of roads, bridges, and flood control structures; the purchase of new military equipment under the Revised Armed Forces of the Philippines Modernization Program of the Department of National Defense; and the construction of the new Supreme Court building of the Judiciary.
Other drivers of growth in national government spending include increases in subsidies to Government-Owned and -Controlled Corporations (179.3 percent growth), Maintenance and Other Operating Expenses (26.1 percent growth), Personnel Services expenditures (15 percent growth), and combined allotment and capital transfers to local government units (27 percent growth).
The national government's disbursement performance this September brings cumulative spending from January to September to PhP2.6 trillion, which is only 2.1 percent short of the disbursement program for the period. In addition, the year-to-date spending for this year is 5.5 percent higher than the PhP2.5 trillion in government disbursements for the same period last year.
Following this latest development, the DBM is optimistic that the national government will be able to meet its catch-up spending program before the end of the fiscal year in support of the administration's growth targets.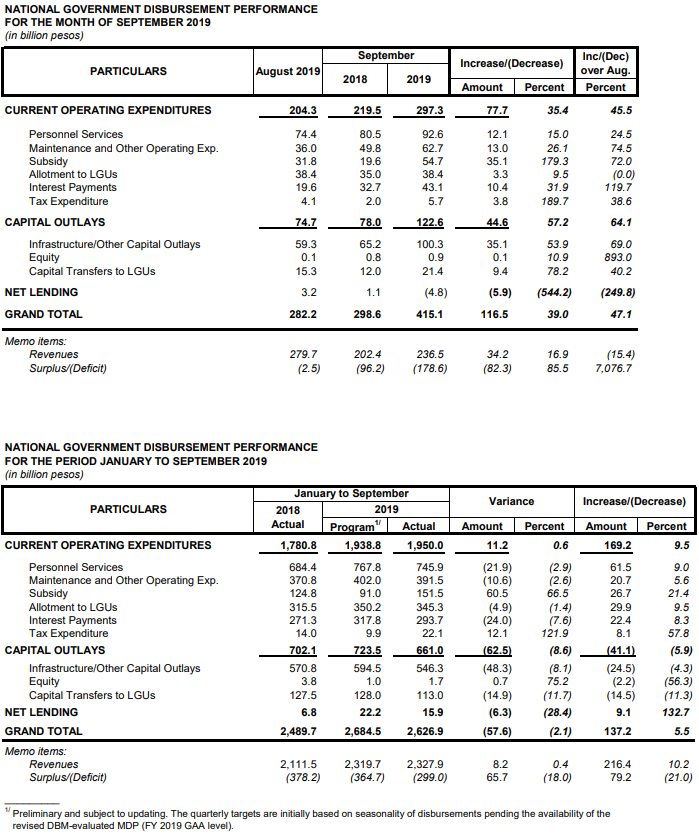 (30)
For inquiries, further questions and requests for interview, please contact Hazel Intia.
Email:

This email address is being protected from spambots. You need JavaScript enabled to view it.


Telephone: (+632)-657-3300 local 2601