Government spending continues to outpace the fiscal program as of the end of the third quarter of 2018, buoyed by higher infrastructure spending with Build Build Build. Actual spending by the national government stood at PhP 2.490 trillion from January to September of this year, higher by PhP 62.6 billion or 2.6% compared to the PhP 2.427 trillion program. Year-on-year, total disbursements are also up by PhP 475.2 billion or 23.6%.
The improved rate of government spending indicates the quicker delivery of social programs in health, education, and poverty-reduction, and the faster implementation and completion of infrastructure projects like roads, bridges, and public transport systems.
"We are glad to report the strong momentum of government spending in the first nine months of the year," said Budget and Management Secretary Benjamin E. Diokno. "Underspending, a weakness of the bureaucracy for as long as I can remember, has virtually been eradicated. Reforms like careful budget preparation, timely implementation of line agencies, and the gradual shift to an annual cash-based budget system have made this possible," he added.
Capital spending remains to be the primary driver of government disbursements with the swifter implementation of infrastructure projects by the Department of Public Works and Highways (DPWH) and other infrastructure agencies. In the first nine months of 2018, actual Infrastructure and Other Capital Outlays reached PhP 570.8 billion, above the program by PhP 38.2 billion or 7.2%. Compared to the same period last year, infrastructure spending is higher by PhP 179.6 billion or 45.9%.
"This is proof that the Build Build Build program is firing on all cylinders," Secretary Diokno noted.
For September 2018, major items under infrastructure spending include road infrastructure projects of the DPWH (construction of access roads to airports, seaports and tourist destinations; construction of bypass/diversion roads, road improvement/widening; rehabilitation/reconstruction/ upgrading of damaged paved national roads; preventive maintenance; flood control and drainage improvement works, construction of storm surge and slope protection), as well as local infrastructure projects (e.g., shelter or housing, water and electricity) under the Bangsamoro Regional Inclusive Development for Growth and Empowerment (BRIDGE) program of the Autonomous Region in Muslim Mindanao (ARMM).
Expenditures on Personnel Services also boosted spending as it amounted to PhP 684.4 billion in the first nine months of the year. This is higher by PhP 20.3 billion or 3.1% compared to the program due to the faster rate in the creation and filling of positions in the Department of Education (DepEd). On an annual basis, spending on Personnel Services has increased by PhP 125.3 billion or 22.4% due to the higher pay for civilian government employees and military and uniformed personnel.
The third quarter spending data caps the favoral fiscal performance of the Philippines so far in 2018. Actual revenue collections reached PhP 2.112 trillion in the first three quarters of the year, exceeding the program by PhP 81.0 billion or 4.0%. Meanwhile, the deficit registered at PhP 378.2 billion, below the program by PhP 18.4 billion or 4.6%.
"The reforms on the fiscal sector are gradually taking hold. Underspending in the first nine months of the year reached as high as 15.8% and 14.5% in 2014 and 2015, respectively. We have turned it around this year as we are even above the program by 2.6%," said Secretary Diokno. "Revenue collections and the deficit have also churned out favorable numbers, indicating the robust health of our public finances," he added.
"Government spending will continue to be a source of strength for the Philippine economy and will support the Duterte administration's objectives of sustained economic growth and rapid poverty reduction," he concluded.
(30)
FIGURE 1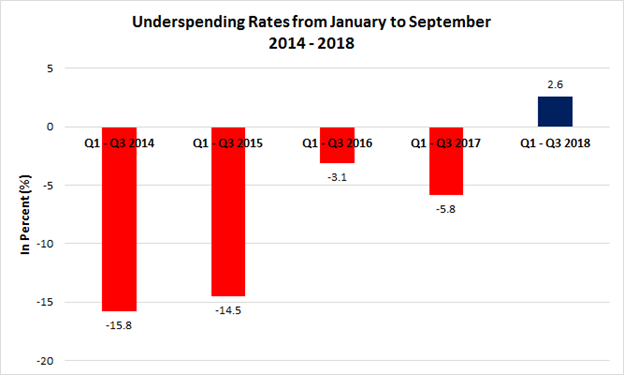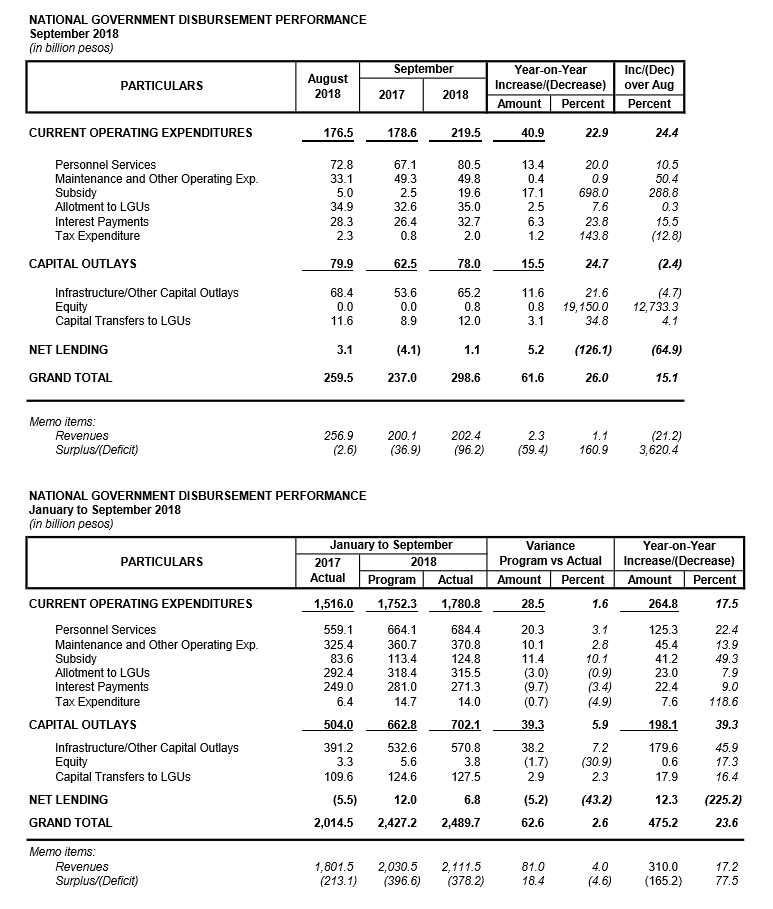 For inquiries, further questions and requests for interview, please contact Marianne Ongjuco:
Email:

This email address is being protected from spambots. You need JavaScript enabled to view it.


Mobile: +63918-944-8109