"We are on track with the implementation of the 2018 Budget," said Budget and Management Secretary Benjamin E. Diokno. In its Statement of Appropriations, Allotments, Obligations, Disbursements and Balances (SAAODB), the Department of Budget and Management (DBM) reported the status of available public funds as of the end of the third quarter of the year. This is in line with the government's thrust for transparency and accountability in the allocation and use of public resources.
"We wish to update our people on how we are managing their money as a commitment to integrity and openness," said Secretary Diokno. "We do not only aim for efficiency, but also transparency in the budget process," the Budget Chief added.
From January to September 2018, total available appropriations amounted to PhP 3.799 trillion. Appropriations are funds authorized by law for payment out of the government's coffers. These include: agency-specific funds authorized by the 2018 General Appropriations Act (GAA); continuing appropriations from the 2017 Budget, particularly for the Revised Armed Forces of the Philippines (AFP) Modernization Program under the Department of National Defense (DND); and appropriations for Special Purpose Funds (SPFs), Automatic and Unprogrammed Appropriations.
Meanwhile, allotment releases in the same period reached PhP 3.542 trillion, inclusive of the PhP 16.6 billion release sourced from 2017 continuing appropriations. Allotment issuances by the DBM allow line agencies to incur obligations for the implementation of their programs and projects.
Out of the PhP 3.542 trillion allotments, PhP 2.327 trillion have been obligated as of the end of the third quarter, yielding an obligation rate of 66%. This is higher than the 64% obligation rate recorded in the comparable period in 2017. Obligations refer to liabilities legally incurred by agencies to be paid for either immediately or in the future.
In terms of disbursements, or the payment of obligations, it has reached PhP 1.717 trillion or a disbursement rate of 74%. This is likewise higher than the 66% disbursement rate recorded in the same period in 2017.
To date, 280 of the 308 agencies have submitted their respective SAAODB reports. 7 have filed partial submissions, while 21 agencies have yet to submit. The DBM will continue to update the public on the SAAODB as of the third quarter of the year until November 30, 2018.
"So far, we are satisfied with the pace of implementation of the National Budget," said Secretary Diokno. "We will continue to monitor the health of our finances and ensure that the money is used for the intended purpose, and that is for the welfare of all Filipinos," he concluded.
(30)
Summary of SAAODB as of September 30, 2018 based on agencies' submission as of November 7, 2018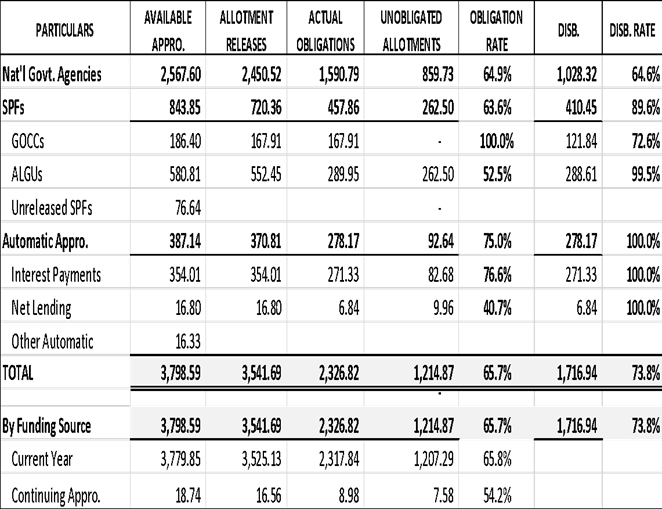 For inquiries, further questions and requests for interview, please contact Marianne Ongjuco:
Email:

This email address is being protected from spambots. You need JavaScript enabled to view it.


Mobile: +63918-944-8109