Press Releases
The Philippine Center for Economic Development (PCED) of the University of the Philippines School of Economics (UPSE), and the Department of Budget and Management (DBM) are once again accepting applications to the PCED-DBM Careership Program in Development Economics.
The Program is open to college graduates aged 24 years or younger, who would like to build a career in development economics and public policy, and with a desire to serve in the government. The Program is now also accepting DBM staff who are 30 years old or younger, with a permanent employment status, and who have at least two years of continuous service to the Department. Successful applicants will be enrolled in the Masters in Development Economics Program of the UPSE.
As scholars, the participants in the program will not pay any tuition or any kind of fee as these will be shouldered by DBM.
Recognized by the Civil Service Commission as a model for agency succession planning, the PCED-DBM Careership Program aims to sustain the production of technically proficient government staff with core competence in undertaking economic analysis and public policy by engaging outstanding educational institutions and training capable scholars for future work at the Department.
Specifically, it will train scholars in understanding the basic principles of economics and build a core competence in quantitative methods, especially as applied to public economics, public finance, budget formulation, and management.
In the present design of the Program, the scholars undergo a refresher course on economic theory and policy analysis, then afterwards, through a meticulous training program composed of no less than 33 units.
Importance of adequate technical staff in government
The government's technical employees are regarded as the "backbone" of the bureaucracy - without them, government agencies are weak and unable to deliver quality services and goods to citizens. DBM understands the importance of keeping technical positions manned and at the same time, training individuals in order to keep a steady influx of capable technical workers, thus the creation of the Careership Program.
Furthermore, the presence of government workers empowered by excellent training helps eliminate corruption, because with strong, competent, and confident employees guarding government processes, illegal and unethical transactions are more difficult to accomplish.
Creation of the Careership Program
The Careership Program was initiated by DBM Secretary Benjamin E. Diokno and implemented by the UPSE, with assistance from PCED and DBM. It can be compared to the NEDA program which began over five decades ago and was designed to produce a steady flow of graduates into NEDA and other government agencies
In July 2017, the first batch of scholars for the PCED-DBM Careership Program in Development Economics were welcomed in a ceremony at the Marble Hall, Ayuntamiento, Bureau of the Treasury, by Secretary Diokno and other Senior Officials of DBM.
DBM selected UPSE for its current position as a CHED Center of Excellence and as one of the top schools for graduate studies in Economics in the Philippines. In addition, UPSE has established itself as a feeder school for the national government, having trained numerous graduates who became leaders in the field.
Fresh college graduates who are interested in applying for the program must hold a bachelor's degree in any social science course.
Applicants must also have graduated with Latin Honors or has a Civil Service Commission Professional Eligibility to qualify. They will undergo a screening process which includes an entrance exam and interviews with PCED and DBM.
Benefits for successful applicants include full-time study, full tuition and miscellaneous fees, salaries and other compensation, and automatic assignment to the position Budget and Management Specialist I with Salary Grade 13 at DBM.
Meanwhile, DBM personnel who wish to enter the Program must be a graduate of any social science course and preferably has not yet earned a master's degree. The applicant must obtain a nomination from the Bureau/Service/Office head and have an Average Performance Rating of not lower than 3.5 for the last two (2) rating periods.
In addition, the applicant must have no pending administrative case, or a service obligation and application to any other scholarship. He or she must also have not availed of any local or foreign scholarship grant.
Successful applicants will likewise be granted full-time study, full tuition and other miscellaneous fees, and salaries and other compensation. For employees at entry-level positions, they will be automatically considered for a promotion after completing the Program.
***
For more information about the PCED-DBM Careership Program, visit www.dbm.gov.ph, or follow @DBMgovph on Facebook and Twitter. Interested applicants may contact the DBM Administrative Service - Human Resource Development Division at telephone numbers (+632) 657-3300 local 3112/2664 and (+632) 735-4807, or email at This email address is being protected from spambots. You need JavaScript enabled to view it..
(30)
For inquiries, further questions and requests for interview, please contact:
Email:

This email address is being protected from spambots. You need JavaScript enabled to view it.


Mobile: +63918-944-8109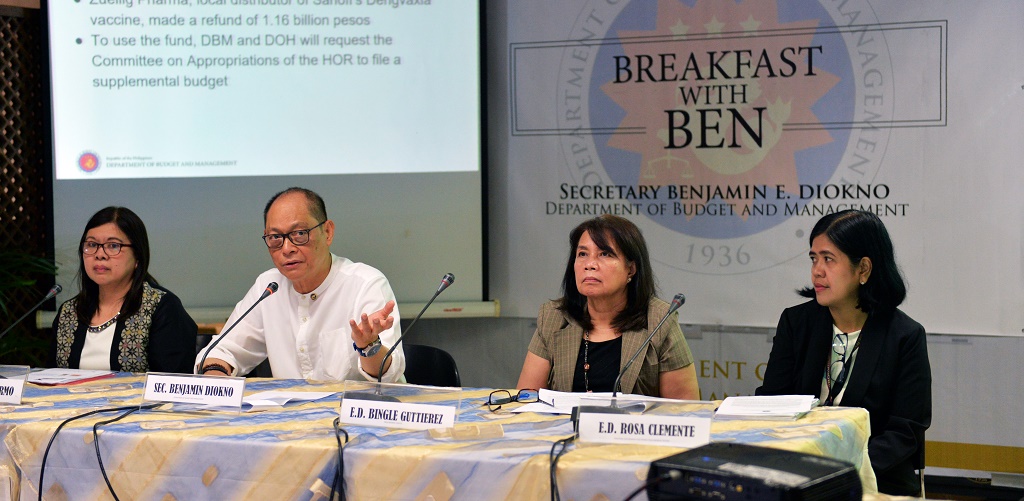 PHOTO FROM L-R: DBM Undersecretary Lilia Guillermo, DBM Secretary Benjamin Diokno, PS Executive Director Bingle Gutierrez and PhilGEPS Executive Director Rosa Maria Clemente. (March 21, 2018)
The Department of Budget and Management (DBM) is set to enhance the government's electronic procurement portal with the launch of the Philippine Government Electronic Procurement System (PhilGEPS) version 1.5. The existing online procurement channel will be updated with more sophisticated software to increase reliability and performance. This is in response to the increased traffic with the system, which has caused slowdowns and difficulties on the part of government agencies and merchants. PhilGEPS 1.5 will be launched by the DBM, in coordination with the Procurement Service (PS), on March 26, 2018.
"The launch of PhilGEPS 1.5 is in line with our push for a more streamlined and efficient public procurement system," said DBM Secretary Benjamin Diokno. "The government must keep up with the increasing demands of line agencies and merchants in the conduct of their procurement activities," he added. "One way to secure timely and transparent use of public funds, especially with our huge P3.8 trillion budget, is by having a good electronic procurement system," the Budget Chief explained.
PhilGEPS 1.5 will provide improved services that allow government agencies to post their bids and awards information online. At the same time, the e-portal enables registered contractors, merchants, and consultants to participate in the procurement of goods, civil works and consulting services.
The migration process and functional testing on the system has already been completed. A parallel run of the existing system and PhilGEPS 1.5 is also being conducted to ensure the readiness of the upgraded portal before its official launch. Moreover, the DBM is conducting performance tests on the new system to ensure its capacity to handle additional concurrent users and verify its accessibility to procuring entities and suppliers.
Transition to Modern Electronic Procurement System
PhilGEPS 1.5 will replace the existing version of the government's electronic portal until such time that a modernized GEPS is up and running. The transition to a modern GEPS is projected to be completed by 2019.
The modern GEPS project was awarded to the joint venture of Nextix and Nextenders last December 29, 2017. Project implementation started in February 6, 2018 and is set to be completed by June 2019.
Aside from the existing features of PhilGEPS, the modernized GEPS will incorporate the Annual Procurement Plan (APP) of procuring entities. An e-Catalogue will also be made available to procuring entities and merchants to facilitate requests for quotations, purchase orders, and other transactions. Likewise, online bid submission and payment will be made possible in the modern GEPS.
Other innovations to look forward to include the e-Reverse Auction where merchants will be allowed to offer their items and try to outbid one another, as well as data analytics to generate statistical procurement reports.
Other Efforts to Enhance Procurement
The DBM has made various initiatives to improve public procurement since the Duterte Administration took office. On the policy front, the Government Procurement Policy Board (GPPB) issued the revised Implementing Rules and Regulations (IRR) of the Government Procurement Reform Law (RA 9184) in 2016. This was made effective on October 28, 2016.
The revised IRR has quickened the procurement process, made it less vulnerable to arbitrary delays, and streamlined the documentary requirements for stakeholders without sacrificing the integrity of public procurement.
In terms of capacity development, the Technical Support Office (TSO) of the GPPB has also entered into partnerships with various State Universities and Colleges (SUCs) for the procurement professionalization program. To date, ten SUCs all over the country are set to offer the program to capacitate public procurement practitioners.
****
For more information, visit www.dbm.gov.ph. For regular updates, follow the official Facebook and Twitter account of DBM: @DBMgovph.
(30)
For inquiries, further questions and requests for interview, please contact:
Email:

This email address is being protected from spambots. You need JavaScript enabled to view it.


Mobile: +63918-944-8109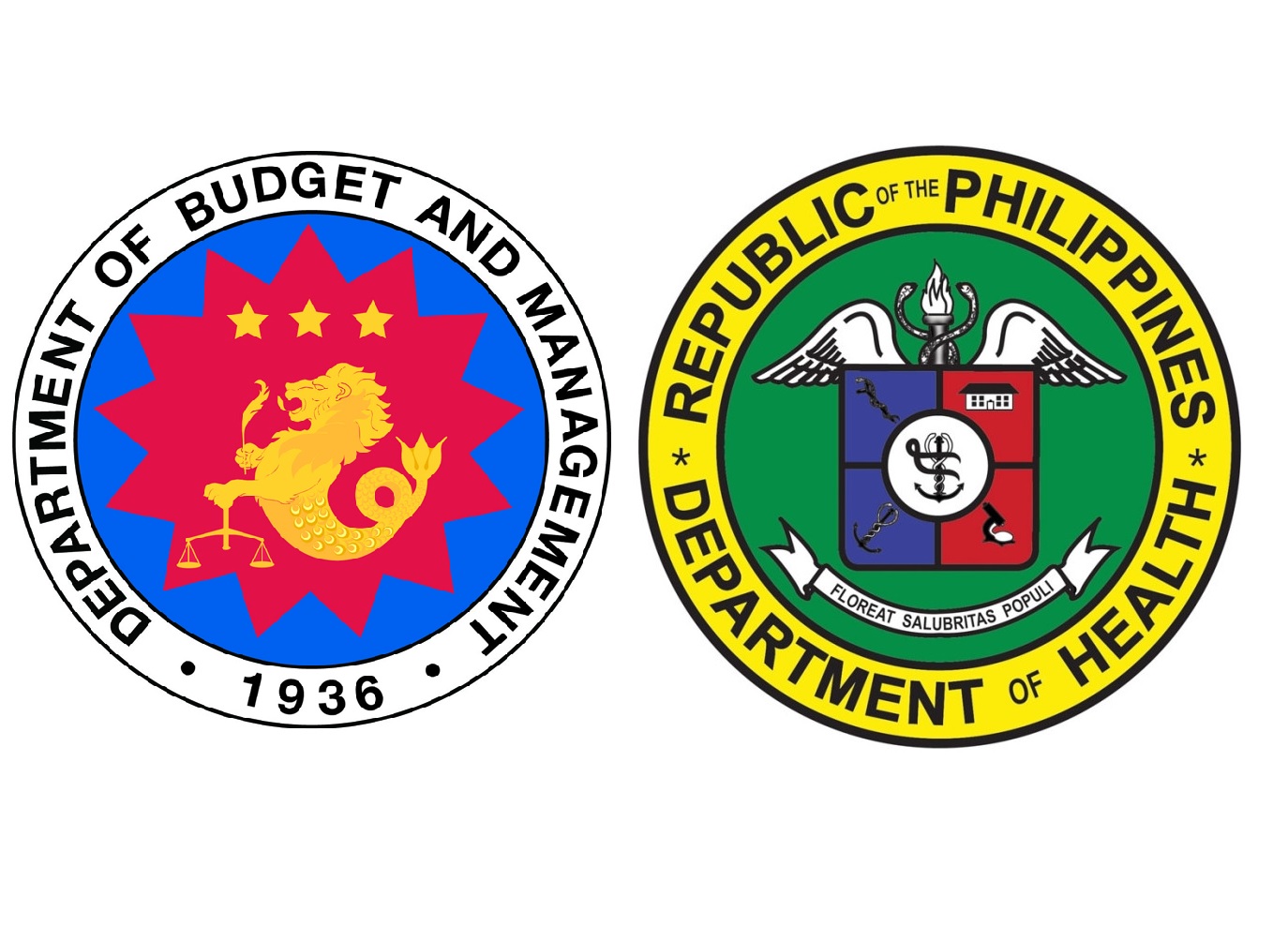 The Department of Budget and Management (DBM), in coordination with the Department of Health (DOH), will request the Committee on Appropriations of the House of Representatives to file a supplemental budget, which will fund the requirements for the implementation of the Assistance to Dengvaxia Vaccinees.
The supplemental budget would allow the utilization of around PhP 1.16 Billion worth of refund from Zuellig Pharma, the local distributor of Sanofi Pasteur. The refund was made by the pharmaceutical company to cover the amount of the unused Dengvaxia vaccines.
The Assistance to Dengvaxia Vaccinees intends to address the needs of 870,000 Dengvaxia recipients. This shall cover the medical assistance program for hospitalization, as well as the outpatient health services for Dengvaxia vaccinees. The program also includes the deployment of Nurse-Health Education and Promotion Officers (HEPOs), and the distribution of medical kits to those vaccinated with Dengvaxia.
Specifically, the program will address the needs of Dengvaxia recipients through the following interventions.
The outpatient care package, worth PhP 500 per vaccinee, includes a Complete Blood Count (CBC), NS1 antigen test, urinalysis, medications and other laboratory tests as needed. Meanwhile, the medical kits, worth PhP 300 per vaccinee, includes one thermometer, one mosquito repellent, two bottles of multivitamins, and one package bag.
****
For more information, visit www.dbm.gov.ph. For regular updates, follow the official Facebook and Twitter account of DBM: @DBMgovph.
(30)
For inquiries, further questions and requests for interview, please contact:
Email:

This email address is being protected from spambots. You need JavaScript enabled to view it.


Mobile: +63918-944-8109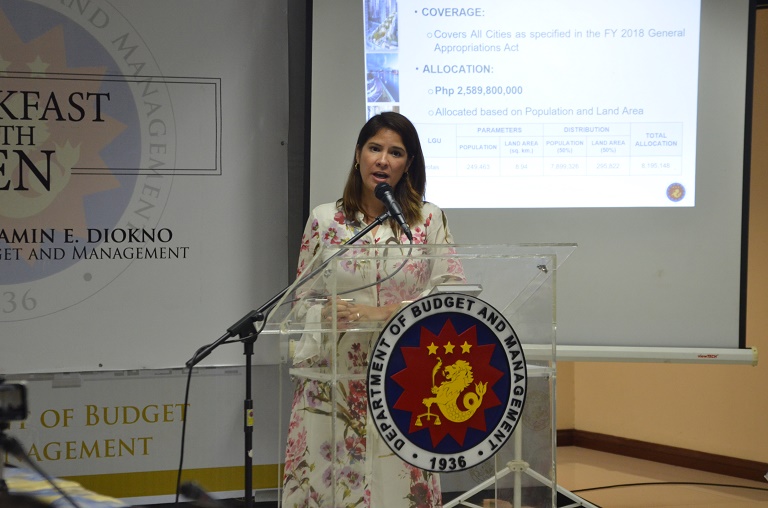 The Department of Budget and Management (DBM) is launching "Green, Green, Green," a unique assistance program that aims to make the country's 145 cities more livable and sustainable through the development of public open spaces. "Green, Green, Green" is a component of the Duterte administration's massive national infrastructure development program, "Build, Build, Build".
P2.5 billion has been appropriated for the program in the 2018 national budget. The allocation for each city was computed based on their respective population counts and land area measurements.
"Green, Green, Green" will help city governments create forest parks, arboretum, and botanical gardens; improve livability of urban areas through various activities and methods such as landscaping, turfing, and tree planting; and transform streetscapes through installation of eco-friendly street furniture, fixtures, and shading.
In addition, the city governments will increase connectivity and accessibility of public open spaces by creating bike lanes and walkways, and enhance sustainability through the construction of green infrastructure like bioswales and pervious surfaces, which aid during rainy season and flooding.
DBM will gather city mayors and two LGU officers from each local government in a technical workshop which will begin on March 15, 2018. Discussions will focus on the importance of establishing and maintaining well-designed public open spaces in an urban area, as well as the best practices and lessons on designing public open spaces in the Philippines.
Award-winning landscape architect and urban planner, Paulo Alcazaren, and landscape architect and UP College of Architecture lecturer, Faith Dumaligan will be the resource speakers for the workshop.
The technical workshop on "Green, Green, Green" will be led by DBM Assistance to Cities Program Manager Julia Nebrija and Local Government and Regional Coordination Bureau Director Leila Magda Rivera.
For more information, read "Livable Cities: DBM launches assistance program for developing vibrant and sustainable public open spaces" (https://goo.gl/ZfVSYQ) or visit www.dbm.gov.ph.
For updates, follow @DBMgovph on Facebook and Twitter.
(30)
DOWNLOAD POWERPOINT PRESENTATION-Green, Green, Green.