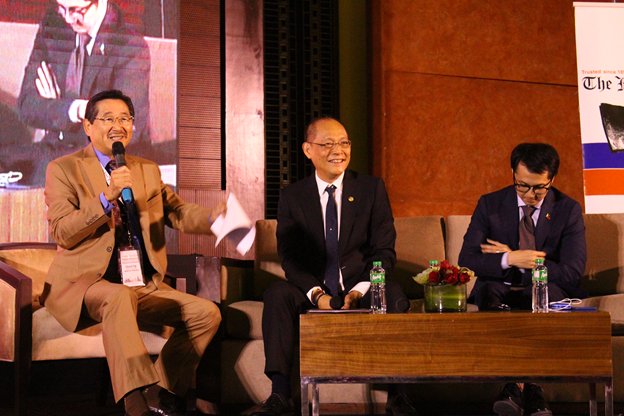 On August 18, 2017, Department of Budget and Management (DBM) Secretary Benjamin E. Diokno discussed to various members of the business community the Duterte Administration's bold plans of ushering in the Golden Age of Infrastructure in the country during the Manila Times 6th Business Forum on Infrastructure held today, August 18, 2017, in Pasay City.
In his speech, Sec. Diokno discussed the infrastructure policy reforms to ensure that the ambitious program, dubbed as "Build Build Build", will be financed and completed most of the major projects within the term of President Duterte.
"From 2017 to 2022, we will spend about P8 to 9 trillion in public infrastructure to ensure that our infrastructure systems are at par with our ASEAN-5 counterparts," said Sec. Diokno.
For this year's infrastructure spending, P858.1 billion, or 5.4 percent of GDP, has been allocated for infrastructure development. Under the expansionary fiscal policy, it will be ramped up reaching as much as 7.3 percent of GDP in 2022. In the proposed 2018 budget, the government set aside 1.1 trillion, equivalent to 6.3% of GDP and is higher by 27.9% compared to the 2017 budget.
Sec. Diokno also stressed that the government have increased the planned deficit from 2 to 3 percent of GDP through the expansionary fiscal policy which would allow the Administration finance the infrastructure program.
"With a higher deficit, the fiscal space has increased from P175 billion in 2018 to P254 billion in 2022. Combined with the Tax Reform Program which would yield additional revenues ranging from P134 billion in 2018 to P270 billion in 2022, the government would be able to spend an additional P309 billion in 2018 and rising up to P524 billion in 2022," he stated.
He also discussed some budget reforms to improve efficiency in spending, fiscal transparency and accountability. Such reforms include the improved planning and budget preparation, the revised IRR of the Procurement Reform Act, enhancing the use of technology for financial management, geo-tagging of projects and the Budget Reform Bill.
Sec. Diokno also pointed out implementation reforms specific to infrastructure. "Some measures that we have undertaken to hasten project roll-out are 24/7 construction, geo-tagging and thegovernment's openness to the "hybrid" PPP setup," he said.
In the panel discussion, Sec. Diokno also explained the positive impact of the implementation of various big-ticket infrastructure projects to the Philippine economy.
In closing, the Budget Secretary is optimistic of "having a better, safer, fairer, more beautiful and more prosperous Philippines".
Other speakers in the forum were BCDA President Vince Dizon, World Bank Philippines Country Director Mara Warwick, Philippine Retirement Authority General Manager Bienvenido Chy, Jones Lang LaSalle Director Shiela Lobien and Penson Company CEO Ricardo Penson.