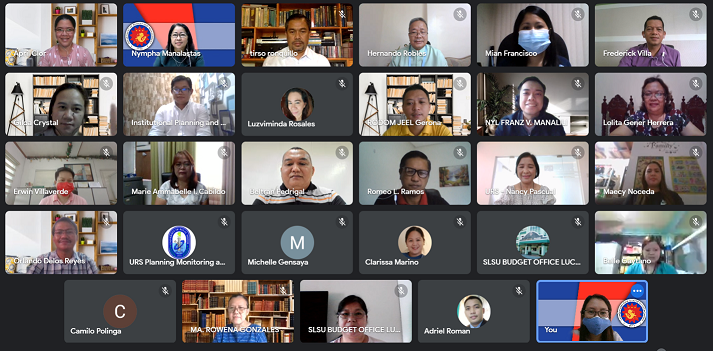 To monitor the implementation of the programs and projects of delivery units in the CALABARZON, and further improve the region's capacity to use their budget, The Department of Budget and Management Regional Office IV-A (DBM RO IV-A) conducted a two-day Full-time Delivery Unit (FDU) Meeting via Google Meet last August 31, 2021 to September 1, 2021.
The meeting was attended by the heads of the decentralized National Government Agencies (NGAs) and State Universities and Colleges (SUCs) in the region together with their respective Budget Officers, Planning Officers and Accountants.
The initiative aims to further strengthen the close collaboration of DBM RO IV-A staff and its client agencies to ensure the full utilization of the agency budget and keep track of the implementation of projects and their compliance with financial requirements, thus guaranteeing the prudent use of government's resources.
DBM RO IV-A OIC-Regional Director Nympha R. Manalastas presided over the meetings. She was assisted by OIC-Assistant Director Maria Rowena P. Gonzales and OIC- Chief Budget and Management Specialists Jacqueline B. Ludovice and April M. Clor with the other technical staff from the two technical divisions.

The participants were updated on the latest DBM-issued guidelines such as the Circular Letter 2021-4 (Processing of Requests for the Release of Funds for the Monetization of Leave Credits in FY 2021), Circular Letter 2021-7 (Guidelines on the Reimbursement of Internet and Mobile Data Subscription Expenses of Government Employees to complement those working from home in view of the Adoption of Alternative Work Arrangements due to the Covid-19 Pandemic), Circular Letter 2021-6 (Recognition, Use and Online Release of Digital SARO), Circular Letter No. 2021-8 (Online Release of Advice of Notice of Cash Allocation Issued), and Budget Circular 2021-1 (Modification of Nurse Positions).
Moreover, Director Manalastas discussed Executive Order No. 138 (Full Devolution of Certain Functions of the Executive Branch to Local Governments, Creation of a Committee on Devolution and for Other Purposes) and its Implementing Rules and Regulations (IRR).
The highlight of the FDU meeting was the presentation of the Agency's FY 2021 1st Semester Physical and Financial Accomplishments. Performances were assessed and measures were recommended to enable the agencies to improve their capacity to utilize funds. Said meeting also provided the venue to remind agencies of the importance of timely submission of required reports.

All agencies were lauded for exceeding most of their targets despite the pandemic. Meanwhile, some agencies were requested to share their experience on how they could adapt and even surpass their targets.
The meetings were concluded with an open forum to thresh out some budgetary issues for shared understanding and interpretation.