DBM Press Release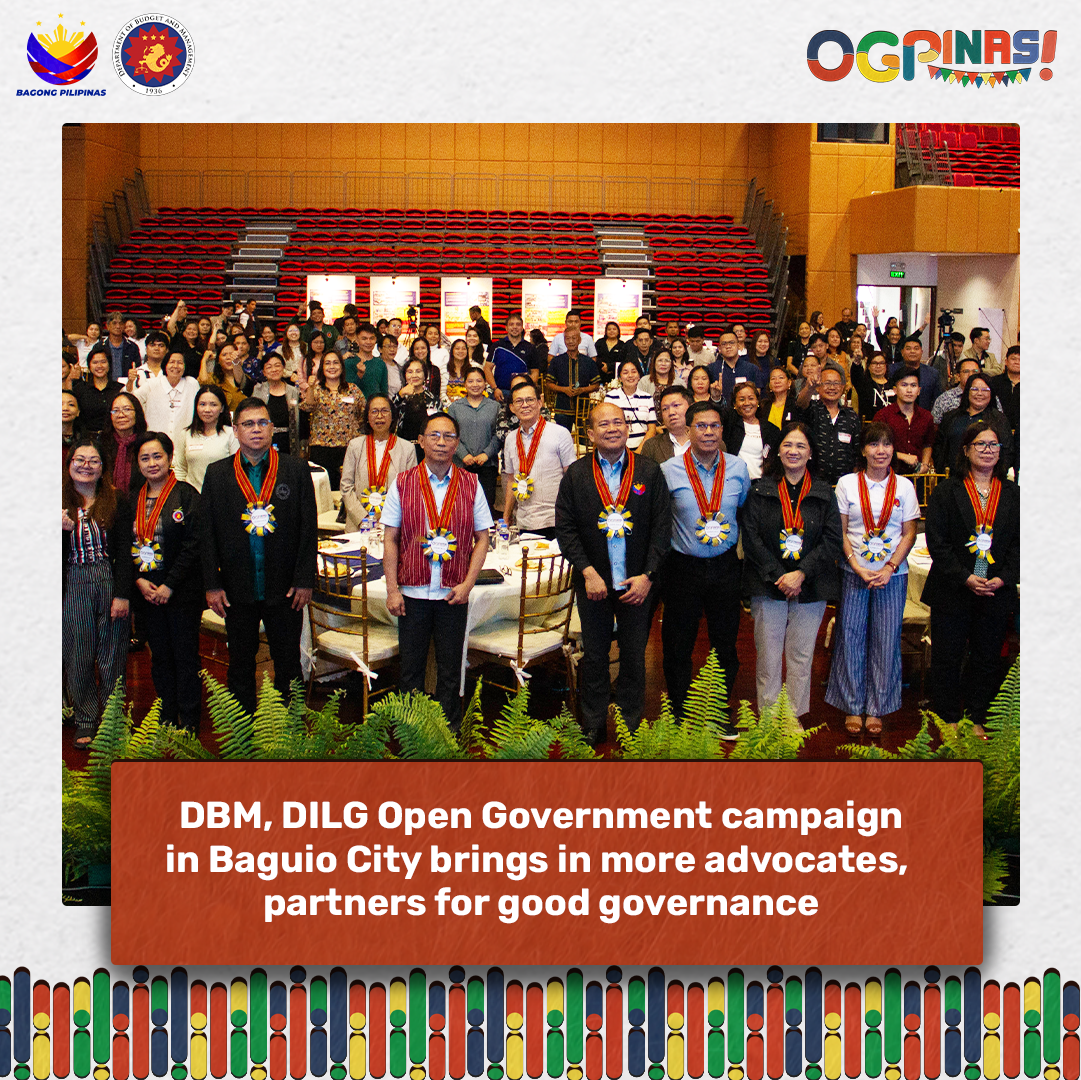 Following the success of OGPinas! in Quezon City and Iloilo City, the Department of Budget and Management (DBM), in collaboration with the Department of the Interior and Local Government (DILG) and the Philippine Information Agency (PIA), engaged more than 200 participants from different civil society sectors for the third leg of its open government national advocacy campaign to strengthen public participation held in Baguio City on November 7, 2023. 
Opening all levels of government 
In her video message, DBM Secretary and Philippine Open Government (PH-OGP) Chair Amenah F. Pangandaman noted that the national advocacy campaign intends to bring PH-OGP to the local level: "Gusto po sana natin na hindi lamang po sa National Level, kundi pati na rin sa bawat local government maisulong ang adbokasiyang ito…dahil ito ang tulay natin upang makapagbigay ng serbisyong tunay na tumutugon sa pangangailangan ng ating mga kababayan." 
Sharing an inspiring welcome message, Baguio City Mayor Benjamin B. Magalong lauded OGPinas! for being a platform for collaboration, unity, and collective action: "It is a call for every citizen, every community, and every political leader to take a stand and be a force for positive change." 
The City Mayor also urged participants to speak up against corruption and demand the highest ethical standards from political leaders for "a government that truly serves the people…and leaving a legacy for the next generations." Mayor Magalong is one of the convenors of the Mayors for Good Governance, launched in August 2023 with more than 100 mayors across the country committing to upholding the principles of good governance.
In his keynote message, DILG Undersecretary and PH-OGP Steering Committee Member Marlo L. Iringan encouraged local governments to engage in OGP initiatives: "The OGPinas! campaign will be our vehicle for transformation and it shall be the key to unlocking widespread awareness and understanding for people to learn about the PH-OGP and its transformative effect on local governance."
Meanwhile, Department of Environment and Natural Resources Undersecretary Jonas R. Leones underscored the alignment and relevance of climate action and environmental governance in pursuing open government initiatives. "The OGP will enable us to optimize the full potential of human capital in order to safeguard our natural habitat. The protection of our ecosystems to support economic growth and inclusive development is possible through the support of visionary leadership and open government," Usec. Leones said through a recorded message.
Opening spaces for conversation and collaboration
During the panel discussion moderated by Regional Director Helen R. Tibaldo of the PIA Cordillera Administrative Region (CAR), DBM Assistant Secretary and PH-OGP Head Secretariat Rolando U. Toledo cited the continuing gains of the PH-OGP such as the internationally recognized Citizen Participatory Audit Program, the Seal of Good Local Governance, and the institutionalization of the PH-OGP which expanded the number of the Steering Committee members for better sectoral representation.
DILG Usec. Iringan also shared the past and ongoing initiatives of the government toward open governance, including the collaboration of the academe and the government in the monitoring of the implementation of local projects, and the development of participatory governance metrics to gauge the quality of participation of Civil Society Organizations (CSOs) and Non-Governmental Organizations. He also highlighted that around 25,000 members of CSOs all over the country were trained under the Support to Local Governance Program.
Supplementing this, PH-OGP Steering Committee Member and De La Salle Institute of Governance Lead Policy Research Specialist Ian Jayson R. Hecita encouraged CSOs to continue optimizing open government platforms and voicing out grievances through the PH-OGP mechanisms. He also emphasized the important role of universities as knowledge hubs and information intermediaries for open government. 
In addition, student leaders from State Universities and Colleges such as the Ifugao State University, Kalinga State University, Abra State Institute of Sciences and Technology, and Apayao State College expressed their gratitude for including the youth in the open government dialogue.
The OGPinas! Baguio Luzon Leg A was spearheaded by DBM RO - CAR, in collaboration with regional counterparts from DILG and PIA. Also present at the event were DBM CAR Regional Director Irene B. Gahid and Assistant Regional Director Marie Christine D. Andaya, Region I Director Ria V. Bansigan, Region II Acting Assistant Regional Director Francis C. Bautista, Region III Acting Director Rosalie C. Abesamis; DILG Assistant Secretary Francisco R. Cruz, CAR Regional Director Araceli A. San Jose and Assistant Regional Director Ruperto B. Maribbay Jr., Region I Director Jonathan Paul M. Leusen Jr. and Assistant Regional Director Paulino G. Lalata Jr., Region II Director Agnes A. De Leon, Region III Director Anthony C. Nuyda; and DENR CAR Assistant Regional Director Benjamin A. Ventura.
END