DBM PRESS RELEASE
13 September 2023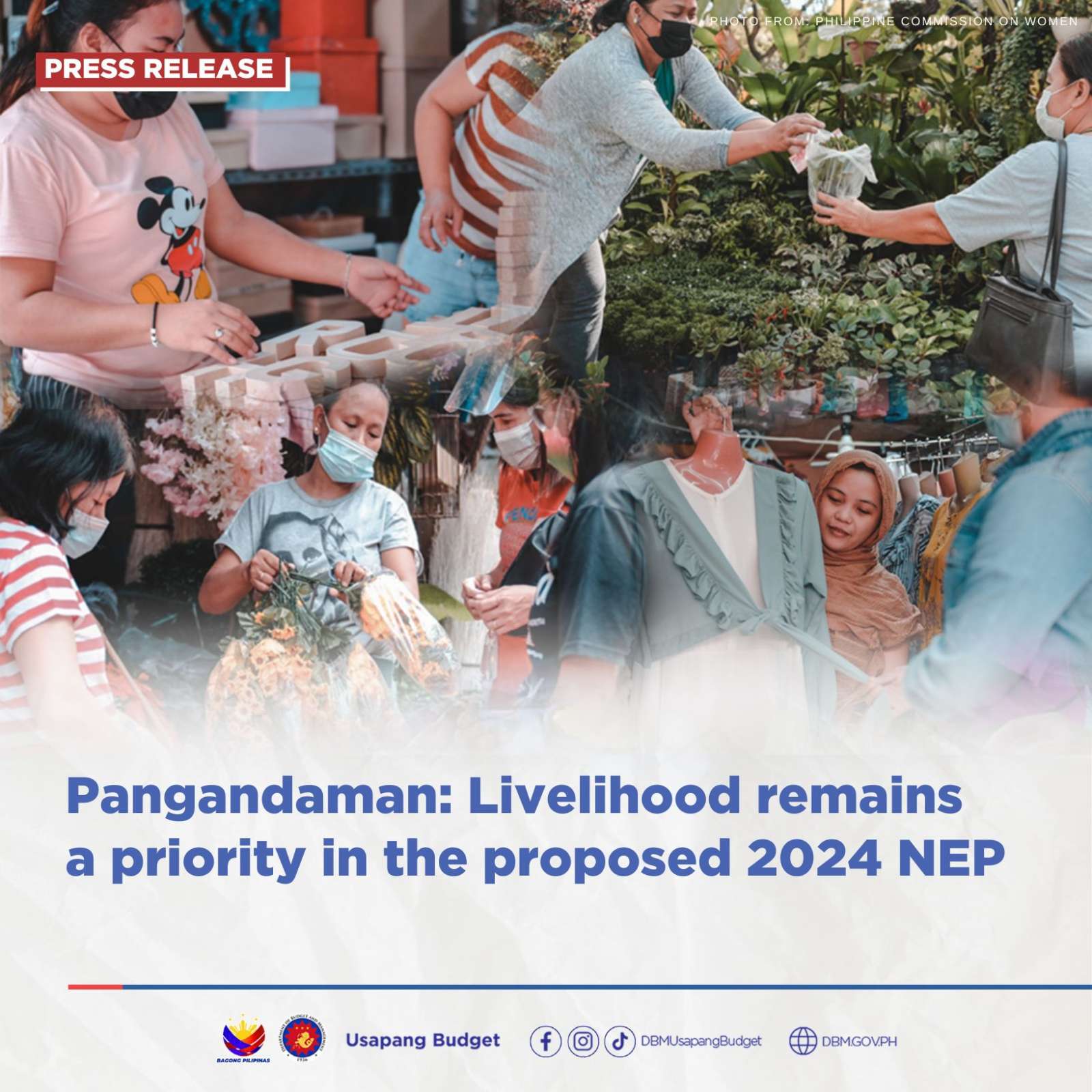 Department of Budget and Management (DBM) Secretary Amenah F. Pangandaman reaffirmed the government's commitment to consistently amplify livelihood programs through the proposed 2024 National Expenditure Program (NEP).

_"It is the administration's fervent hope that this budget will continue to lay the groundwork for future-proofing the economy and making the country's growth inclusive and sustainable, not just for the Filipinos of today, but also for the future generations,"_ Secretary Pangandaman said.

DOLE's Livelihood and Emergency Employment Programs

The Department of Labor and Employment's (DOLE) Integrated Livelihood Program, a grant assistance on livelihood for disadvantaged workers, either for individuals, or groups, was dedicated P2.28 billion in the 2024 NEP.

The DILP caters to the development needs of communities, considering regional or local development priorities such as off-farm/non-farm livelihood diversification in the rural agricultural economy, and key employment generating sector (KEGS)-related projects.

Meanwhile, the DOLE Livelihood and Employment Program was allocated P16.4 billion in the proposed 2024 NEP, of which P12.9 billion was dedicated to the Tulong Panghanapbuhay sa Ating Disadvantaged Workers (TUPAD) Program.

Furthermore, P406.88 million was earmarked for the Adjustment Measures Program (AMP) which serves as a safety net program to support projects and programs that generate employment, preserve livelihoods, and address the needs of Filipino workers.

DSWD's Livelihood Programs

To enhance the capabilities of poor Filipinos' access to income-generating opportunities and help improve their socio-economic well-being, P5.62 billion was proposed for the Department of Social Welfare and Development's (DSWD) Sustainable Livelihood Program.

On the other hand, the Implementation and Monitoring of PAyapa at MAsaganang PamayaNAn (PAMANA) Program, which contributes to improving community access to socio-economic interventions, was allotted P549 million.

Focus on the agriculture and fisheries sector

To improve the country's technology for breeding and larval rearing of fish and ensure the production of high-quality products, P1,355.408 billion was allocated to the Department of Agriculture's  Aquaculture Sub-Program.

The reduction of poverty through the provision of agricultural and fishery interventions to the poor farming and fishing sectors was also given attention as the Special Area of Agricultural Development (SAAD) Program Phase 2 was allotted P1.094 billion.

Another P210.9 million was dedicated to the Department of Agrarian Reform's Major Crop-based Block Farm Productivity Enhancement Program, which seeks to optimize the efficiency, productivity, and profitability of farms owned by Agrarian Reform Beneficiaries (ARBs).

Furthermore, agencies such as the Department of Migrant Workers, the Department of Trade and Industry, and the Department of Science and Technology also have their respective projects and initiatives to uplift Filipinos' livelihoods in 2024.