DBM Press Release
September 13, 2023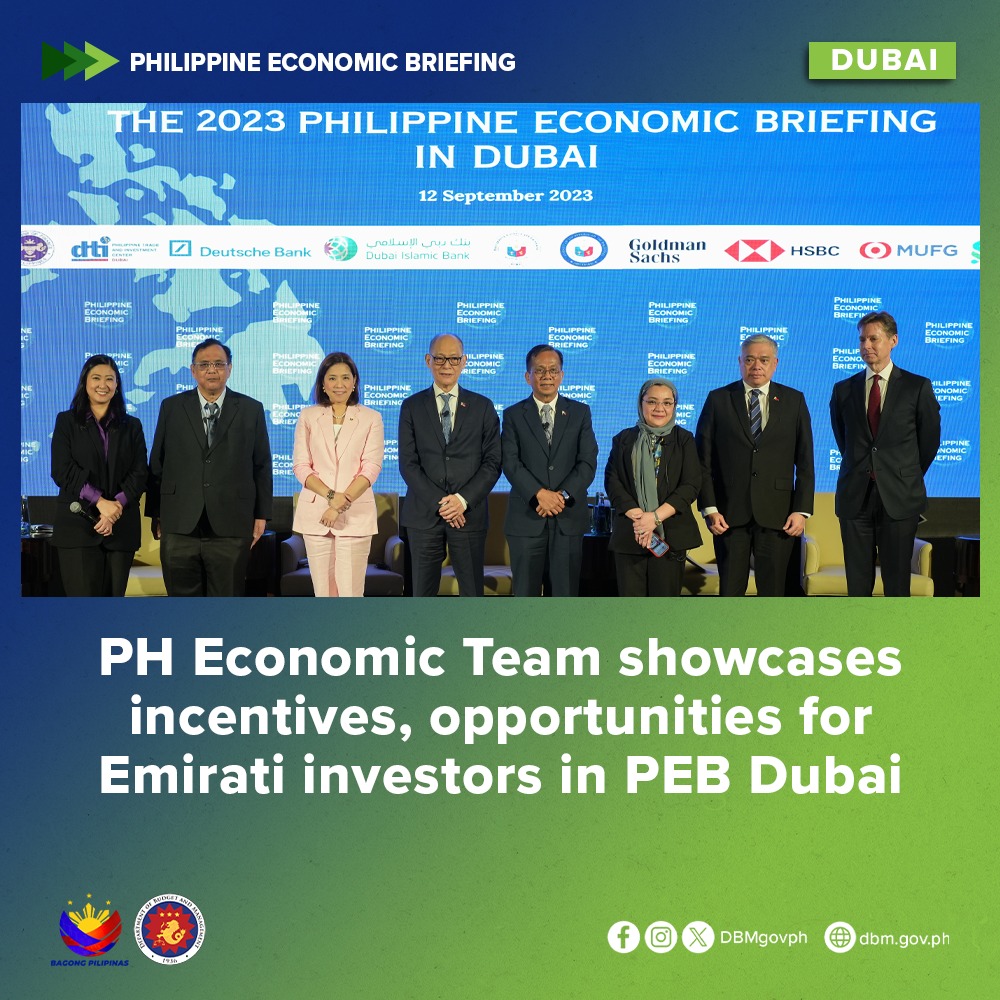 The Economic Team of the Administration of President Ferdinand R. Marcos Jr. showcased various incentives and opportunities for Emirati investors during the Philippine Economic Briefing (PEB) in Dubai on September 12, 2023.

During the panel discussion on the Philippine economic outlook and investment opportunities, Department of Budget and Management (DBM) Secretary Amenah F. Pangandaman discussed the digital transformation agenda of the Philippines which will not only improve public service delivery but also reduce the cost of doing business in the country.

"In our budget priority, we make sure that the National Agencies put on top their digital transformation programs," the Budget Chief said.

National Economic and Development Authority Secretary Arsenio M. Balisacan also noted that the Philippines has been aggressively reforming its investment and trade regimes to open up the economy and support a sound foreign investment climate.

"We would like to see those FDIs (Foreign Direct Investments) in sectors that will generate high-quality jobs," Secretary Balisacan added. He mentioned that these sectors include agri-business, responsible mining, renewable energy, manufacturing, creatives, and services.

Meanwhile, Department of Finance Secretary Benjamin E. Diokno highlighted that physical and digital connectivity, as well as investments in clean energy, are necessary for the Philippines as an archipelagic country: "A growing economy needs a lot of energy."

Under the Clean Energy Scenario of the Philippine Energy Plan 2020 to 2040, the total investment requirement in the country's Renewable Energy power projects is about Php 5.8 trillion or USD 103.6 billion to achieve fifty percent renewable energy share in its power generation mix by 2040.

In addition, the Bangko Sentral ng Pilipinas (BSP), as cited by BSP Deputy Governor Francisco G. Dakila Jr., is pursuing a digital payments transformation roadmap—targeting at least fifty percent of the total volume of retail payments transactions done digitally by the end of this year and at least seventy percent of Filipino adults onboarded to the formal financial system. On the other hand, BSP Assistant Secretary Arifa A. Ala underscored the potential of Islamic Banking and expressed her optimism to see investors from the United Arab Emirates in the future.

The panel was moderated by the DBM Undersecretary Margaux Salcedo and HSBC Head of Communications in the Middle East, North Africa, and Turkey Nick Edwards.