DBM PRESS RELEASE
September 11, 2023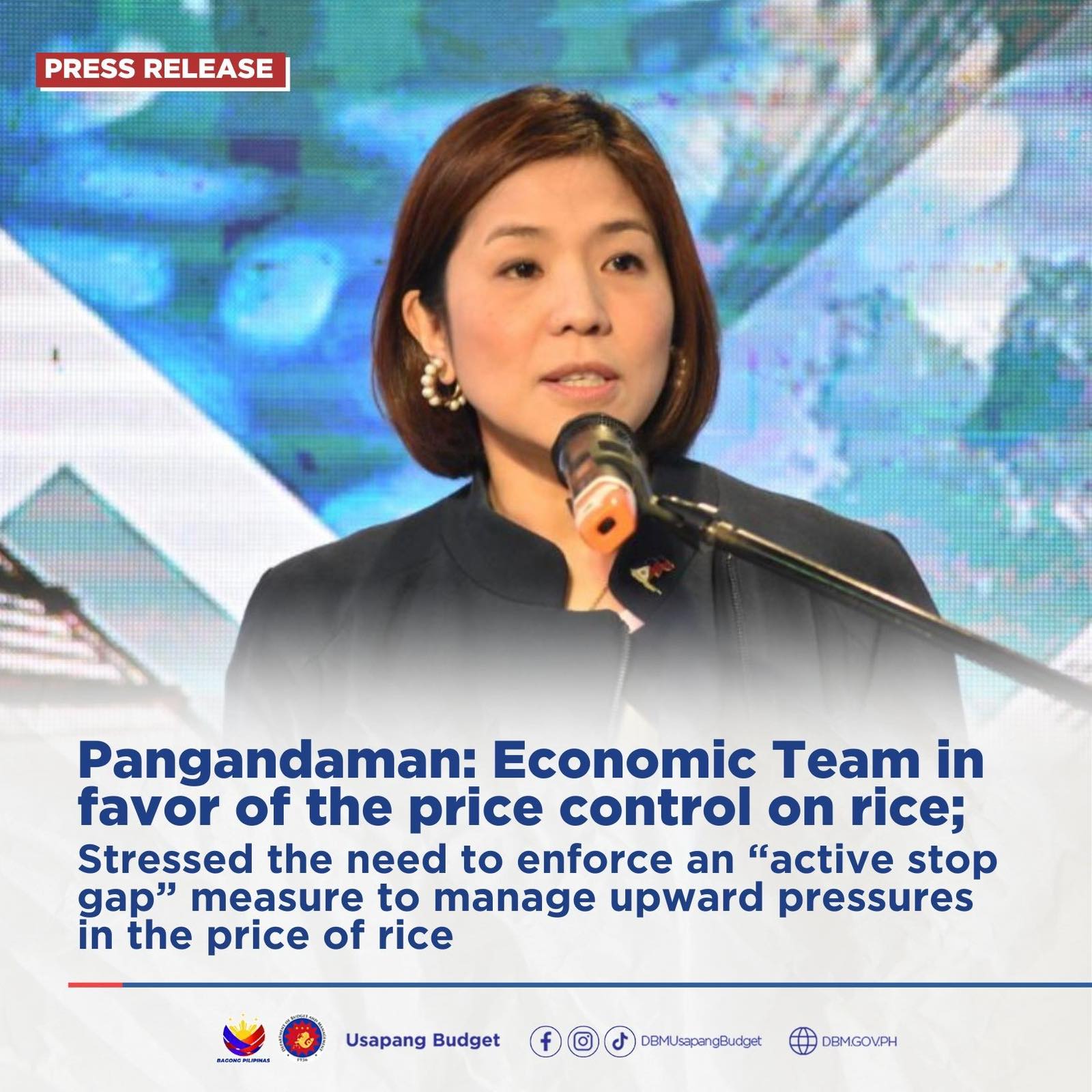 The Economic Team of the Administration of President Ferdinand R. Marcos, Jr. is in favor of the recent imposition of price control on rice through the issuance of Executive Order No. 39.
"This wil effectively serve as an "active stop gap" to address the market's current circumstances. Conditions truly warrant a special mitigating measure," Secretary Pangandaman said.
"In an ideal scenario, we can let the market dictate prices. However, as NEDA noted, we are now faced with extraordinary factors that we have to consider," Pangandaman explained.
The Budget Secretary likewise reiterated the unified stand of the Economic Team on the price ceiling, saying that it is indeed a necessary albeit temporary measure to help vulnerable and disadvantaged sectors amidst high prices of rice.
"I join the Chairman and Co-Chairman of the Economic Development Group of the Cabinet in supporting this measure because it is necessary at this time to help those most affected by the otherwise uncontrollable sharp increase in the price of rice, " Sec. Pangandaman said.
The Cabinet's Economic Development Group is led by Department of Finance Secretary Benjamin Diokno as Chairman, and National Economic and Development Authority (NEDA) Secretary Arsenio Balisacan as Co-Chairman.
The Budget Secretary further enumerated certain conditions that entail some form of regulated price caps:
Emergency situations: During natural disasters or other emergencies (such as El Niño and typhoons), price ceilings can help prevent price gouging and ensure that essential supplies like food, water and medical supplies remain affordable and accessible to everyone.
Temporary measures to address market disruptions: Price ceilings might be viewed more favorably when applied as a temporary measure to address short-term market disruptions (such as hoarding) to provide relief to consumers until the situation stabilizes.
Targeting certain sectors to correct market failures: When markets fail to provide essential goods to certain segments of the population, such as the poor or vulnerable, price ceilings can be seen as a corrective measure to ensure these individuals have access to basic necessities.
The issuance of EO No. 39 is in line with the comprehensive approach being implemented by the government to mitigate the concerns of rice retailers and farmers, and to ensure that the rice supply remains sufficient at lower prices and greater competition can sooner be promoted in the rice industry.
"We understand and fully support the decision of the President because there really are market players who have been misbehaving. Unfortunately, there really are hoarders and speculators. We needed to act fast to effectively address this problem with a tit-for-tat strategy against unscrupulous traders, at least in the near-term," Pangandaman said.
It has been noted that in addition to intensified market monitoring, supply-side support, such as possible conduct of government-to-government transactions in imports, the proposed adjustments in import tariffs; quality control checks; and support to vulnerable groups form part of the government's comprehensive strategy to ensure that markets serve the best interest of the consumers and small farmers and retailers.
"As what Secretary Ben Diokno said, this will serve as an effective measure against non-competitive practices by market players. We just have to carefully calibrate, implement, and monitor it," Pangandaman added.
Finance Secretary Ben Diokno earlier said that the  Inter-agency Committee on Inflation and Market Outlook (IAC-IMO) remains on top of monitoring the developments in food and non-food inflation. It will also closely monitor the implementation of EO 39 to help ensure that the short-term measure will be effective.
The country's headline inflation rate rose to 5.3 percent in August 2023 from the 4.7 percent recorded in the previous month. This brings the year-to-date inflation rate to 6.6 percent, higher than the Development Budget Coordination Committee (DBCC) assumption of 5.0 to 6.0 percent for full year 2023.
"The Economic Team remains resolute in its commitment to mitigate the impact of inflation and help protect our consumers, retailers, and farmers," Pangandaman said..
"We will put prime importance to the protection of our vulnerable sectors. We will help ensure the fast Implementation of the government's targeted cash transfer (TCT) program, the fuel subsidy program for qualified workers in the transportation sector, subsidies to registered small rice retailers as well as other programs that will help aid our kababayans in need. The roll-out of the fuel discount program for the agriculture and fisheries sector shall also be expedited," Pangandaman emphasized.
By sector, the biggest budget allocation in the proposed Fiscal Year 2024 national expenditure program was provided to the Social Services Sector, amounting to P2.183 trillion (37.9 percent), and the Economic Services Sector amounting to P1.709 trillion (29.6 percent). The prioritization of the Social and Economic Services Sectors demonstrates the government's resolve to reduce poverty, foster infrastructure and human capital development, and steer the country back on a higher growth trajectory. In the end, such high economic growth will be accompanied by improvements in agricultural productivity and greater food security over the long term.
#PriceControl #EconomicTeam #EO39
#UsapangBudget