DBM Citizen's Charter-old
Posted on August 8, 2016 by administrator in News
Latest version as of August 1, 2016 pending approval due to the forthcoming reorganization and CSC  Memorandum Circular No. 14, s. 2016
Message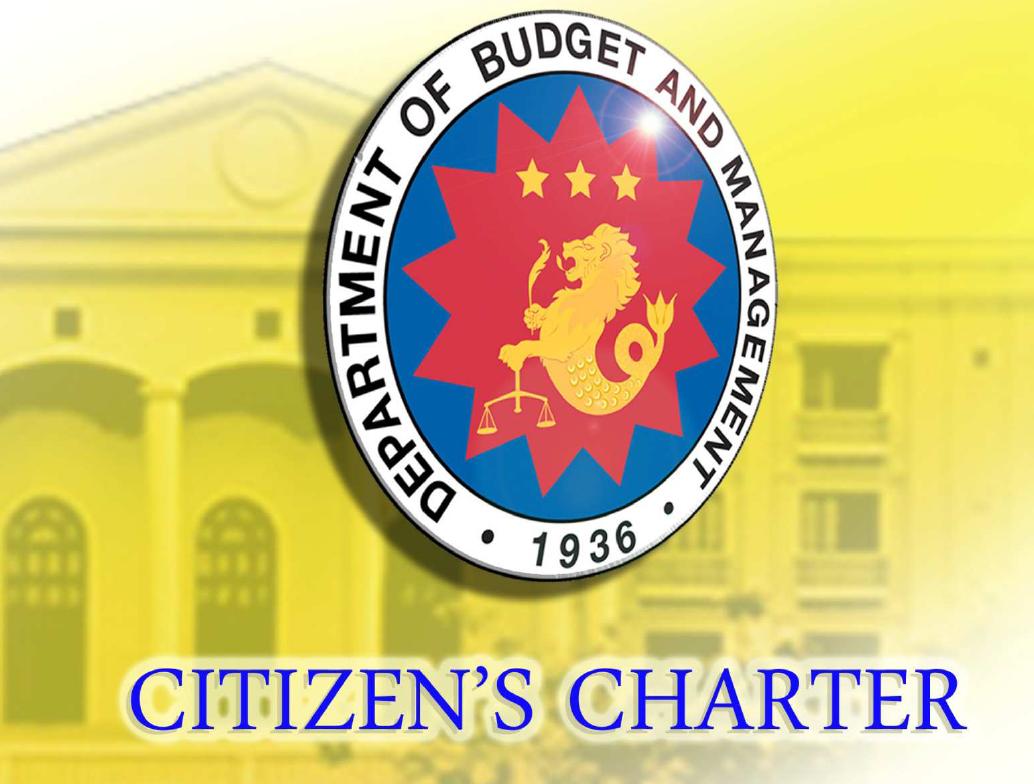 Two and a half years ago, our President, Benigno S. Aquino III, was elected with a resounding mandate from the people longing for change.  It was a re-apparition of People Power; not through street protests but through a clear instruction through their ballots to implement honest and effective governance.   The President then responded by entering into a Social Contract with the Filipino to smith reforms through good governance.
The notion of good governance has quickly evolved along with the pace of the times. From a model to compare the quality of work of Juan based on his pay to a new framework of decision making and how decisions are implemented, good governance continues to challenge us in making every peso spent to alleviate the country's poverty.
And thus today, we stand that good governance is participatory in nature, consensus oriented, transparent and impartial.
In pursuit of these, the Department has updated its Citizen's Charter to further improve the quality of public service.  This is done by letting our key clients know our mandate as a concerned Department, how we maintain control of our activities and that it is accessible to them.
Preparation of this revised Citizen's Charter is not just a white paper in compliance of Memorandum Circular 2012-02, rather, it is our commitment to our stakeholders, the Filipino people.  We take pride in leading this country towards meaningful development that empowers the poor and the marginalized by formulating the national budget with the appropriate prioritization and allocation of funds to support the annual development and anti-poverty programs of the Aquino Administration.
The success of our effort will depend largely on our stakeholders' vigilance and cooperation.
FLORENCIO B. ABAD
Secretary
Frontline Service Delivery
The Department has implemented process improvements involving in its frontline service delivery, including but not limited to the following:
1. Centralized receiving and releasing of documents through the Document
and Records Management System (DMS), Department Order No. 2013-15
dated October 10, 2013;
2. Streamlined procedures in processing Retirement Benefits of  Government
Employees, Budget Circular 2013-1 dated April 12, 2013;
3. Online Submission of Budget Proposal (OSBP) for FY 2014, National Budget
Circular No. 550 dated October 29, 2013; and
4. Online Reporting System for the Submission of Budget Execution Plans and
Targets for 2014 and Subsequent Years, Circular Letter No. 2013-13 dated
November 25, 2013.
Click here to download the Citizen's Charter