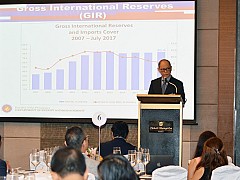 De La Salle University - International Studies Department
Conference on the Role of Regional Cooperation in fulfilling Philippine Development Vision: Inclusive Growth, Infrastructure Development, and Human Resource Enrichment
9 March 2018 | 9:00-9:30 | Fairmont Hotel Makati
Secretary Benjamin E. Diokno, Ph.D.
Department of Budget and Management To my colleagues in government, friends in the academe, students, participants from civil society, good morning. As Budget Secretary, I am primarily concerned with fiscal policy, particularly on spending. But as one of the economic managers in the administration, and an economist by training, I am usually asked to give lectures and answer questions beyond fiscal policy or the national budget. Today I have the pleasure of kicking off this conference by giving an overview of the current state of the Philippine economy. I am happy to oblige as I have come to accept that it comes with the territory. Allow me to begin by addressing three of the...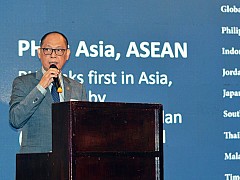 February 27, 2018 (Day 1) | 9:15AM
Venue: Great Eastern Hotel, Quezon City
Secretary Benjamin E. Diokno
PH-OGP and PGC Chair, Department of Budget and Management
To NEDA Secretary Ernesto Pernia, PCOO Secretary Martin Andanar, PLLO Secretary Adelino Sitoy, CHED Chairperson Prospero De Vera, DILG OIC Eduardo Año, Mr. Jeffrey Lehrer, Director of the Office of Economic Development and Governance of USAID Philippines, Mayor Herbert Bautista; Fellow workers in government, members of civil society organizations, participants from various business groups, to our international development partners, the media, and the academe; Magandang umaga po sa inyong lahat. I am pleased to welcome you to the first cluster of our Luzon leg of the Open Government and Participatory Governance Regional Dialogues. This is the fourth of a series of our townhalls and serious conversations with citizens on key priority programs of government. In recent weeks, we have had very productive discussions in the Cities...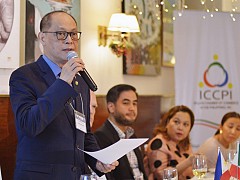 22 February 2018 | 12:20 pm – 12:35 pm | Caruso Ristorante Italiano
Secretary Benjamin E. Diokno
Department of Budget and Management (DBM) To the Italian Chamber of Commerce of the Philippines, European Union Ambassador to the Philippines Mr. Franz Jessen, colleagues in the government, ladies and gentlemen:good afternoon. First of all, we consider the private sector as a crucial partner in achieving our national goals. Hence, I welcome this opportunity to shed more light on the Administration's Tax Reform Program. In the spirit of openness, we want the private sector and the general public to understand the why's and how's of tax reform – the rationale for TRAIN (or the Tax Reform for Acceleration and Inclusion) and how its provisions will translate to growth with equity. So, for the next fifteen minutes allow me to explain how TRAIN fits in the development agenda of this administration.
TRAIN and the Government's Development Agenda
Even before we were sworn into office, we outlined...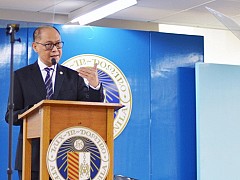 Talakayang Alay sa Bayan, ADMU Alternative Class Program February 21, 2018, 3:15 p.m. - 5:15 p.m. Leong Hall Auditorium, Ateneo de Manila University
Secretary Benjamin E. Diokno, Ph.D.
Department of Budget and Management
To Vice President for Social Development, Atty. Jaime Hofilena, thank you for inviting me to give this talk; To the students, faculty and other members of the Ateneo community, good afternoon; Today I have the pleasure of discussing with you how the budget process works towards achieving the Sustainable Development Goals in our country. The Sustainable Development Goals were first and foremost factored into the crafting of the Philippines' current medium-term development plan, the Philippine Development Plan (PDP) 2017–2022. The main instrument for mainstreaming the SDGs into these PDP are its results matrices, which contains the statement of objectives and corresponding indicators for various levels of results (goals, outcomes) to be achieved under the plan. The...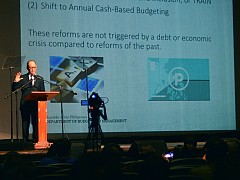 21 February 2018 | 10:30 am – 12:00 noon | University of Makati
Reform or Perish
by
Secretary Benjamin E. Diokno
Department of Budget and Management (DBM) Ladies and gentlemen, guests, fellow workers in government: Good morning. First of all, allow me to thank the organizers of this National Governance Forum, especially the officials of the University of Makati and the Philippine Councilors League. It is my honor to share with you my insights on public sector reforms. Events like these play an indispensible role in strengthening our democracy. It provides a venue for serious conversation, for an exchange of ideas, allowing participants to sharpen their commitment to national development. Now, allow me to begin my presentation.
Context for Fiscal Reform under the Duterte Administration
My public service career spans half a century, so it's safe to say that I'm no stranger to public sector reforms. I have worked in various capacities for the Legislature, Executive Branch, and the...
More in Speeches