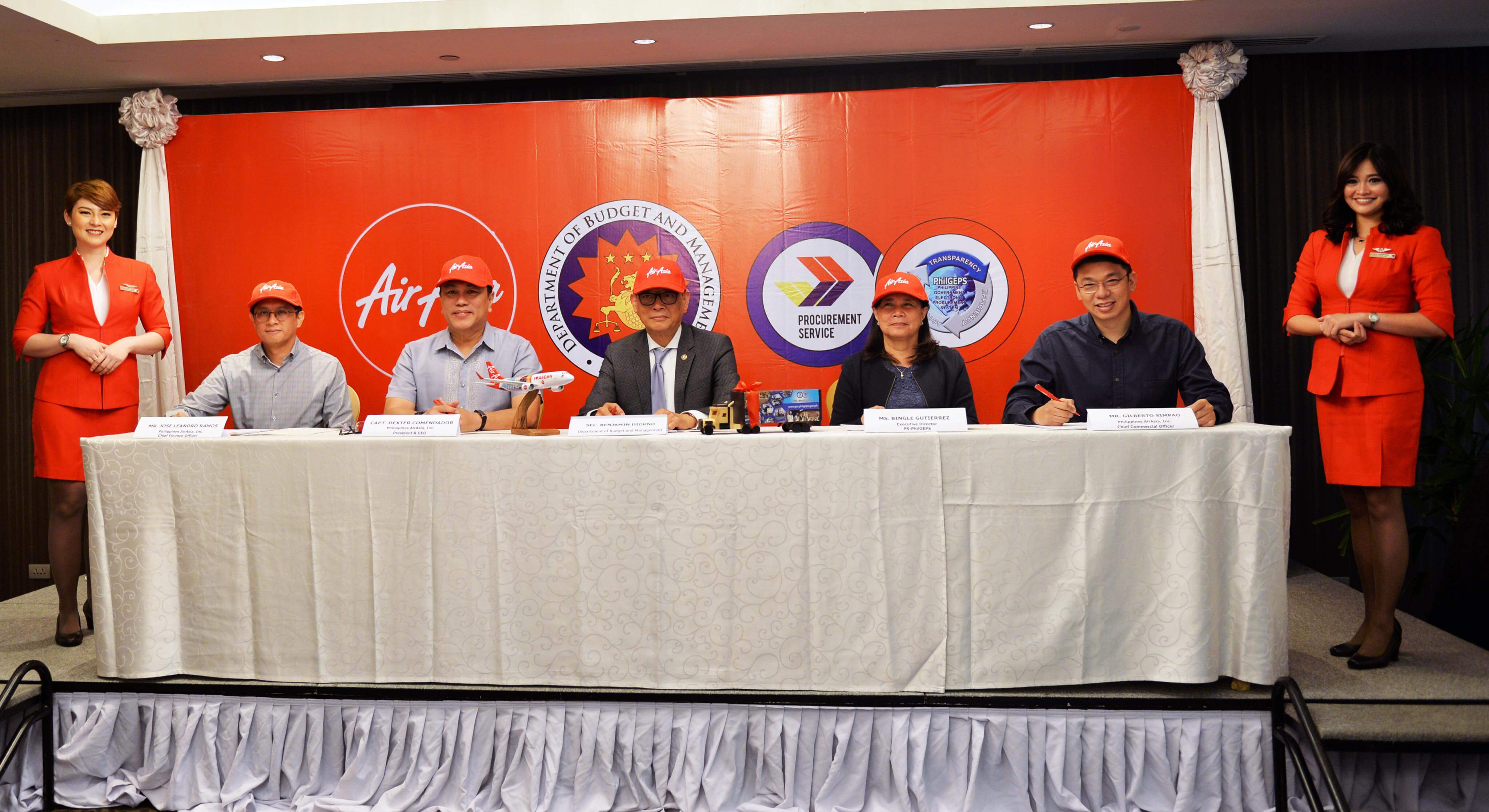 DBM-Procurement Service inks MOA on Government Fares Agreement with Philippines Air Asia.Seated from L to R: Ph Air Asia CFO Mr. Jose Leandro Ramos, PH Air Asia President & CEO Captain Dexter Comendador, DBM Secretary Benjamin Diokno, DBM-PS ED Bingle Gutierrez and PH Air Asia Chief Commercial Officer Gilberto Simpao. (May 2, 2018)
Earlier today, the Department of Budget and Management (DBM) formalized its partnership with Philippines Air Asia, Inc., for the Government Fares Agreement (GFA), enabling the cheaper and more efficient procurement of air transport tickets for the official trips of government employees.
Budget and Management Secretary Benjamin E. Diokno lauded the partnership as another step in securing the highest value from the public resources entrusted to the government. "We are pleased to announce that Air Asia, a much-respected and trusted airline company, is now a partner of the DBM for the Government Fares Agreement," he said. "With the GFA, government agencies may enjoy generous discounts for domestic and international air travel tickets, and lower, if not waived, rebooking and processing fees for domestic travel tickets," Sec. Diokno added.
Airline tickets are one of the most commonly-requested items in the procurement activities of government agencies. In fact, the Procurement Service (PS), an attached agency of the DBM, had listed airline tickets in its catalog as one of the Common-use Supplies and Equipment (CSE). It's for this purpose that the DBM has adopted a "whole-of-government" approach in procuring airline tickets. It first initiated a partnership with the Philippine Airlines and Cebu Pacific for the GFA in 2016, before adding Air Asia as its third institutional partner.
Beyond reduced costs, government agencies can purchase airline tickets in an easier and more efficient manner. Procurement of travel tickets will now be coursed through a central web-based portal similar to a virtual store that is accessible 24/7.
At present, a total of 138 government agencies are now enjoying the benefits of the GFA. These range from national government agencies, to State Universities and Colleges (SUCs), and even government-owned and controlled corporations (GOCCs).
"The DBM will continue to find ways to get the most out of taxpayer money. This means ensuring that government processes are not only cost-efficient and streamlined, but also transparent and easily accessible to the various government agencies," the Budget Chief elaborated.
As of the end of December 2017, a total amount of P202.8 million has been generated as sales for the GFA. Considering that these airline tickets were purchased at a discount of 8% to 9% less than the regular price, savings amounting to about P19.5 millionhas been generated by the government thus far owing to the GFA.
(30)
For inquiries, further questions and requests for interview, please contact Marianne Ongjuco:
Email:

This email address is being protected from spambots. You need JavaScript enabled to view it.


Mobile: +63918-944-8109