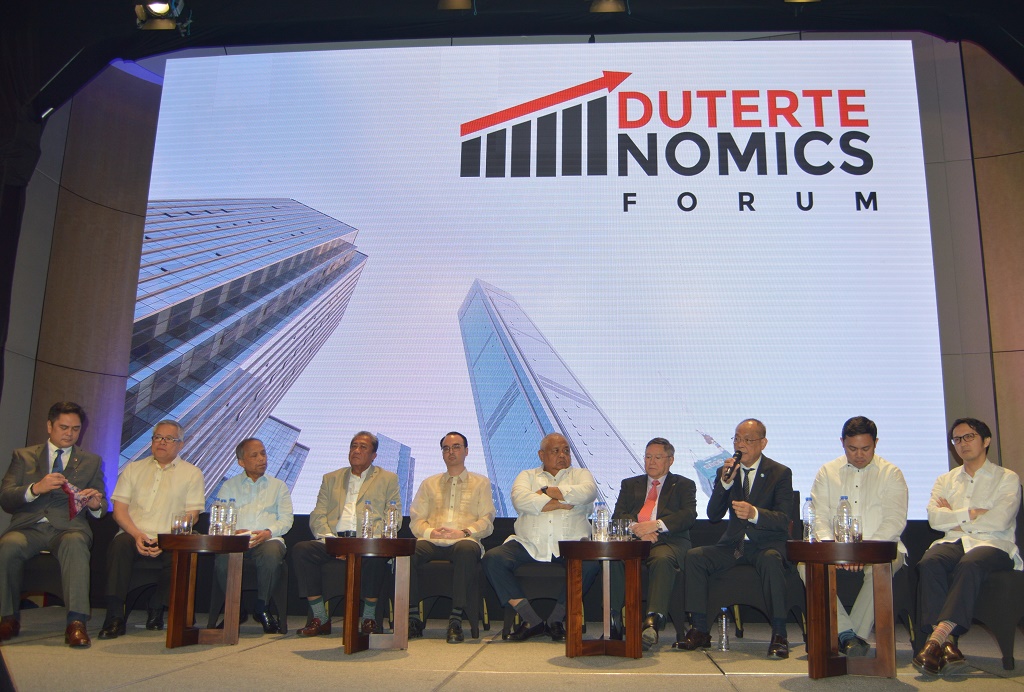 On April 25, 2017, Department of Budget and Management (DBM) Secretary Benjamin E. Diokno once again joined senior officials of the national government at the Conrad Hotel in Pasay City for "Dutertenomics II", a rerun of the forum "Dutertenomics" organized by the Department of Finance (DOF) and the Presidential Communications Operations Office (PCOO) held at the same venue last April 18, 2017.
Similar to Dutertenomics I, the second forum dealt on the economic policies and development blueprint of President Rodrigo Duterte. This time, however, delegates of the foreign media and business tycoons were the primary attendees as the country's economic managers and infrastructure heads discussed the socio-economic agenda of the Duterte Administration.
Besides the Budget Secretary, the forum also featured NEDA Deputy Director-General Adoracion Navarro, Finance Secretary Carlos Dominguez, Transportation Secretary Arthur Tugade, Executive Secretary Salvador Medialdea, Communications Secretary Martin Andanar, Public Works Secretary Mark Villar, DOE Secretary Alfonso Cusi, DTI Secretary Ramon Lopez, and BCDA President and CEO Vince Dizon.
On his end, Secretary Diokno bared the government's expansionary fiscal policy for the achievement of medium-term objectives, primarily: (1) reducing poverty from 21.6 percent in 2015 to 14 percent in 2022, and (2) securing robust growth of 7 to 8 percent in the medium-term, pushing the Philippine economy to upper-middle income territory.
To realize this vision, Secretary Diokno emphasized the need to raise additional resources to finance heavy investments on the country's development priorities, namely public infrastructure and human capital development. Hence, the deficit has been expanded from 2 to 3 percent of GDP for the term of President Duterte. Nevertheless, he assured the audience that such a deficit target was manageable, appropriate, and sustainable evident in the economy's declining debt-to-GDP ratio and complementary fiscal reforms that are projected to raise revenue effort.
Lastly, he discussed the role of DBM in appropriating the funds for the "Golden Age of Infrastructure". He cited that the 2017 Budget and the future Budgets of the Administration, will fully support the "Build, Build, Build" campaign of President Duterte. This explains the P847.2 billion allocation in the 2017 General Appropriations Act, equivalent to 5.3 percent of GDP. Such heavy investments for infrastructure will assuredly increase in the medium term, such that P8 to P9 trillion will be spent on public infrastructure for the next six years, with infrastructure spending projected to reach 7.4 percent of GDP by 2022.
For more information on the 2017 National Budget and the Department of Budget and Management, visit dbm.gov.ph.