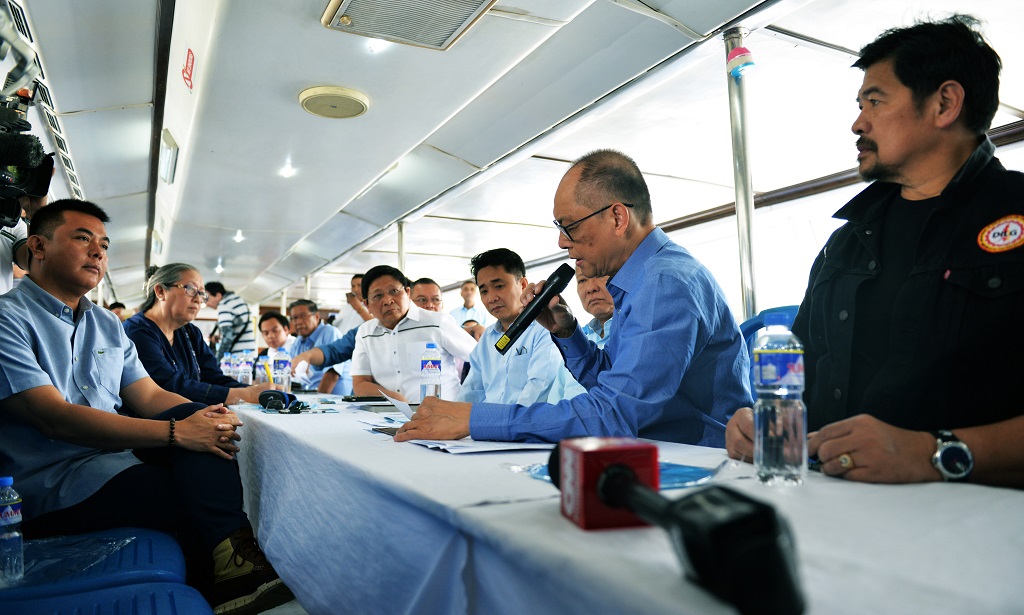 Over 30 government agency heads and representatives will join today in the Pasig River Ferry Inspection lead by Secretary Benjamin E. Diokno of the Department of Budget and Management (DBM).
The Pasig River Ferry Inspection, which will begin at the Guadalupe Ferry Station in Makati and end at the Plaza Mexico Ferry Station in Manila, aims to orient the Pasig River Ferry Convergence Program Technical Working Group about the components of the Pasig River Ferry System, as well as other ongoing programs and projects for the Pasig River. The activity is in preparation for the re-establishment of the Pasig River Ferry Service which will open new stations along the river in the cities of Manila, Mandaluyong, Makati, Taguig, Pasig, and Marikina, thus increasing accessibility and connectivity.
The new Pasig River Ferry System, which will begin operations in December 2018, aims to have 29 stations and 24 boats servicing 76,000 commuters per day or 19,836,000 per year. This does not yet include passenger volumes for weekend schedules, tours, or express routes. The Technical Working Group is currently studying all possibilities.
The ferry system is envisioned to be an accessible, comfortable, and reliable water transport service that will offer the public mobility and connectivity through a pleasant commuting experience on the historic Pasig River. Aside from public transport, the ferry service will also be used for disaster response and tourism purposes.
The Technical Working Group for the Pasig River Convergence Program, focused on coordinating, organizing, and streamlining all government programs and projects towards the rehabilitation and utilization of the Pasig River, is composed of the Department of Transportation (DOTr) with participation from attached agencies including Philippine Coast Guard (PCG) and Maritime Industry Authority (MARINA), Department of Public Works and Highways (DPWH), Department of Environment and Natural Resources (DENR), Department of the Interior and Local Government (DILG), Department of Tourism (DOT), National Economic and Development Authority (NEDA), Pasig River Rehabilitation Commission (PRRC), Metropolitan Manila Development Authority (MMDA), Laguna Lake Development Authority (LLDA), and Department of Budget and Management (DBM) as lead agency.
At present, the Pasig River Ferry Service which is run by the MMDA has 12 stations. These are Pinagbuhatan, in Eusebio Avenue, Pasig City; San Joaquin, on San Bernardo Street; and Maybunga, on Dr. Sixto Avenue, both also in Pasig City. Makati City has two stations - Guadalupe, on J.P. Rizal Extension, and Valenzuela, on A. Bonifacio Street. Hulo Station is on Coronado Street in Mandaluyong. Manila has six stations - Lambingan, on Bautista Street, Sta. Ana; Sta. Ana, on Pedro Gil Street; Polytechnic University of the Philippines (PUP) Mabini Campus, Sta. Mesa; Lawton; Escolta, on Muelle dela Industria; and Plaza Mexico, in Intramuros. All of these ferry stations are operational except for PUP Sta. Mesa Ferry Station, scheduled for repair, and Sta. Ana Ferry Station, currently undergoing repair.
Aside from the ferry service, the Technical Working Group also proposes improved connectivity to the ferry stations through additional pathways such as bridges, linear parks and esplanades leading to the ferry stations. Aside from better access, these will also serve as a network of open spaces that will provide Metro Manila's dense urban population with a "breathing space" as well as an evacuation area during times of calamity.
The revival of the Pasig River Ferry Service is expected to affect the Pasig River system and its surrounding communities, spurring economic activity, renewing interest and citizens' sense of responsibility towards the river, and transforming this historic place into a multi-functional open space network and a life-support system for urban communities.
For more information on the Pasig River Ferry Convergence Program, visit www.dbm.gov.ph. Follow @DBMgovph on Facebook and Twitter for updates.
(30)
For inquiries, further questions and requests for interview, please contact Marianne Ongjuco:
Email:

This email address is being protected from spambots. You need JavaScript enabled to view it.


Mobile: +63918-944-8109