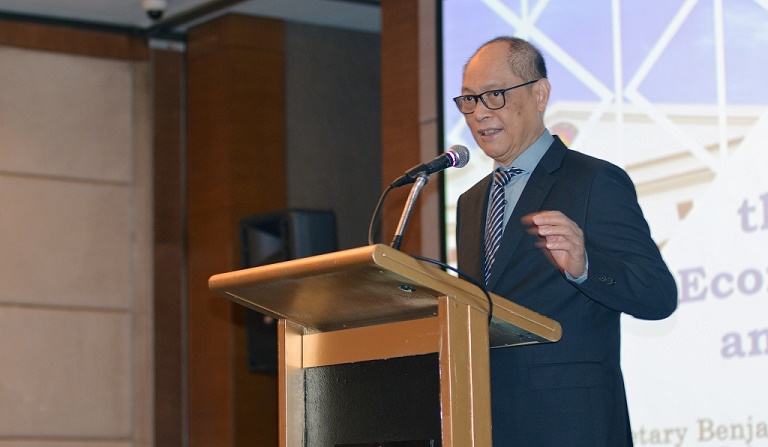 DBM Secretary Benjamin Diokno gave the keynote speech during De La Salle University International Studies Department's Conference on "The Role of Regional Cooperation in fulfilling Philippine Development Vision: Inclusive Growth, Infrastructure Development, and Human Resource Enrichment" held today at Makati Shangri-la.
The Secretary kicked off the conference by giving an overview of the current state of the Philippine Economy. In his speech, he discussed macroeconomic fundamentals such as inflation, peso depreciation, and balance of payments, citing them as "frequently-asked questions".
He responded to concerns over rising prices during the past couple of months, enumerating several factors over rising inflation: "aside from the actual effects of the implementation of our new tax reform program: profiteering of some firms whose goods and services are not actually affected by TRAIN, peso depreciation, as well as increases in the price of oil in the global market."
The Secretary promised that the government would be "vigilant in monitoring price increases", saying that they are "optimistic that inflation rates will stabilize by the second half of this year".
He also allayed fears regarding peso depreciation and fiscal deficit.
On peso depreciation, he cited the reversal of foreign portfolio investment flows and loan repayments as major factors that contributed to the currency's decline.
"Despite this, our external position remains strong. The peso's movements are in line with those in the region," he said. He also assured the audience of the BSP's competence to respond to both inflation and peso depreciation.
Meanwhile, he attributed the deficit of "less than one percent" to the huge requirements of the 'Build, Build, Build' program. He also said that BSP's Gross International Reserve, expected surge in exports and Foreign Direct Investment, and influx of OFW and BPO remittances will be enough to offset further increases in imports and mitigate the current account deficit.
The Secretary also stated that the Philippines posting a GDP of 6.7% during a post-election year "is a testament to the administration's competence in implementing policies anchored on sound macroeconomic assumptions".
The Budget Chief then discussed the Medium Term Fiscal Program, sharing the major projects and programs under the administration's two spending priorities: infrastructure and human capital development. He also gave an update on budget utilization and progress of key reform legislation, such as the Tax Reform Program and the Budget Reform Bill, in Congress.
"With sound macroeconomic fundamentals, improved government spending, the tax reform initiative, we have garnered the recognition of international credit rating agencies. In fact, Fitch Ratings upgraded the credit score of the Philippines from BBB- to BBB last December 2017," the Secretary said in closing.
(30)