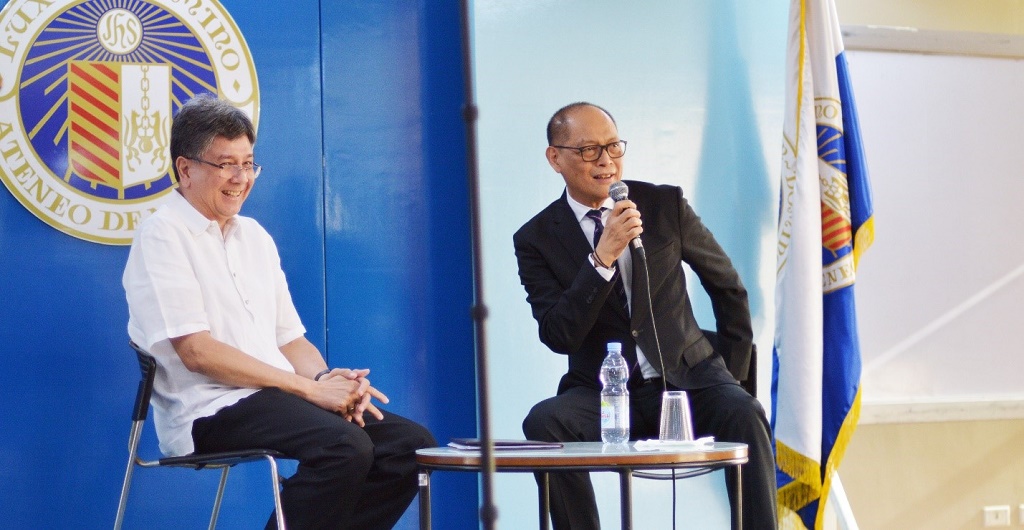 DBM Secretary Benjamin E. Diokno entertains questions from students and faculty with ADMU Vice President for Social Development Jaime Hofileña as moderator
Yesterday, DBM Secretary Benjamin E. Diokno served as resource speaker on the topic, "Budgeting to Attain the Sustainable Development Goals", as part of Ateneo's alternative class program, Talakayang Alay sa Bayan (TALAB).
In his speech, he explained how administration priorities and international commitments such as the Sustainable Development Goals (SDGs) are incorporated in the National Budget.
"The budget is the primary instrument for the implementation of the government's policy," the Secretary said.
According to the Secretary, the SDGs are included in the Budget Priorities Framework, an annual update of the government's fiscal program and its linkage to government priority plans and programs, such as the Philippine Development Plan, Public Infrastructure Program, among others.
The Budget Priorities Framework serves as the basis for the proposal of new and expanded programs for all government agencies.
The Budget Chief also discussed the adoption of budget accountability measures such as the Organizational Performance Indicator Framework (OPIF) and the Program Expenditure Classification (PREXC) structure. These changes have allowed for performance indicators to be assigned down to the program level.
According to Secretary Diokno, the DBM recommended that indicators agreed in the PDP Results Matrices and in the Sustainable Development Goals (SDGs) be used as basis for [budget performance] indicators.
"With the introduction of the performance indicators at the program level, it is easier to see a one-to-one correspondence between the indicators. The 2018 budget will serve as a baseline for us to measure the scope and cost of our commitment to the 2030 agenda," he added.
Secretary Diokno concluded his talk by saying that the reforms in Budget Preparation are not enough, and that the passage of a Budget Reform Bill is needed to "address issues in budget execution" if we truly want to attain our SDG commitments.
(30)