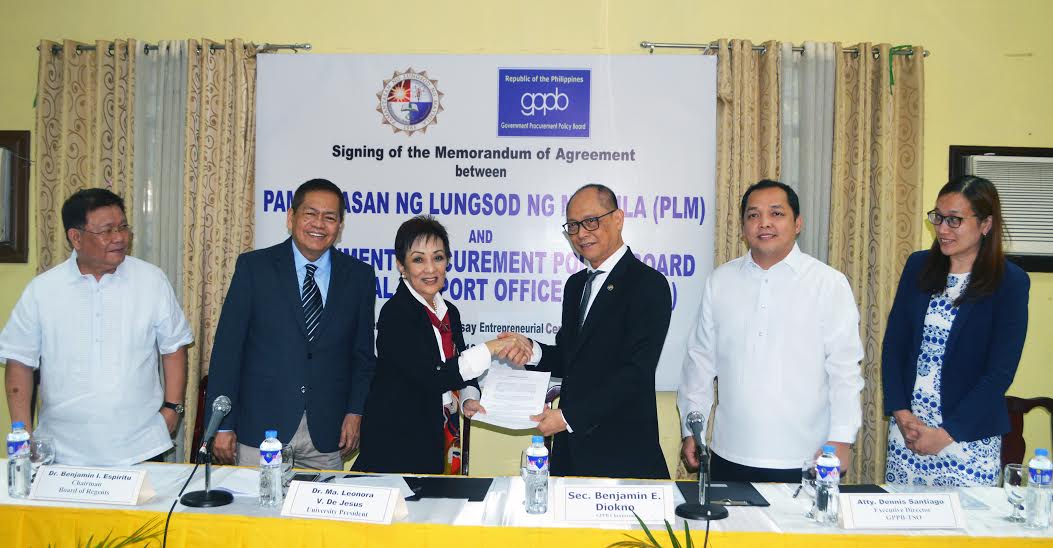 Department of Budget and Management seals partnership with Pamantasan ng Lungsod ng Maynila on February 19, 2018 in Intramuros, Manila. From L-R: PLM Executive Vice President Jose Silerio, PLM Board of Regents Chairman Benjamin Espiritu, PLM President Ma. Leonora De Jesus, DBM Secretary Benjamin Diokno, GPPB Executive Director Dennis Santiago and GPPB Deputy Executive Director Melissa Santiago-Yan.
Earlier today, the Department of Budget and Management, through the Government Procurement Policy Board (GPPB), signed a Memorandum of Agreement (MOA) with the Pamantasan ng Lungsod ng Maynila (PLM) for the Certified Public Procurement Specialist Course.
The certificate course aims to develop government personnel into professional practitioners able to navigate the complexities of public procurement and fix the leaks in the current system that cause procurement failures.
"We have been trying to clean our lot, but historical experiences of corruption and underspending only highlight the urgent need to bridge the gap in public procurement," said Budget Secretary Benjamin Diokno.
"Indeed, with knowledgeable procurement specialists, the government will do a better job in allocating and utilizing public resources," he added.
"Capacitating the bureaucracy will help ensure that public funds are not pocketed by corrupt officials or wasted by inefficient ones, but are translated to better goods, services, and infrastructure that will benefit the Filipino people," the DBM Secretary elaborated.
To date the GPPB has partnered with ten (10) State Universities and Higher Education Institutions, each offering a post-graduate degree program or a certificate course program in public procurement. The PLM is its latest partner institution in the procurement professionalization program.
******
For more information, visit www.dbm.gov.ph. For regular updates, follow the official Facebook and Twitter account of DBM: @DBMgovph.