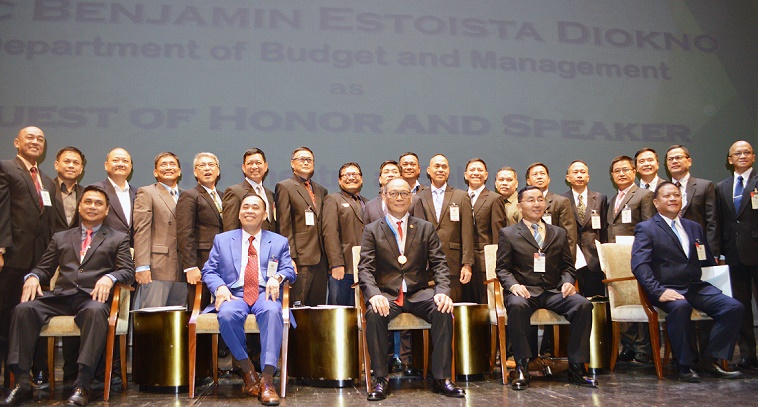 Photo caption: Secretary Benjamin E. Diokno with some of the members of the PMAAAI and PMAAAI Board of Directors on the PMAAAI Annual General Assembly and Convention on January 27, 2018 at the Theatre at Solaire in Paranaque City.
Department of Budget and Management (DBM) Secretary Benjamin E. Diokno assured 845 Philippine Military Academy (PMA) alumni of the complete support of the Department in the Duterte administration's vision of a "modernized, better equipped, better trained, and properly compensated military and police force" in his speech at the PMA Alumni Association, Inc. (PMAAAI) Annual General Assembly and Convention, held last Saturday, January 27, 2018, at the Theatre at Solaire in Paranaque City.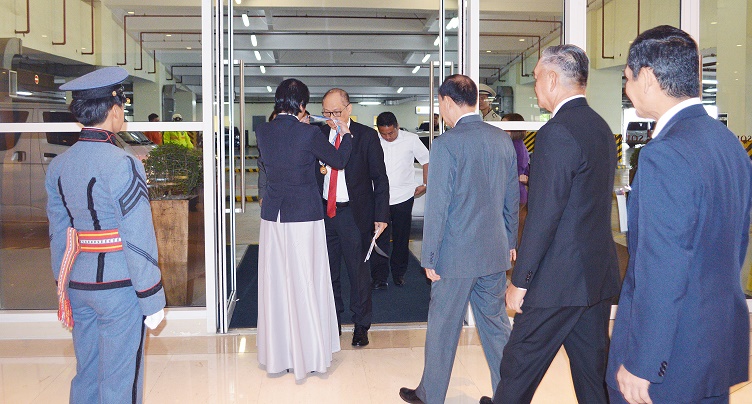 The DBM chief, as guest of honor and speaker, was requested to discuss Congress Joint Resolution No. 1 (s. 2018), which doubles the base pay of the Private, Fire Officer I, Jail Officer I, Police Officer I, Apprentice Seaman, and Seaman Third Class, as well as increases the base pay of other MUP ranks effective January 1, 2018. As a whole, the base pay increase results to a 59% average raise for all MUP ranks in 2018.
In 2019, in the second round of pay adjustment, those MUP in the ranks equivalent to First Chief Master Sergeant and Senior Police Officer IV up to General and Director General, will receive an increase. The average increase for all ranks will then be 72.18%.
The Congress Joint Resolution was signed on January 1, 2018 by President Rodrigo Roa Duterte.
Secretary Diokno also updated the attendees on the status of the unified uniformed personnel pension reform bill and emphasized the Duterte administration's aim to come up with a lasting solution to the problem of unsustainable pension system for MUP retirees in the country.
"It is our goal to craft a new Military Pension System that is not only fair to our retirees, but also sustainable and permanent. Permanent, in the sense that the administrations who will come after us will not face the problems we are facing now," he said.
Lastly, he urged the PMA alumni to support the government in ensuring that the problem on MUP pension will not hinder our country's progress into becoming an upper middle income nation by 2022.
To read the speech of Secretary Diokno, visit SPEECH OF THE GUEST OF HONOR Secretary Benjamin E. Diokno Department of Budget and Management. For more information and updates on increase in base pay of military and uniformed personnel, visit www.dbm.gov.ph, or follow @DBMgovph on Facebook and Twitter.
[30]