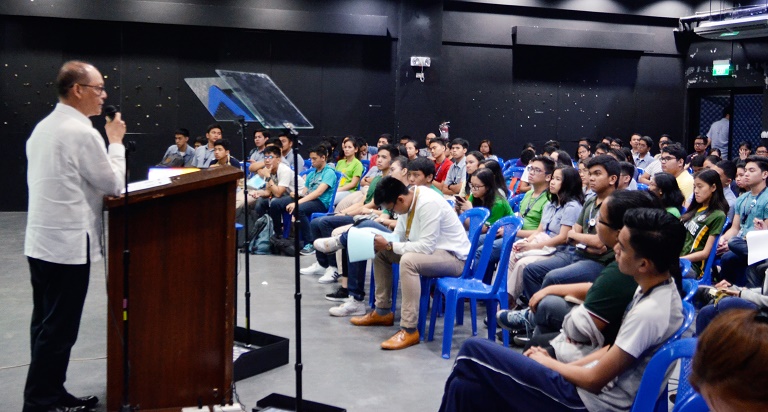 On January 24, 2018, Secretary Benjamin Diokno discussed in a forum the first package of the Duterte Administration's Tax Reform for Acceleration and Inclusion (TRAIN) Law to the students of Ateneo Senior High School (ASHS) in Ateneo de Manila University in Quezon City. The forum, "makiALAM on TRAIN Law", was attended by more than 150 students and faculty members of ASHS.
In his speech, Secretary Diokno commended the students and faculty in trying to bridge the gap between the government and the public.
"It gives me hope that high school students are keen on understanding policies that have implications on the country's development. The participation of young students, armed with fresh ideas and contagious enthusiasm, will only brighten the country's development outlook," Sec. Diokno said.
Secretary Diokno first discussed simple concepts on taxation and Philippines tax system, and explained salient features of the TRAIN Law and its objective.
"The essential features of Package 1A include lowering the personal income tax rates, reducing exemptions in the Value-Added Tax base, increasing taxes on petroleum products and automobiles, and introducing taxes for sugar-sweetened beverages," Sec. Diokno said.

He also clarified the criticisms and misconception about the TRAIN Law.
"We, in the government, have already thought of mitigating measures to protect the poor from potential price increases. The appropriate way of assessing the TRAIN is to look at itsnet incidence: by looking at the additional burden on the tax side versus the additional benefit on the expenditure side," Sec. Diokno said.
In conclusion, Secretary Diokno said the TRAIN Law is a reform initiative that is crucial to the poverty-reduction and economic development goals of the country.
After his presentation, the students and faculty members of the Ateneo Senior High School had an opportunity to exchange ideas with Secretary Diokno on the importance and effects of the new tax reform.
For more information on the Department of Budget and Management, visit: www.dbm.gov.ph and follow @DBMgovph on Facebook and Twitter.