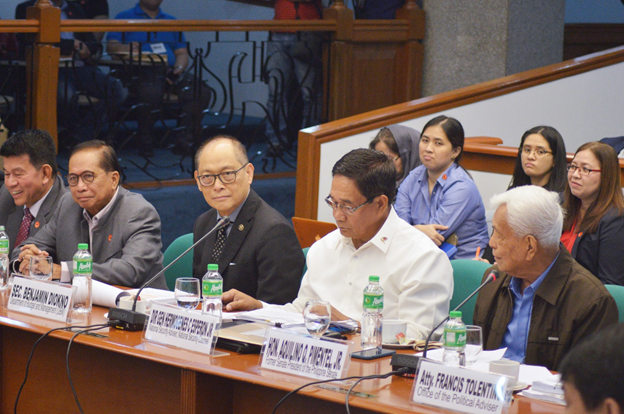 On January 23, 2018, Department of Budget and Management Secretary Benjamin Diokno joined former Senate President Aquilino Pimentel, National Security Adviser Hermogenes Esperon, Presidential Adviser on Political Affairs Francis Tolentino, Presidential Adviser on Peace Process Jesus Dureza, representatives from Department of Finance (DOF) and Department of National Defense (DND) for the Senate public hearing on the proposed Bangsamoro Basic Law (BBL).
During the hearing, Secretary Diokno has voiced support for the passage of Basic Law for the Bangsamoro Autonomous Region and abolishing the Autonomous Region in Muslim Mindanao (ARMM).
"The DBM fully support the BBL. To be consistent, financing follows the plan. And the plan depends on the size of the territorial jurisdiction of the Bangsamoro regional government," Sec. Diokno said.
He also suggested DBM and DOF to determine a lower, sustainable and affordable percentage of Block Grant and Special Development Fund (SDF).
"The higher the percentage of Annual Block Grant and SDF, the lower the overall fund available for the National Government to support its development priorities such as Build Build Build program, Free Tuition, and Free Irrigation," Sec. Diokno added.
Under the proposed law, the national government shall provide an annual block grant which shall be the share of the Bangsamoro in the national internal revenue of the government.
Secretary Diokno also recommended to revisit the provision on the separation pay retirement benefits of the employees of the existing ARMM and creation of offices once the law has been passed.
"The creation of offices be organized in accordance with the standard and guidelines being adopted by DBM and Civil Service Commission," he said.
The Senate Committee on Local Government will set its third and fourth Public Hearing on Bangsamoro Basic Law in Cotabato and Marawi City on January 25 and 26 respectively.
For more information on the Department of Budget and Management, visit: www.dbm.gov.ph and follow @DBMgovPH on Facebook and Twitter.