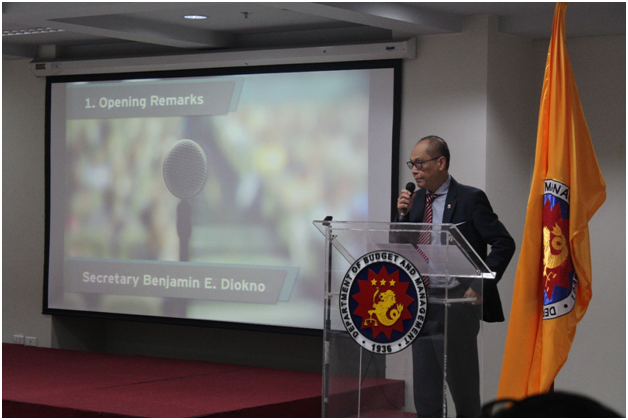 Today Secretary Benjamin E. Diokno gave the opening remarks at the kick-off for the Budget and Treasury Management System's Change Management Initiatives at the DBM Central Office Multipurpose Hall.
The BTMS is a fully-online system, with workflow automation capability that enables mobility when transacting and approving for obligations and required items in the budget. The new system is expected to modernize the way government carries out its financial transactions.
In his speech, the Secretary introduced the Change Management initiatives to be carried out by an external provider, SGV & Co. Philippines.
"This change management program is imperative to facilitate a swifter adaptation to this new system. In this endeavor, we are supported by technical people from SGV. They shall provide change management support in the form of planning, communication, and, enhancement of user training and stakeholder experience," the Secretary explained.
The budget chief also emphasized the Department's role as the "prime mover" of the BTMS.
"Until BTMS is fully integrated into 'business as usual', let us continue working hand-in-hand to support this one unified system," the Secretary said.