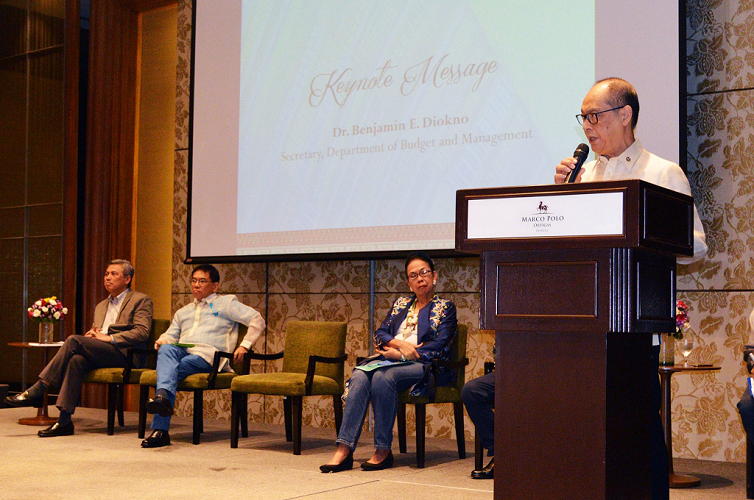 On October 20, 2017, DBM Sec. Benjamin Diokno delivered the keynote address for the Culminating Ceremony of the Philippine Higher Education Career System Executive Development Program (EDP). The ceremony was held at the Marco Polo Hotel in Ortigas, and was graced by the senior officials of the Commission on Higher Education (CHED).
A strategic initiative by the CHED, the EDP aims to inspire and encourage those in the higher education sector to develop their competencies and take on higher and more challenging roles in public higher education improvement.
A total of 35 higher education executives successfully completed the second batch of the Executive Development Program. Comprised by PhD holders leading various State Universities and Colleges (SUCs), the five-month program included a residential module in Antipolo, Rizal, as well as study trips and immersion activities. Further, the program attendees also conceptualized and presented an innovation project, in order to become more equipped in solving problems in the education sector.
"I am sure that your experience in EDP has provided you, aside from wonderful memories and new connections, the essential knowledge, skills, and attitude that will make you effective leaders of our country's SUCs," Diokno noted as he expressed his congratulations to the EDP completers.
The Budget Chief further highlighted that their completion of the EDP not only benefits them as individual members of the education sector, but their collective effort as a batch will positively impact the society in the future. "You may consider this achievement a small success that will nudge you a little towards your desired career path, but, it should be emphasized, that your success and this group's success in completing this program benefits many," Diokno noted.
In his message, Sec, Diokno featured how the EDP should ideally result in a better higher education system in the Philippines. "…Your successful completion of the EDP means that our country can hope for a continuously improving higher education system, one that is transformed by its dynamic and innovative leaders; open and accessible by all, no matter the age, gender, belief, or economic status; one that is at par with the best in the world," Diokno highlighted.
The Budget Chief concluded his message by again underscoring our respective roles in nation-building.
"…We have a joint responsibility, as citizens, as leaders, as public servants, to transmit our country, the Philippines, not only not less, but greater, better and more beautiful than it was transmitted to us."
***
For more information, visit www.dbm.gov.ph, or follow @DBMgovph on Facebook and Twitter for regular updates.