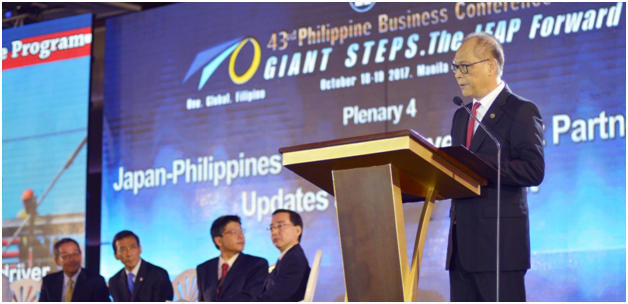 On October 19, 2017, DBM Secretary Benjamin Diokno gave updates on the USD 9 billion Japan's investments and aid pledge during the 43rd Philippine Business Conference held at the Manila Hotel in Manila.
In his speech, Secretary Diokno emphasized that the huge chunk of this investment commitment will directly benefit the most ambitious and boldest infrastructure program, dubbed as Build Build Build. He cited some of the big-ticket projects including Metro Manila Subway Project (MMSP) and Manila Clark Railway Projects (MCRP) which will be financed through the Japanese Official Development Assistance.
The MMSP is the country's first subway comprised by 13 stations that will connect Quezon City to Taguig. This project is estimated to cost around PhP 355.6 billion or USD 7.1 billion.
Meanwhile, the MCRP is already under implementation with an existing loan agreement for an amount of PhP 105 billion or USD 2.1 billion. The express train will connect Manila to Clark in Pampanga
"We are committed to ensure that all these investments in infrastructure would translate to a safer, efficient, and more comfortable commute for the public ride," Sec. Diokno said.
During the panel discussion, Sec. Diokno extended his gratitude to the Japanese government for their committed support to the Philippines in pursuit of real change.
Joining him in the panel discussion were Embassy of Japan Minister for Economics, Mr. Makoto Iyori, Japanese Chamber of Commerce and Industry of the Philippines President, Mr. Hiroshi Shirashi, Japan International Cooperation Agency-Philippines Chief of Representatives, Mr. Susumi Ito, and Japan External Trade Organization Executive Director, Takashi Ishihara.