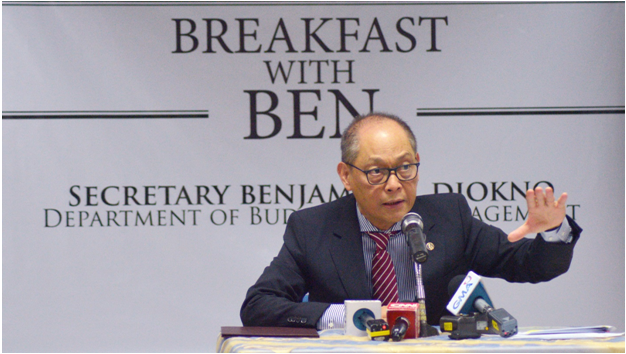 "The commitment is to double [military and uniformed personnel's] salaries by January 2018. We are doing everything to honor that commitment," Secretary Diokno told reporters during a press conference at the Department of Budget and Management yesterday.
The draft resolution containing the modified base pay schedule of military and uniformed personnel (MUP) prepared by the Department of Budget and Management was concurred with by the Office of the President last September 20, 2017, and has since been endorsed to Congress.
"We need the approval of both houses of Congress to implement this," Secretary Diokno said, "because Congress has the power of the purse."
The Resolution, if approved by both houses of Congress, will double the base pay of a Police Officer (PO) I in the Philippine National Police or a Private in the Department of National Defense (DND), and equivalent ranks in the Bureau of Jail Management and Penology (BJMP), Bureau of Fire Protection (BFP), Philippine Public Safety College (PPSC), Philippine Coast Guard (PCG), and the National Mapping and Resource Information Authority (NAMRIA). A PO I and those with equivalent rank will enjoy a 100% increase resulting to a monthly base pay of 29,668 pesos. Overall, the salary adjustments will result to a 58.7% average increase for all MUP ranks, effective January 1, 2018.
The increase in Base Pay will result to increases in other allowances and bonuses that are computed as a percentage of Base Pay such as Longevity Pay (or Foggy Pay), Mid-Year Bonus, Year-End Bonus, and will effectively discontinue the grant of provisional and officers' allowances, an interim measure pending the modification of the base pay schedule.
The net take-home pay will be much higher than the previous arrangement since the Longevity Pay is tax-exempt, while the interim allowances (Provisional and Officers' Allowances) are subject to income tax. Tax-exempt collateral allowances (e.g., Flying Pay, Sea Duty Pay, Instructor's Duty Pay, etc.) are expected to increase as well.
Finally, the passage of the first package of the Comprehensive Tax Reform program will further increase the net take-home pay of the MUP with the lowering of income tax rates.
According to DBM estimates, the increase in the base pay of soldiers, police, firefighters and jail guards will entail an additional cost of P63.4 Billion. The increase in the compensation of the MUP will be funded from the Miscellaneous Personnel Benefits Fund (MPBF), and from any available allotment in the respective budgets of the agencies concerned.
---
Executive Order No. 201, s. 2016.