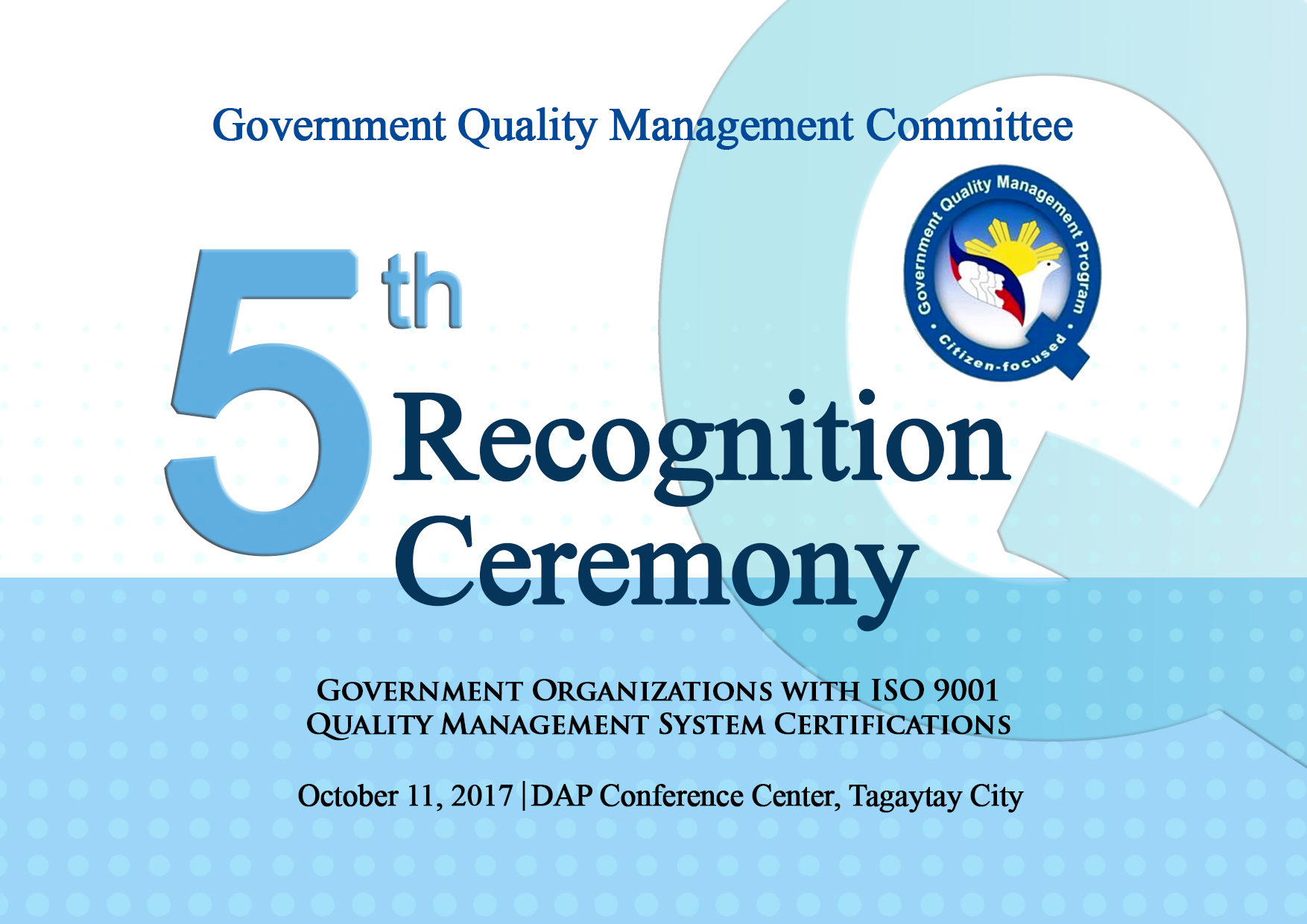 Secretary Benjamin Diokno of the Department Budget and Management (DBM) and Chair of the Government Quality Management Committee (GQMC) announces today's conduct of the Recognition Ceremony for 52 entities from the National Government Agencies (NGAs), Other Executive Offices, Constitutional Office, Government –Owned and –Controlled Corporations (GOCCs), Government Financial Institutions (GFIs), state universities and colleges (SUCs), and local government units (LGUs), which have successfully obtained ISO 9001 Quality Management System (QMS) certification for the period September 1, 2016 to September 22, 2017. This brings to fore about 633 ISO 9001 certified QMS processes in the public sector since 2004.
The GQMC is mandated to encourage and promote improved public sector performance through the adoption of ISO 9001 QMS in all government agencies, and to recognize citizen-driven government organizations that have attained ISO 9001 certification. Other members of the GQMC are the heads of the Department of Trade and Industry (DTI) (Co-Chair);Department of the Interior and Local Government (DILG), Office of the President – Internal Audit Office (OP-IAO), and Development Academy of the Philippines (DAP).
The 5th Recognition Ceremony for Government Organizations with ISO 9001 QMS Certifications washeld at the DAP Conference Center, Tagaytay City.It also highlighted the celebration of the National Quality and Productivity Improvement Month, which was declared through a Presidential Proclamation in 1988.
The event was part of the of the two-day Asian Productivity Organization (APO)-DAPInternational Conference on Public Sector Productivity, with about 500 participants from 20 APO-member countries.With the theme "Transforming the Public Sector in the Age of Innovation", the International Conference would enable multi-sectoral participation in enhancing overall productivity and quality enhancement thru knowledge sharing of experiences on emerging trends, technologies, methodologies, innovations and policies in the global public sector. The Awardees consisted of the Environmental Management Bureau (EMB); Bureau of the Treasury (BTr); Insurance Commission; Privatization and Management Office; Mindanao Central Sanitarium; Schistosomiasis Hospital; Institute for Labor Studies (ILS); Professional Regulation Commission (PRC); Philippine Atmospheric, Geophysical and Astronomical Services Administration (PAGASA); Philippine Textile Research Institute (PTRI); Technology Application and Promotion Institute (TAPI); Board of Investments (BOI); Civil Aeronautics Board (CAB); Philippine Coast Guard (PCG); Commission on Higher Education (CHED); APO Production Unit, Inc.; Authority of the Freeport Area of Bataan (AFAB); Home Development Mutual Fund (HDMF); National Food Authority (NFA); National Transmission Commission (NTC); Philippine Amusement and Gaming Corporation (PAGCOR); Philippine Deposit Insurance Corporation (PDIC); Philippine Health Insurance Corporation (PhilHealth); Philippine Ports Authority (PPA); Philippine Postal Savings Bank, Inc. (PPSB); PNOC Renewables Corporation; Water Districts in Calumpit, Carcar City, Hagonoy, Metro Kidapawan, Norzagaray, and Plaridel; Aklan State University (SU); Catanduanes SU; Central Luzon SU; Marinduque SU; Pangasinan SU; West Visayas SU; Rizal Technological University; Dr. Emilio B. Espinosa, Sr. Memorial State College of Agriculture and Technology; Nueva Ecija University of Science and Technology; Southern Philippines Agri-Business, Marine and Aquatic School of Technology; Technological University of the Philippines; University of Southern Mindanao; Provincial Governments of Aklan, Bohol, Cavite, Laguna and La Union; City Governments of Mandaue, Cebu; and Olongapo, Zambales; and Municipal Government of Guiguinto, Bulacan.
The Ceremony showcased the innovations and productivity initiatives for performance management systems of the Philippines as the APO Center of Excellence in Public Sector Productivity (COE-PSP). As COE-PSP, our country is expected to share knowledge, innovations and best practices on PSP in Asia and the Pacific region. In the near future, the PSP would help decrease if not eliminate, long queues in government offices, cracked roads, and wasted taxes, among other significant changes.
Government entities which are ISO 9001 QMS certified by accredited independent third party Auditors assure that their frontline services or core processes meet the global management standards and are expected to meet the requirements and satisfaction of their clients.
For more information, visit www.dbm.gov.ph, or follow @DBMgovph on Facebook and Twitter for updates.(Marlyn A. De Guzman, DBM-SPIB)