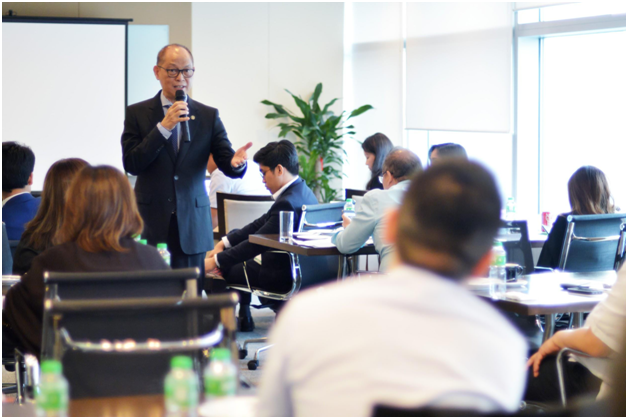 On September 2, 2017, DBM Sec. Benjamin Diokno spoke in front of local and foreign analysts of UBS to discuss the Duterte administration's economic plans, with emphasis on the FY 2018 National Budget, the administration's Golden Age of Infrastructure, and budget and governance reforms.
The UBS Macro Tour is a series of discussions and presentations on the state of the Philippine economy, which features key people in government as keynote speakers.
Sec. Diokno highlighted that the FY 2018 Budget, which amounts to PHP 3.767 Trillion, is consistent with the sustainable budget strategy. The expansionary fiscal policy will still result to a declining debt-to-GDP ratio over the medium term.
Diokno also presented the Build Build Build Program, the ambitious infrastructure program which will usher in the Golden Age of Infrastructure in the Philippines. The government's infrastructure program consists of projects that will interconnect growth areas, support agriculture and tourism development by providing market access, and accessible routes to tourist destinations, spur trade, livelihood and investment activities, and at the same time generate employment. This infrastructure investment is, almost thrice the investments made in 2010 and will be sustained over the medium-term, peaking at 7.3% of GDP by 2022. "We have 75 major infrastructure projects, and thousands of other small projects [in line with this Build Build Build program]," Diokno explained.
The DBM Secretary further clarified that while this massive spending for the Golden Age of Infrastructure shall be financed through fiscal deficit spending and an 80-20 borrowing mix in favor of domestic sources, the Philippines' debt position remains manageable. This borrowing mix minimizes foreign exchange risks, while taking advantage of favorable terms offered by foreign loans.
"Our current Debt-to-GDP ratio is only at 40.6%, and we expect this to decline to 37.7% by 2022. This is relatively low considering that the common rule of thumb is a ratio of, at most, 60%," Diokno reiterated.
Hence, the Budget Chief maintained that the Philippines' debt position remains manageable, as our economic growth will definitely outpace our debt burden. This is to allay fears that the Philippines will be deeply indebted due to this debt financing strategy.
In terms of budget and government reforms, Diokno highlighted the the National Government Rightsizing Act, which aims to enhance the government's institutional capacity and improve public service delivery. He also discussed some of the implications of the Budget Reform Bill, which seeks to shift the current budget system from obligation-based to cash-based. Through this reform, Diokno noted that there will be more efficiency in project implementation, as government agencies will be forced to hasten the start of their projects, rather than merely obligating it. Lastly, Diokno also touched on the Uniformed Personnel Pension Reform, which will adjust the pension rates for uniformed personnel.
In brief, Sec. Diokno highlighted that the Philippine economy remains on track and is expected to grow even more in the coming years. With various government reforms also in place, Diokno assured the members of the business community that the Philippines will remain as one of the strongest economies in this region.
***
For more information, visit www.dbm.gov.ph, or follow @DBMgovph on Facebook and Twitter for regular updates.