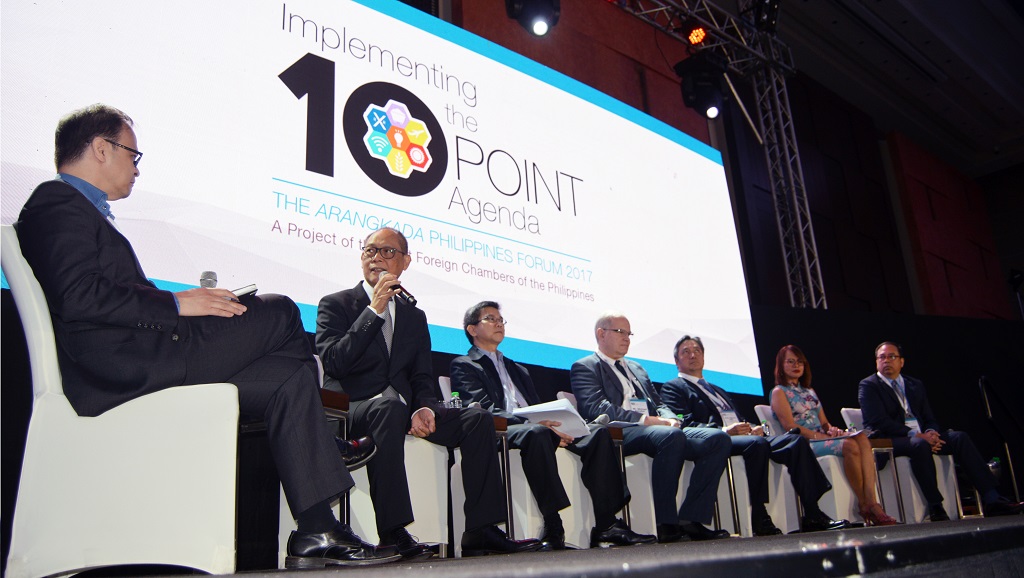 With a theme centering on the administration's 10-point socio-economic agenda, the Arangkada Philippines Forum 2017 was held on September 14, 2017 at the Marriott Grand Ballroom.
DBM Sec. Benjamin Diokno spoke in front of members of the various foreign chambers of the Philippines, as he highlighted the economic implications and the financing strategy of the Build Build Build infrastructure program, along with other policy reforms.
The ambitious Build Build Build program directly addresses the 4th point of the 10 Point socio-economic agenda – "Accelerate annual infrastructure spending to account for 5% of GDP with Public-Private Partnerships playing a key role."
Sec. Diokno emphasized that the administration's priority on infrastructure spending is due to the poor state of our public infrastructure.
"The present poor state of infrastructure reflects decades of neglect and misallocation of public resources," Sec. Diokno remarked.
By 2022, the Build Build Build program would have ushered in the Golden Age of Infrastructure in the Philippines.
Infrastructure spending shall be increased from 5.4% to 7.3% of GDP from 2017 to 2022. Such increase will be accommodated through an expansion of fiscal space – the fiscal deficit will be increased from 2% to 3% of GDP, coupled with tax policy and administrative reforms.
Sec. Diokno also discussed the country's improving budget utilization. Underspending as share of cash budget has notably dropped to 0.4% in the first half of 2017, from 3.6% in 2016.
In terms of policy reforms, Sec. Diokno explained the Budget Reform Bill, which ensures efficient budgeting among government agencies by shifting to a cash-based budget system. The Budget Chief also touched on the revised IRR of Government Procurement Reform Law (RA 9184).
Sec. Diokno also presented the reasons for the administrations preference to Hybrid PPP, citing that (1) it would ensure earlier project completion, and (2) the projects will be more affordable as the government can borrow at lower cost and need not impute a return on investment.
Lastly, Sec. Diokno stated that all the efforts of the government are geared towards sustaining the economy's growth momentum and improving the lives of Filipinos.
"The Duterte administration is serious about its pursuit of real change," he concluded.