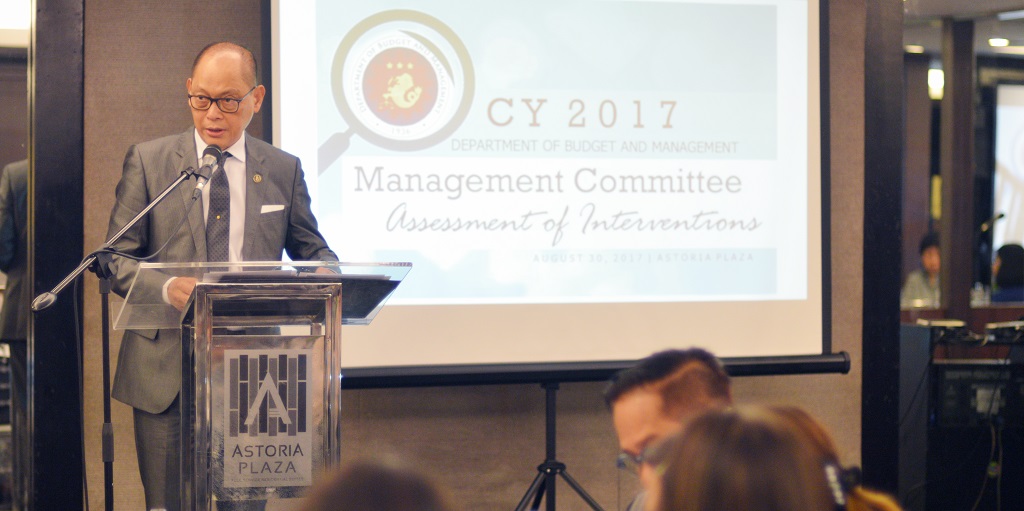 AUGUST 30, 2017 -The Department of Budget and Management (DBM) holds today the CY 2017 Management Committee (ManCom) Assessment of Interventions at the Astoria Plaza in Pasig City.
Gathering the DBM senior officials from regional offices all over the country, the ManCom Assessment aims to enable the Department to ensure the attainment of the 2022 DBM Vision through the assessment of adequacy and relevance of the DBM Strategy Maps or List of Strategic Interventions.
"[W]e are in a favorable position to take a big leap forward in our journey, as we have accomplished and even exceeded some of our targets in our agency's Major Final Outputs, which are the steps we are taking to realize our 2022 Vision," said DBM Secretary Benjamin E. Diokno in his opening address.
In the DBM 2022 Vision, established during the October 2016 Strategic Planning Conference, the agency targets to be "one of the top three budget institutions in the ASEAN-10 region; be an excellent source of expertise in the Philippine administrative structure; and become leaner, quicker, more technologically-savvy, better trained, and more responsive to the demands of a rapidly modernizing country."
Secretary Diokno concluded his welcome remarks by enjoining the senior officials and employees to actively participate and "embrace the new, world-class DBM that [they] will together build."
For more information, visit www.dbm.gov.ph. Follow @DBMgovph on Twitter and Facebook for regular updates.