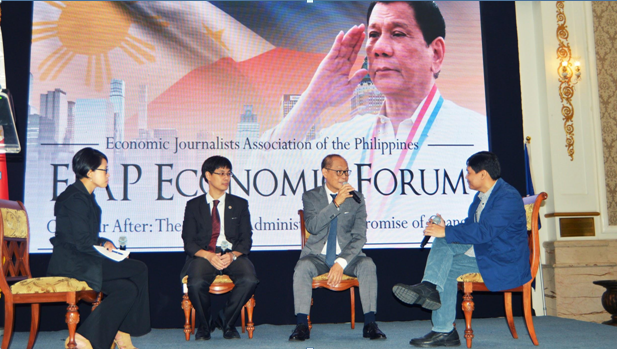 Last Friday, August 25, Secretary Benjamin Diokno attended the EJAP Economic Forum at the Ayuntamiento de Manila to discuss the economic achievements of the Duterte Administration one year into their term. Joining Secretary Diokno were his fellow economic managers BSP Governor Nestor Espenilla Jr., NEDA Director-General Ernesto Pernia, DOF Undersecretary Karl Chua, and DOF Undersecretary Gil Beltran. The forum covered a wide range of topics such as the government's monetary and fiscal policy, updates on the Comprehensive Tax Reform Program, and the medium-term growth outlook of the Philippine economy.
In his presentation, the Budget Secretary stressed the importance of Public Financial Management (PFM) and public sector reforms for the government to meet its economic targets. He highlighted the measures that have been put in place at the Department of Budget and Management (DBM) to improve public spending, especially on the backdrop of an expansionary fiscal policy
"Given the expansionary fiscal policy, a typical concern is the government's absorptive capacity in utilizing these billions of pesos. Can we really move such an enormous amount of money? Of course, most doubts are based on the underspending – that is, the difference between actual disbursements versus programmed disbursements – of past administrations," said Secretary Diokno.
"While some of the apprehensions are valid, they do not necessarily apply to the Duterte Administration," added the Budget Secretary. He then proceeded to cite the underspending rates in recent years and how they have increased under the watch of the current administration. "[L]ast year's spending pattern shows significant improvement: underspending has narrowed to 3.6 percent. This is significantly less than the 13.3 percent and 12.8 percent deviations observed in 2014 and 2015, respectively. Take note that we only took over in the second half of 2016."
More so, data on national government disbursements show that underspending registered at 0.4 percent, or P6 billion, for the first semester of FY 2017. "Considering that the program for the first semester is P1.337 trillion, this is an enormous improvement," Sec. Diokno elaborated.
The increased efficiency in public spending has been credited to reforms instituted at the DBM and the line agencies including improved Budget preparation, streamlined procurement processes owing to the revised IRR of the Government Procurement Reform Act (RA 9184), and strict project monitoring for the swift implementation of programs and projects.
Looking ahead, the DBM is also pushing for the passage of the Budget Reform Bill and the Government Rightsizing Program. The said legislative initiatives will greatly aid public sector efficiency and Public Financial Management.
For the speech of Secretary Diokno at the EJAP Economic forum, visit the following link: http://www.dbm.gov.ph/?page_id=21632
For more information on the Department of Budget and Management, visit: www.dbm.gov.ph