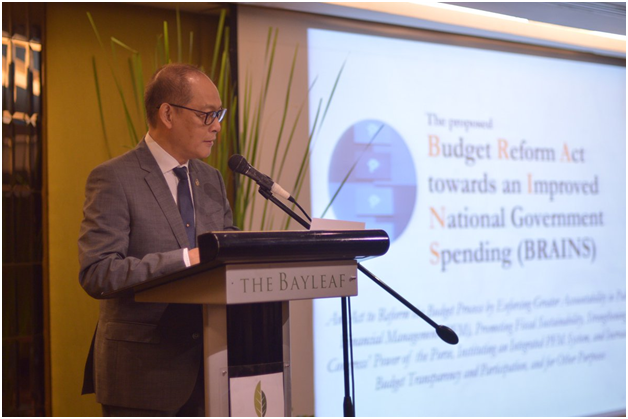 On August 25, DBM hosted another forum on the proposed "Budget Reform Act towards an Improved National Government Spending (BRAINS)" for almost twenty national government agencies and offices.
Held at the Bayleaf Hotel in Intramuros, the forum aimed to introduce the salient features of the bill to those involved in the budget operations of their respective agencies.
Secretary Diokno gave the welcoming remarks that functioned simultaneously as a brief introduction to the bill. Director Rolando Toledo of the DBM Fiscal Planning and Reforms Bureau (FPRB) would later give a talk on the finer points of the bill.
In his welcome remarks, DBM Secretary Benjamin E. Diokno emphasized the urgent need to pass such a bill, "Our current budget system is still the one I prepared thirty years ago. We need to reform it now."
According to the Budget Chief, the proposed bill will institutionalize the budget reforms that have been established since, such as the Treasury Single Account (TSA) and the Unified Account Code Structure (UACS). It is the result of a series of consultations with the financial management agencies, the Commission on Audit (COA), the Department of Finance (DOF), the Bureau of Treasury (BTr), and the National Economic Development Authority (NEDA). Ultimately, the bill seeks to address budgeting difficulties such as the fragmented financial reporting among BTr, COA, DBM, and NEDA, as well as under spending due to "structural weakness within National Government Agencies and Government-Owned and -Controlled Corporations (GOCCs).
In closing, Secretary Diokno encouraged the agencies present to actively participate in the open forum and give suggestions as to how the DBM can improve the bill and execute a smooth transition from the old system to the new one.
Some of the agencies and offices in attendance were the Office of the Executive Secretary (OES), Presidential Management Staff (PMS), Department of Agrarian Reform (DAR), National Irrigation Authority (NIA), National Commission for Culture and the Arts (NCCA), among others.