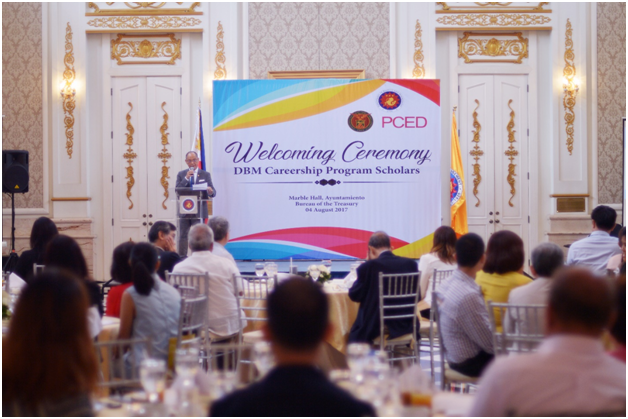 Secretary Diokno delivering his speech.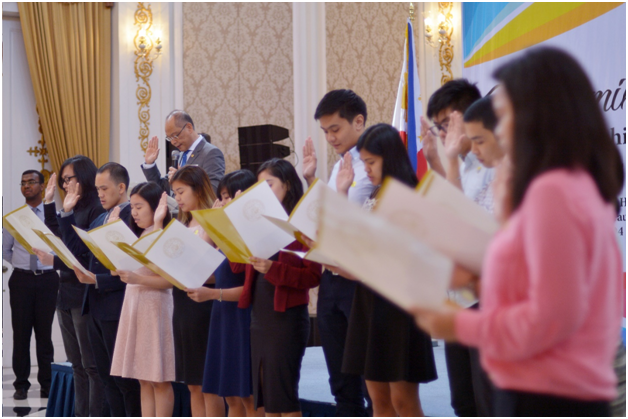 DBM Secretary Diokno addressed the scholars of the DBM-PCED Careership Program during their Welcoming Ceremony held at Marble Hall, Ayuntamiento Building of the Bureau of Treasury earlier this afternoon.
In his message to the scholars, Secretary Diokno expressed his hope that the scholars see themselves "not just as recipients or beneficiaries [..]but as advocates of what the program has set out to achieve – that is to ensure a consistent crop of technically proficient staff not just in the DBM, but in the entire bureaucracy".
"Right now we don't have enough people manning government posts, especially the technical positions. The PCED-DBM program is an effort to address such a problem," the Secretary said.
An initiative of Secretary Diokno himself, the program is a partnership between the Philippine Center for Economic Development (PCED), housed by the UP School of Economics (UPSE), and the Department of Budget and Management. The scholars will be enrolled to the Masters in Development Economics Program of the UPSE, fees fully covered by the government, and, upon completion, will be given a regular appointment at the DBM.
According to the Secretary,"[…] the presence of a strong and competent technical staff in government is a strong buffer against corruption, inefficiency, and ineffectiveness in the government."
Later in the program, the Secretary led the oath taking of the PCED-DBM scholars. Senior officials of the DBM and faculty members of the UPSE were also in attendance to formally welcome the scholars.