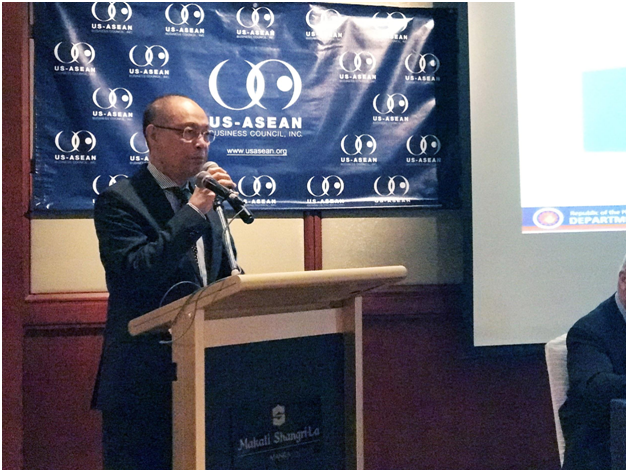 On July 26, 2017, DBM Sec. Benjamin Diokno spoke in front of the members of the US-ASEAN Business Council to discuss the Duterte administration's economic plans, with emphasis on the FY 2018 National Budget, the 'Build, Build, Build' infrastructure program, and budget-related reforms.
Sec. Diokno highlighted that the FY 2018 Budget, which amounts to PHP 3.767 Trillion is not only 12.4% higher than the previous year's budget, but also comprises 21.6% of GDP. According to the Budget chief, infrastructure spending and other capital outlays are provided with a sizeable share of PHP 963.9 billion, in line with the administration's efforts to massively develop our infrastructure through the Build, Build, Build program. In terms of department allocation, Sec. Diokno pointed out that the PHP 643.3 billion budgetary share of the Department of Public Works and Highways (DPWH), which is the second largest next to the Department of Education, is a 37.5% increase from its previous year's allocation. This is also in connection with the Build, Build, Build infrastructure program
"We will be spending around 8 to 9 trillion pesos for infrastructure throughout the administration. That's roughly 160 to 180 billion dollars," Diokno highlighted.
The DBM Secretary clarified that while this massive infrastructure spending shall be financed through fiscal deficit spending and an 80-20 borrowing mix in favor of domestic sources, the Philippines' debt position remains manageable. Sec. Diokno explained that our current Debt-to-GDP ratio is only at 40.6%, which is relatively low considering that the common rule of thumb is a ratio of, at most, 60%. Furthermore, our Debt-to-GDP ratio, in comparison with our ASEAN neighbors and other developing countries is sustainable. Thus, Diokno emphasized that the Philippines' debt position is manageable, as our economic growth will definitely outpace our debt burden. This is to allay fears that the Philippines will be deeply indebted due to this debt financing strategy.
In addition, the government's macroeconomic assumptions from 2017 to 2022 ensure that the Philippine economy remains on track, with consistent growth to be expected through the rest of the Duterte administration.
In terms of budget and government reforms, Diokno highlighted the implications of the Budget Reform Bill, which seeks to shift the current budget system from obligation-based to cash-based. Through this reform, Diokno noted that there will be more efficiency in project implementation, as government agencies will be forced to hasten the start of their projects, rather than merely obligating it. Further, Diokno also touched on the Uniformed Personnel Pension Reform, which will adjust the pension rates for uniformed personnel, as well as the National Government Rightsizing Act, which aims to enhance the government's institutional capacity and improve public service delivery. In terms of the proposed Tax Reform program, Diokno remarked that the adjustment of tax rates, alongside the corresponding mitigating packages is a win-win situation that shall benefit all sectors.
In brief, Sec. Diokno highlighted that the Philippine economy remains on track and is expected to grow even more in the coming years. With various government reforms also in place, citizens can expect the country to develop even faster not only for the benefit of the business community, but for every Filipino as well.
***
For more information, visit www.dbm.gov.ph, or follow @DBMgovph on Facebook and Twitter for regular updates.