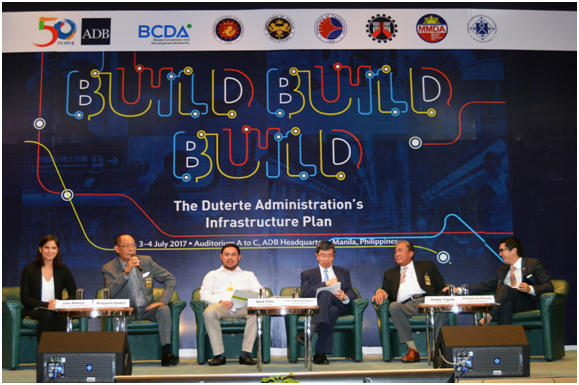 On July 3, 2017, Budget Secretary Benjamin Diokno joined ADB President Takehiko Nakao, Transportation Secretary Arthur Tugade, Public Works Secretary Mark Villar, BCDA President Vince Dizon, and MMDA Assistant General Manager Julia Nebrija for the Philippine Transport Forum held at the Asian Development Bank Headquarters in Mandaluyong City.
The forum gathered civil servants from various national government agencies, senior officials of the ADB, economists and urban planners, and representatives of the private sector as they tackled the ambitious infrastructure program of the Duterte Administration, dubbed "Build, Build, Build".
For his opening remarks, ADB President Takehiko Nakao affirmed the Asian Development Bank's commitment to support President Duterte's "Build, Build, Build" campaign. He cited ADB's willingness to provide financing support and technical assistance for the swift and effective implementation of infrastructure projects in the Philippines.
In the panel discussion, Secretary Diokno discussed the conducive economic environment that has enabled the government to mobilize additional resources for its infrastructure program. "In my first stint during the [Corazon] Aquino Administration, we were heavily indebted and interest rates were high so it was difficult to undertake infrastructure spending," said Sec. Diokno. "Then during the Estrada Administration, we were coming off the Asian Financial Crisis," he added. In contrast, he explained that economic conditions now are ripe for massive investments on infrastructure: the economy is posting strong growth, macroeconomic fundamentals are intact, and interest rates are low with favorable tenor terms.
Sec. Diokno also shed light on some reforms to expedite project implementation for major infrastructure projects. He discussed the government's openness to the "hybrid" PPP approach wherein the government finances and constructs the project before handing the Operations and Maintenance to the private sector. He said that the 29 to 30-month average timetable for PPP projects is too long prompting the economic managers to tweak the administration's PPP approach.
More so, he explained that the government will not choose proponents who can offer the highest premium for PPP projects. "We, the economic managers, feel that this is taxation without representation," said Secretary Diokno.
He also briefly touched on the Government Procurement Reform Act (RA 9184), discussing its advantages in fostering transparency and accountability. He said that the DBM has also issued its revised Implementing Rules and Regulations (IRR) to further improve the law, and ultimately enhance public service delivery.
In closing, the Cabinet Secretaries and senior government officials stressed the positive effect of "Build, Build, Build" to the Philippine economy and the lives of Filipinos, in line with President Duterte's pro-poor and pro-people agenda.
For more information on the Department of Budget and Management, visit www.dbm.gov.ph.