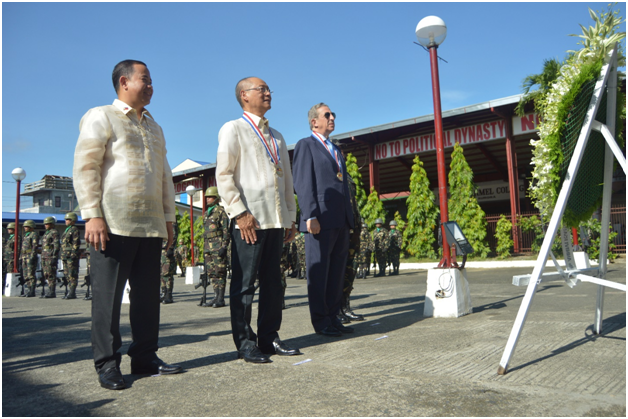 National Historical Commission of the Philippines Chairman Rene Escalante, DBM Secretary Benjamin Diokno and Spanish Ambassador to the Philippines Luis Antonio Calvo lead the Wreath Laying Ceremony during the 118th Anniversary of the Historic Siege of Baler and the 15th Philippine-Spanish Friendship Day | Baler, Aurora | June 30, 2017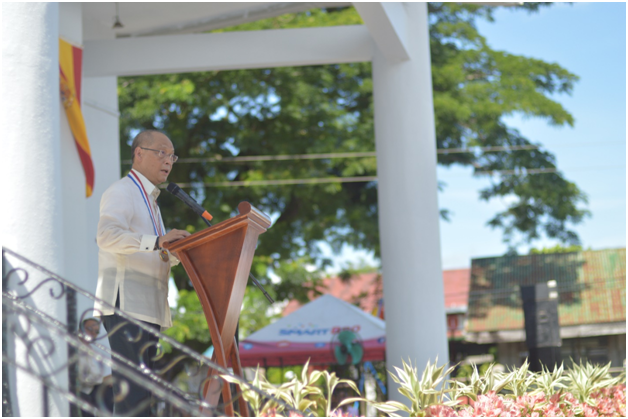 DBM Secretary Benjamin Diokno gives a short message during 15th Philippine-Spanish Friendship Day in Baler, Aurora | June 30, 2017
Secretary Benjamin Diokno graced the celebration of the 118th Anniversary of the Historic Siege of Baler and the 15th Philippine-Spanish Friendship Day on June 30 in Baler, Aurora.
In his speech, Sec. Diokno emphasized the strong relationship and cooperation between the Spanish government and the Philippines.
"The Spanish government continues to fund several development projects in the Philippines through the Agencia Española de Cooperacion Internacional para el Desarollo (AECID)," Sec. Diokno said.
"The Philippines is the only priority country in Asia for Official Development Assistance from Spain, having received up to 278 million euros in the last 15 years," he added.
He also unveiled the multi-million infrastructure projects to attract more tourists in Baler and boost the local economy. P320 million has already been allocated for the improvement of Baler airport through the construction of a runway extension and a passenger Terminal Board.
"The government have also allocated P9 million for the Baler Airport Access Road and P49.9 million for the Dinagyawan-Casiguran section of the Baler-Casiguran road," he added.
In conclusion, Secretary Diokno said, 'there is much to look forward to. To our partners in the Spanish government and fellow Filipinos, I hope we can all agree that it is not just the two countries' histories that are intertwined but our futures."
Also present in the event were Spanish Ambassador to the Philippines Luis Antonio Calvo, National Historical Commission of the PhilippinesChair Rene Escalante, H.E. Kok Li Peng (Singapore), H.E. Tuot Panha (Cambodia), H.E. Khin Moe Htoo (Myanmar), H.E. Carlos Salinas, Aurora Vice Gov. Rommel Angara and Baler Mayor Bihasa.