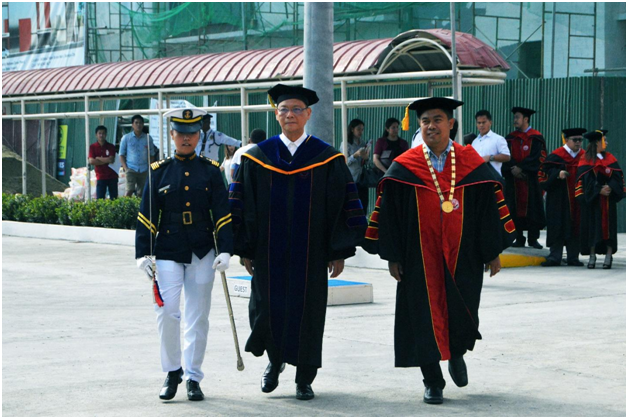 Yesterday, DBM Secretary Benjamin Diokno visited his home province of Batangas to give the commencement address at the 49th Batangas State University Commencement Exercises.
"I feel quite excited to be back in my home province, surrounded by fellow Batangueños who are just about to go out into the real world and contribute their knowledge and skills to the development of this nation," the Secretary said.
Batangas State University is one of the top performing schools in Mechanical and Electrical Engineering in the country. As an aside, Secretary Diokno recounted that back when he was entering college, Batangas State University was still called the Pablo Borbon Regional School of Arts and Trades, a trade school primarily offering technical-vocational courses.
In his speech, the DBM Secretary shared the lessons he learned throughout his public service career. He told the graduates to determine at the soonest possible time what their calling in life is, and to work purposely, to realize that calling. He also reminded them to be flexible when their career plans are hindered and to take risks if it could mean better opportunities or greater happiness for them.
Secretary Diokno also shared that when he was offered the position of Secretary of Budget and Management by then-President Estrada, he was already scheduled to leave for Canada to be an ASEAN Visiting Professor at the University of Toronto. "I had already signed up for my housing in Toronto and I was looking forward to a relatively relaxing life in Canada." But he accepted the position in the cabinet as it was his "patriotic duty".
When he was offered to serve as Budget Chief for the second time, Secretary Diokno "accepted with no hesitation."
"Again, it is my patriotic duty to serve as Secretary of Budget and Management," Secretary Diokno said.
As a conclusion, he shared with his fellow Batangueños his hope that they take up the challenge of "transmitting the country not only, not less, but greater, better and more beautiful than it was transmitted to us" no matter what their calling in life might be.
***
For information on the Department of Budget and Management, visit www.dbm.gov.ph.