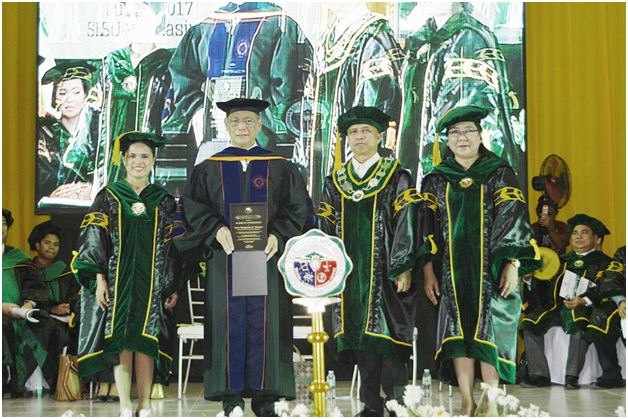 On Thursday last week, DBM Secretary Benjamin Diokno delivered the commencement address to the graduating students of the main campus of Southern Luzon State University (SLSU) in Lucban, Quezon.
SLSU is the premier higher education institution in the Province of Quezon.
In his speech at SLSU's 35th Commencement Exercises, Secretary Diokno urged the graduates to "work hard, take risks, and be opportunistic when the opportunity presents itself."'
He recounted how he began his career in the government while highlighting lessons that made an impact in his life. In particular, Sec. Diokno emphasized the reality of having to choose between life-changing options and knowing how to choose wisely.
He said, "[W]orking hard will open up options for you. While most opportunities inevitably lead to other opportunities, life will sometimes make you choose between a number at a time."
Then he narrated how he bounced back after his career plans were obstructed. "I chose the third option, even though it was the lowest paying and the odds of getting the Rockefeller Foundation fellowship were low […] I took a big gamble [but] I eventually got a scholarship to go abroad for my Ph.D.," said Sec. Diokno
The Budget secretary also shared with the graduating students the importance of public service in his life and how he knew at a young age that it was where he finds "meaning and purpose".
"I think I had been lucky to have a sense early on that these seemingly abstract things, meaning and purpose […] had to be sought out in the real world – by doing things of consequence not just to myself, but to others," Secretary Diokno said.
"Doing things of consequence," according to the Budget Chief, is best encapsulatedin the Oath of the Athenian, which Secretary shared with the young graduates:
"We will ever strive for the ideals and sacred things of the city, both alone and with many; we will unceasingly seek to quicken the sense of public duty; we will revere and obey the city laws; we will transmit this city not only not less, but greater, better and more beautiful than it was transmitted to us."
"That has been the ultimate challenge for me, as I hope it will be for you," Sec. Diokno concluded.
***
For information on the Department of Budget and Management, visit www.dbm.gov.ph.