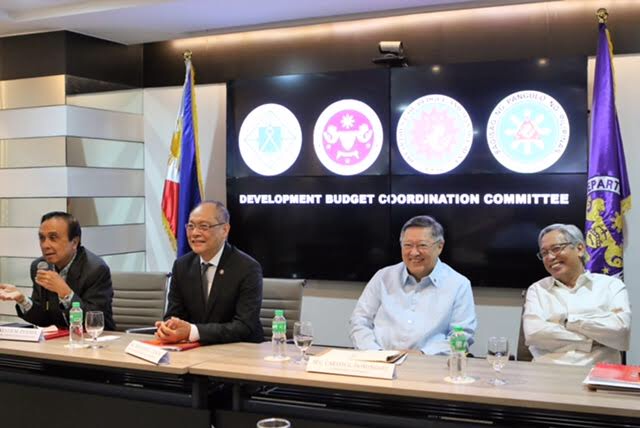 The Development Budget Coordination Committee (DBCC) forecasts sustained economic growth in the Philippines as macroeconomic fundamentals including imports remain stable, while exports are expected to improve. Furthermore, the expansionary fiscal policy of the government is expected to boost the performance of the Philippine economy.
The DBCC maintains the growth prospects for the medium term. Inflation assumptions remain stable at 2% to 4% for 2017 to 2022. This is based on estimates by the DOF that the higher excise taxes on petroleum, automobiles, and sugar-sweetened beverages will have minimal effect on prices. Furthermore, this inflation outlook remains within target as inflation forecasts of external institutions such as the International Monetary Fund, World Bank, and AP Consensus Forecasts belong within the said range.
We expect the GDP growth to remain unchanged at 6.5% to 7.5% in 2017 and 7.0% to 8.0% from 2018 to 2022.
Expected drivers of economic growth include construction and infrastructure development, primarily fueled by the administration's Build, Build, Build program. Also, the increase in government spending is seen to propel the economy upwards as the government plans to expand its investment in human capital.
In terms of oil futures prices and forecasts, the DBCC maintains Dubai crude oil price assumptions for 2017 to 2022. Projected oil price in 2017 stays at USD 40-55 per barrel, and USD 45-60 per barrel in 2018. Oil prices are still expected to rise to USD 50-65 per barrel from 2019 to 2022.
Global economic and political developments have directly influenced the trend in emerging market currencies, including the peso. We retain the 48-50 PHP per USD for 2017, while the forecast for the years 2018 to 2022 is adjusted to 48-51 PHP per USD. This in response to the resumption of the US Federal Reserve's monetary policy tightening, where the expectations of higher US interest rates and stronger demand for the US dollar could pose depreciation pressure on the peso.
The DBCC would also maintain 364-day T-bill rate assumptions at 2.5% to 4.0%, as the latest 2017 YTD 364-day T-bill rate falls within the DBCC-approved range.
Foreign interest rate assumptions will also be retained at 1.0% to 2.0% in 2017, and 1.5% to 2.5% from 2018 to 2022. The DBCC expects that the US Federal Reserve's policy normalization would be gradual and other major central banks will remain accommodative of the US' monetary and policy adjustments.
The DBCC would also raise the goods export growth assumptions from 2% to 5% in 2017, 5% to 7% in 2018, and from 7% to 9% in 2019. Thereafter, exports growth will be maintained at 9% from 2020 to 2022.
Meanwhile, goods imports growth will be at 10% from 2017 to 2019 and will be maintained at 11% from 2020 to 2022.
For the Medium-Term Revenue Program, the DBCC approved revenue levels that take into account the impact of the first package of the Comprehensive Tax Reform Program passed by the Lower House (House Bill 5636). In 2017, revenues are projected to reach PHP 2.427 trillion, equivalent to 15.2 percent of GDP. Meanwhile, disbursements for 2017 are set to reach PHP 2.909 trillion, equivalent to 18.3 percent of GDP.
With the implementation of the first tax reform package in 2018, revenues are then projected to increase to PHP 2.841 trillion, which is 16.3 percent of GDP. The revenue program is set to improve gradually to PHP 4.504 trillion by 2022, equivalent to 17.8 percent of GDP.
The first tax reform package will contribute PHP 133.8 billion in revenues for 2018, PHP 233.6 billion in 2019, PHP 272.9 billion in 2020, PHP 253.0 billion in 2021, and PHP 269.9 billion in 2022.
In terms of the Medium-Term Expenditure Program, the National Budget for 2018 is pegged at PHP 3.767 trillion, equivalent to 21.6 percent of GDP. This represents a 12.4 percent growth rate compared to the PHP 3.350 trillion National Budget for 2017. The expenditure program (Obligation Budget) is projected to reach PHP 5.661 trillion come 2022, equivalent to 22.3 percent of GDP. The deficit-to-GDP ratio at 3 percent will be maintained from 2017 to 2022.
The infrastructure budget for 2018 is being pegged at PHP 1.101 trillion, equivalent to 6.3 percent of GDP. This level is a significantly higher than the PHP 847.2 billion infrastructure budget in 2017, which is equivalent to 5.3 percent of GDP. Infrastructure spending will rise up to PHP 1.840 trillion come 2022, reaching as high as 7.3 percent of GDP.
For more information on the Department of Budget and Management, visit www.dbm.gov.ph