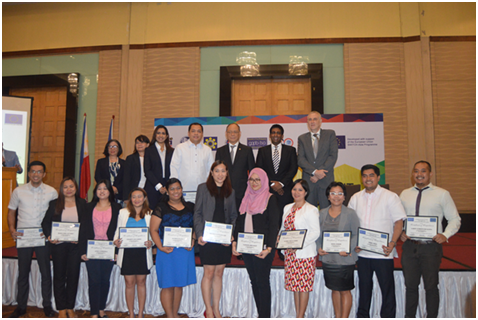 Department of Budget and Management (DBM) Secretary Benjamin E. Diokno presents "Why the Government is Buying Green" at the "Green Public Procurement: Opportunity for Growth" Forum, organized by the Government Procurement Policy Board – Technical Support Office (GPPB-TSO) and held at the Crowne Plaza Manila Galleria in Ortigas Center, Pasig City. 7 June 2017
In his presentation "Why the Government is Buying Green" at the forum "Green Public Procurement: Opportunity for Growth," Secretary Benjamin E. Diokno of the Department of Budget and Management (DBM) highlighted the government's important role in "green procurement."
"The government is the single largest buyer in the market. Establishing Green Public Procurement (GPP) will create demand for green supplies and equipment in the Philippines," said Secretary Diokno.
"The purchasing power of government is nothing to scoff at – mind you, the 2017 Budget is at P3.35 trillion," he also added to urge suppliers to "go green."
The forum was organized by the Government Procurement Policy Board – Technical Support Office (GPPB-TSO) and held on June 7, 2017 at the Crown Plaza Manila Galleria in Pasig City. The forum also formally launched the Philippines' Green Public Procurement (GPP) Program, along with the announcement of identified common use and non-common use supplies and equipment suitable for GPP.
"[I]n the same way that growth must be equitable, economic expansion should also ensure ecological integrity. Our pursuit for growth and industrialization should be tempered with regard for the environment," said Secretary Diokno.
He also emphasized the need for equity measures across not only regions, social classes, and urban-rural divides, but also across generations, and pointed to the government's strong position in influencing the private sector to participate in the green market.
According to the secretary, the Philippines' approach to GPP, which is based on a well-established public procurement system, allows the integration of green elements without inventing a parallel system of public procurement.
He added that the government will start with "Common Use Supplies and Equipment" centrally purchased by the DBM and "Non-Common-Use Supplies and Equipment" purchased by government stakeholders, and then gradually expand the scope of the GPP until it is applied to the entire public procurement process.
"The government, environment, and the future generations stand to gain from this reform. The long-run benefits of this practice more than offset the short-run difficulties that we are bound to face," said Secretary Diokno in closing his presentation.