From 2017 to 2022, the government will embark on an expansionary fiscal policy to finance the country's development priorities, boost economic growth, and ultimately achieve the administration's objectives of rapid poverty reduction.
The expansionary fiscal policy will be characterized by increased government spending, particularly on public infrastructure and social services. This fiscal strategy will be made possible by maintaining the deficit-to-GDP ratio at 3 percent while improving revenue effort through tax policy and tax administration reforms.
The deficit will be financed primarily through borrowings, following an 80-20 mix in favor of domestic sources. This mix minimizes foreign exchange risks.
Despite the increased deficit, the debt levels of the Philippine economy will remain to be manageable and sustainable (see Figure 1). In fact, projections from government authorities show that the debt-to-GDP ratio of the Philippines is on a downward trajectory. In 2016, it was recorded at 42.2 percent and is expected to decline gradually to 36.7 percent by 2022.
Figure 1: Debt-to-GDP Ratio of the Philippine Economy (2015 – 2022)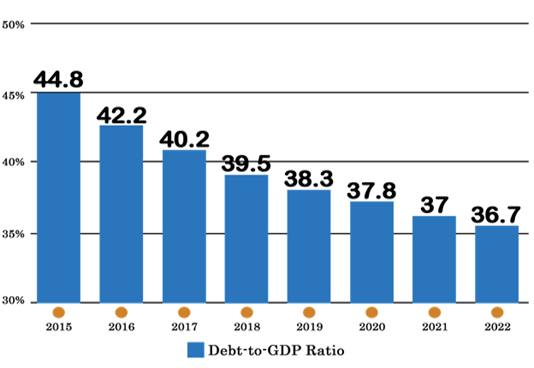 In terms of revenue effort, the Comprehensive Tax Reform Package being sponsored by the Department of Finance (DOF) is expected to bolster revenue collection to 15.3 percent of GDP in 2017 up to 17.7 percent of GDP in 2022 (see Figure 2). Tax reform is expected to net more than P200 billion in revenues annually.
Figure 2: Medium-Term Revenue Program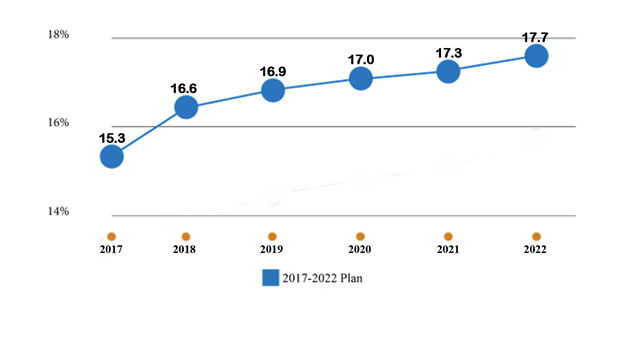 The projected increase in government spending due to the expansionary fiscal program is reflected in the National Budget. For fiscal year 2017, the obligation budget is set at P3.35 trillion, an 11.6 percent increase from 2016. Meanwhile, revenues are slated to reach P2.43 trillion, a 10.5 percent increase, while disbursements are set to reach P2.91 trillion, a 14.1 percent increase. In line with the deficit of 3 percent of GDP, fiscal balance is also projected to be at P482 billion in 2017.
Moving forward, the Development Budget Coordinating Committee (DBCC) has approved a budget ceiling of P3.84 trillion for the 2018 National Budget. This is P490 billion or 14.6 percent higher than the P3.35 trillion budget for the current year. Projections also show that revenues are targeted to reach P2.91 trillion while disbursement levels will increase to P3.44 trillion. Maintaining the deficit level will also translate to a fiscal balance of P532.5 billion.
While the FY 2017 Budget, dubbed as the "Budget for Real Change", is under implementation, the FY 2018 Budget is now being prepared by the Department of Budget and Management and is set to be submitted to Congress before President Duterte delivers his second State of the Nation Address on July 24, 2017
The upward trend in government spending will be sustained in the medium-term, with the obligation budget for 2022 being projected at P5.67 trillion. Likewise, the deficit ceiling of 3 percent of GDP will be maintained so that the budget deficit is projected to be P777 billion in 2022. The projected medium-term fiscal program is summarized in Table 1.
Table 1: Projected Medium-Term Fiscal Program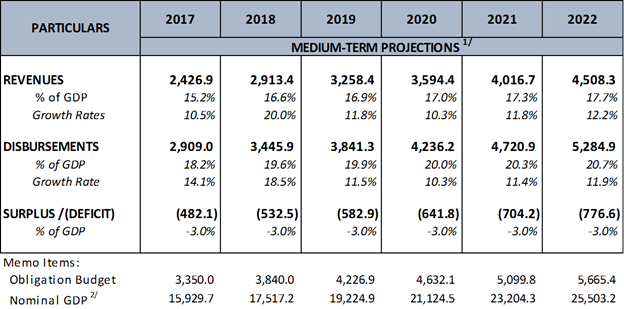 The medium-term fiscal program of the government supports President Rodrigo Duterte's 0-10 Point Socioeconomic Agenda, and is anchored on the Philippine Development Plan of 2017 to 2022.
The Duterte Administration aims to achieve a GDP growth rate of 7 percent in the medium-term, pushing the Philippine economy to high-middle income status by 2022.
More importantly, the government aims to bring down the poverty rate by 1.25 to 1.5 percentage points annually, bringing down poverty incidence to 13 to 15 percent by 2022.
For more information on the 2017 National Budget and the Department of Budget and Management, visit
www.dbm.gov.ph
.