Notice of Cash Allocation (NCA) releases amounted to PhP 622.4 billion in the first quarter of 2019. Of this amount, PhP 614.6 billion have been utilized which translates to a utilization rate of 98.75%.
NCAs refer to disbursement authorities issued by the Department of Budget and Management to government servicing banks (i.e. Development Bank of the Philippines, Land Bank of the Philippines, and Philippine Veterans Bank) to cover the cash requirements of agencies' programs, activities, and projects.
With regard to the line agencies, NCA releases totalled PhP 463 billion while utilization reached PhP 455.3 billion. This implies a utilization rate of 98.33%.
Meanwhile, the NCA utilization rate of the PhP 159.3 billion that were released from Special Purpose Funds for the quarter almost hit 100%.
NCAs are valid up to the last working day of the quarter covered.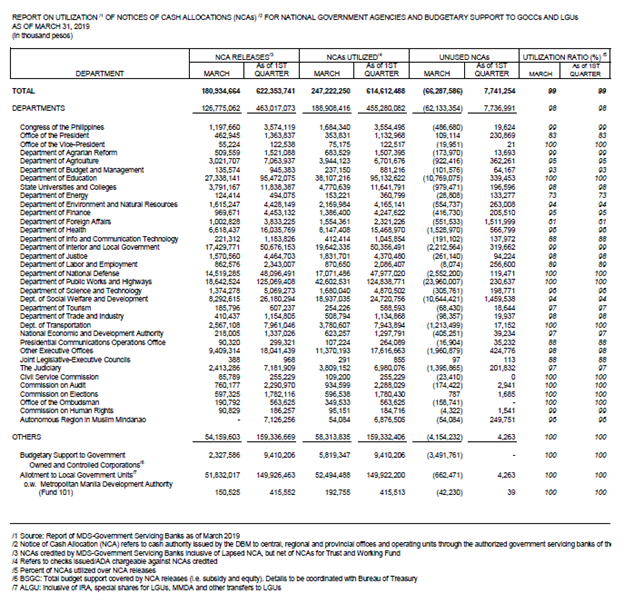 (30)
For inquiries, further questions and requests for interview, please contact Jonathan Vegamora:
Email:

This email address is being protected from spambots. You need JavaScript enabled to view it.


Telephone: (+632)-735-4847