"In the medium term, the Philippines will remain to be one of the fastest growing economies in the fastest growing region, that is the ASEAN region, in the world. In the next four years, we expect the economy to grow at 7-8 percent. We are confident that the growth target is attainable in the medium term, especially with the key structural reforms and expansionary fiscal program that the Duterte administration has adopted," Secretary Diokno said in a forum sponsored by the European Chamber of Commerce of the Philippines held on January 30, 2019 at the Makati Shangri-La.
With an audience comprised mostly of entrepreneurs and business leaders from various countries, Secretary Diokno allayed fears arising from speculations on the Philippines' political and economic climate. He reiterated that the country is still on track with its growth targets, given the large inflow of foreign direct investments and the country's sound macroeconomic fundamentals.
GDP growth is expected to reach 7.0% in 2019, with the transitory inflationary impact of the tax reform already stabilizing.
The Philippines has also made headway in the capital markets. With an offering of USD 1.5 billion of 10-year Global Bonds, the country has successfully returned to international capital markets. "Last year, we have also returned to the public Samurai market, issuing Samurai bonds on a stand-alone basis amounting to JPY 154.2 billion (approximately USD 1.4 Billion) in a multi-tranche transaction after an 8-year break," Sec. Diokno added.
"The Philippines is also the first ASEAN sovereign to issue Panda bonds. The government's inaugural issue of renminbi-denominated bonds, or Panda bonds, amounting to RMB 1.46 B (or USD 216.4 M) was warmly received by the Chinese and other offshore markets," he also noted.
These bond offerings show the Duterte administration's commitment to fund public investments in infrastructure development, which is crucial in maintaining the country's economic growth momentum. Notably, infrastructure appropriations will reach as high as P1.8 Trillion or 7.0% of GDP by 2022, in line with the Duterte administration's ambitious Build Build Build program.
Secretary Diokno highlighted the Duterte administration's impressive spending performance in its first two years in office. "Compared to previous administrations, Duterte hit the ground running in his first two years in office. Delivering on his promise to accelerate infrastructure development, infrastructure outlays as percent of GDP recorded a staggering 6.3% from 2017 to 2018," he explained.
"Government spending for social services peaked at 8.5% of GDP in 2017 and 8.2% in 2018, as compared with the past 32 years. This is proof of our commitment to accelerate human capital development," Secretary Diokno added.
Also, Secretary Diokno emphasized how the various budget reforms introduced on his watch, particularly the shift to an annual cash-based budget has not only diminished, but totally eliminated underspending. "As of the third quarter of 2018, actual government expenditures have exceeded programmed expenditures by 2.6%. We are even slightly overspending. This is because we frontloaded our projects during the dry months (January to June) because these are the best months to undertake projects," Secretary Diokno said.
"President Duterte, compared to past presidents in recent Philippine history, hit the ground running. Infrastructure spending during his first two full years, both in terms of its share of the budget and as percent of GDP, hit record high. Spending for social services – education, health care, and social protection – has reached new heights too," Secretary Diokno emphasized.
"So take my word for it: the Philippines will be Asia's next success story," he concluded.
Figure 1 - Infrastructure outlays average per administration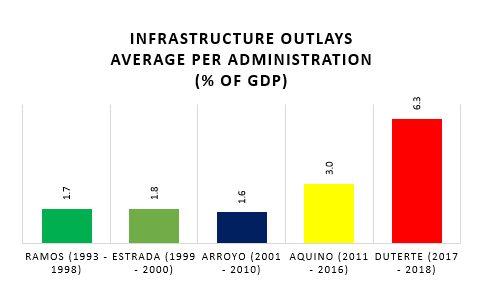 Figure 2 -Spending on Social Services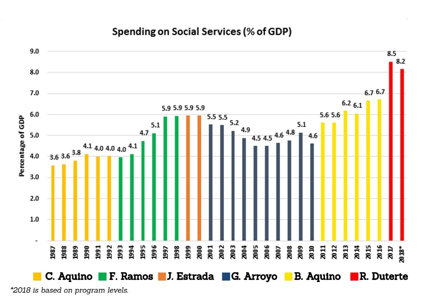 For inquiries, further questions and requests for interview, please contact Marianne Ongjuco:
Email:

This email address is being protected from spambots. You need JavaScript enabled to view it.
Telephone: (+632)-735-4847