The Department of Budget and Management (DBM) shares the concern of experts and observers that fiscal discipline will be crucial in putting in place a vibrant and inclusive economy.
With this in mind, the DBM would like to clarify certain issues raised by Mr. Prinz Magtulis in an article published in the Financial Times last January 21, 2019 entitled "Philippines risks return to profligate fiscal past".
Investing on the right priorities: infrastructure and human capital
The expansionary fiscal policy of the Duterte administration is anchored on the need to invest heavily in public infrastructure and human capital development. This will unleash the potential of the Philippine economy and put it on a path of sustained growth.
In the 50 years prior to the term of President Duterte, the Philippines only spent 2.6% of Gross Domestic Product (GDP) annually for public infrastructure. The dismal rate of public investment has led to a huge infrastructure gap and an uncompetitive economy.
The Duterte administration has responded with its Build Build Build program to modernize Philippine infrastructure giving a boost to infrastructure modernization. Infrastructure outlays as percentage of GDP is on pace to hit 6.3% in the first two years of President Duterte, two to three times the rate of infrastructure investment of past presidents in recent Philippine history.
Figure 1: Infrastructure outlays across administrations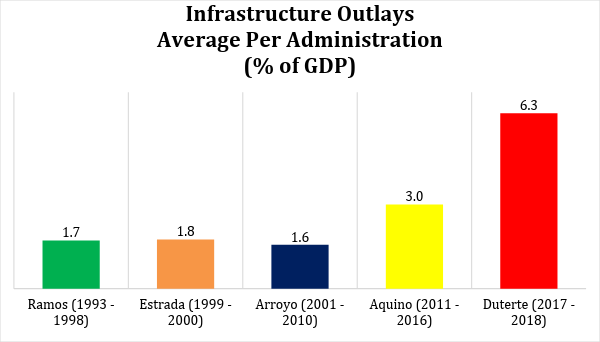 On investment in human capital, the Duterte administration has also delivered. Spending on social services -- education, healthcare, social protection, poverty-reduction -- is higher than ever at 8.4% of GDP from about 6% in the previous administration. This will be sustained and ramped up further from 2019 to 2022.
This is also validated by data on the share of social services in the total national budget. In the first two years of President Duterte, spending on social services accounted for about 40% of the budget, aided by higher fiscal space and lower debt burden. Human resource development is crucial for the Philippines, considering we have a young and growing population, whose median age is 24 years.
Figure 2: Spending on Social Services as percentage of GDP
Figure 3: Spending on Social Services as share of the Budget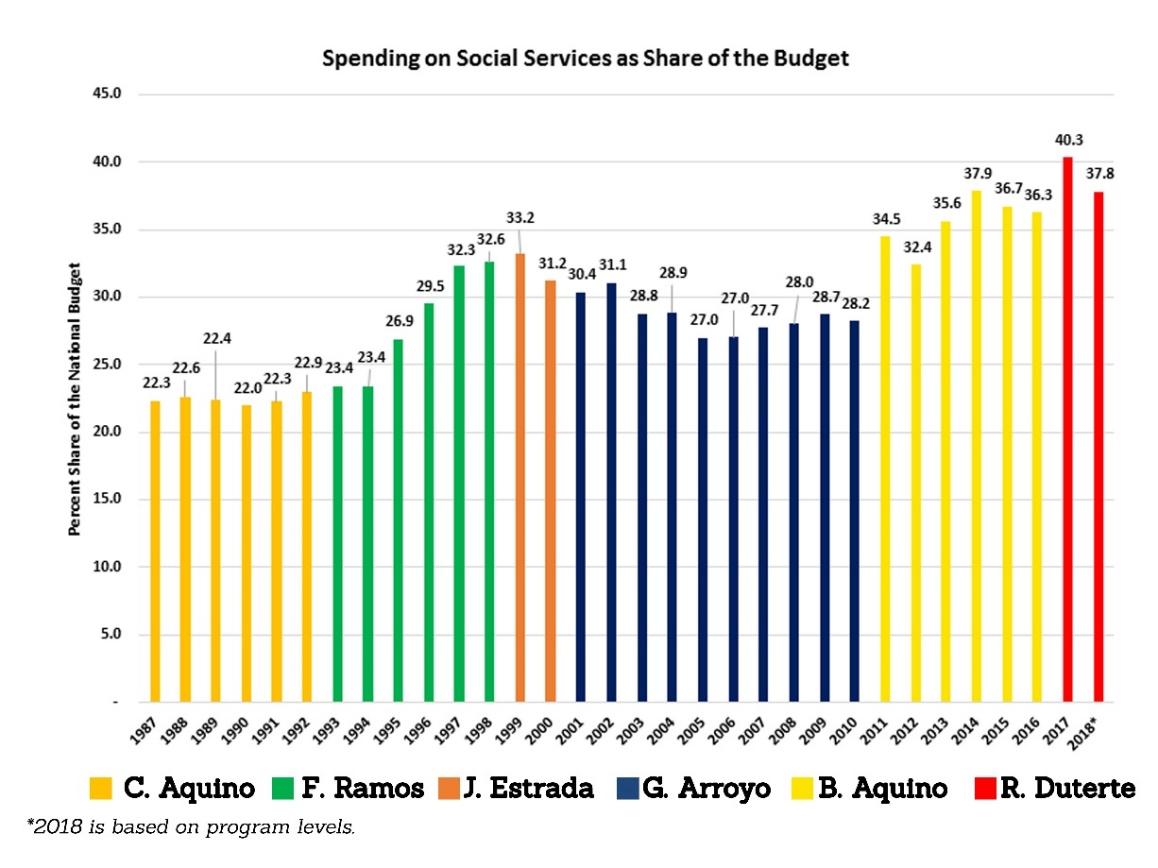 Ensuring fiscal discipline
Granted the huge investments on infrastructure and social services, the government is not sacrificing fiscal prudence to meet its objectives. After all, we do not desire a return to old boom-bust cycles that characterized the Philippine economy.
First, there will be no "return to the bad old days when government spending sprees undermined the country's creditworthiness" as Mr. Magtulis proclaims in his article. The emerging 2018 figure on the deficit is 3.1% of GDP, practically equal to the program of 3.0% of GDP.
If anything, this demonstrates the newfound capacity of the bureaucracy to utilize available resources. This is in contrast with the previous administration, which consistently missed, and by a wide margin, its spending and deficit targets. Truth be told, the Build Build Build program should have happened in the previous administration when interest rates were rock-bottom as a result of the global recession.
In recent years. Infrastructure outlays far and away outpace the deficit as percentage of GDP. This is in sharp contrast with the fiscal behavior in recent Philippine history where the deficit-to-GDP ratio exceeded the infrastructure spending as percent of GDP. In short, total revenues were not enough to cover current expenses.
Figure 4: Infrastructure Outlays vs Deficit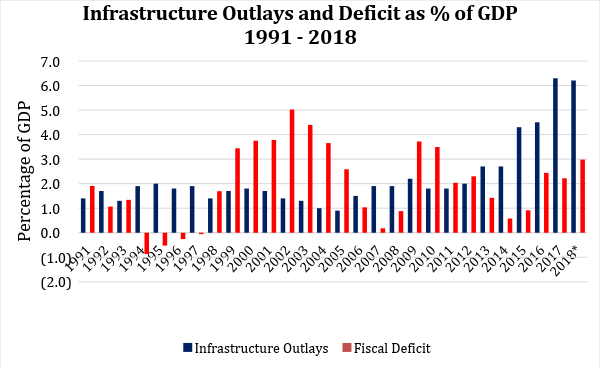 On the revenue front, actual revenue intake has also exceeded the program by 4.0% in the first nine months of 2018. Revenue collection is also up by 16.4%, year-on-year, in the first eleven months of 2018. The Comprehensive Tax Reform Program is ongoing, with the other packages already approved by the House of Representatives. This will not only raise sufficient revenues, but also implement a simpler, fairer, and more efficient tax system.

With tax policy reforms and improved tax administration, we project the revenue effort, defined as revenue collection as percentage of GDP, to increase from 15.7% in 2017 to 17.5% in 2022.
Next, as claimed by Mr. Magtulis: "the government's problem is that its deficit projections to 2021 are based on overly ambitious growth targets." This is false. The deficit and growth projections/targets are constantly evolving, subject to review by the Development Budget Coordination Committee (DBCC). The said body regularly convenes to set and monitor the macroeconomic and fiscal parameters to be followed by the national budget.
Lastly, Mr. Magtulis states that "the Duterte team has been keen to maintain Mr Aquino's fiscal legacy". This is again false. First, Mr. Aquino was known for underspending; Mr. Duterte has significantly cut underspending and was in fact, as of the third quarter of 2018, slightly overspending. Second, Mr. Aquino's fiscal policy was contraction. By contrast, Mr. Duterte's fiscal policy is expansionary, with a deficit-to-GDP target of 3.0 percent and aided by tax reform and improved tax administration. Third, Mr. Aquino's infrastructure spending as percent of GDP averaged 3.0%. By contrast, Mr. Duterte's numbers are more than twice that.
Moving forward, the economic managers will continue to exercise fiscal prudence in steering the Philippine economy to greater heights.
(30)
For inquiries, further questions and requests for interview, please contact Marianne Ongjuco:
Email:

This email address is being protected from spambots. You need JavaScript enabled to view it.


Telephone: (+632)-735-4847