In the latest edition of his weekly press conference, Breakfast with Ben, DBM Secretary Benjamin Diokno presented historical data on agriculture spending to show that it is not the main predictor for the productivity performance of the sector.
This comes after the agriculture sector posted a full-year growth rate of 0.78% in 2018, earning the label "laggard sector" from the government's economic managers.
According to Secretary Diokno, historical data shows that agriculture spending as a share of the total national budget is consistently flat, but the trend in agricultural productivity paints a more volatile picture (See Table 1). This shows that factors other than spending gravely affect agricultural output growth.
This is also validated by data comparing the sector's growth rates with government expenditure in agriculture expressed as share of Gross Domestic Product (GDP). Again, spending has remained fairly constant, while growth has been oscillating (see Table 2).
One striking example of this is the spike in productivity from -6.97% in 1998 to 9.65% in 1999, despite a mere 0.17% increase in agricultural spending. This happened within former President Joseph Estrada's first full year in office. The opposite is observed from the years 2007 to 2010. In this time period, sharp dips in productivity were recorded from year to year, despite registering a stable share in the budget at around 3.5%.
"The performance of the sector has little to do with their budget, and has everything to do with policy strategy and implementation," Secretary Diokno explained.
Historical data shows that agriculture has the potential to grow at 4 percent and beyond, as demonstrated by the Estrada and Arroyo administrations.
"We can do much, much better," Secretary Diokno said. "But we will not do that by arbitrarily increasing [the agriculture agencies'] budgets."
According to Secretary Diokno, the declining budget of the agriculture department in recent years is sufficiently explained by their spending performance in years prior.
In 2017 and 2018, the Department of Agriculture posted disbursement rates at 55.1% and 66.2%, respectively.
Finally, the budget chief assured that the budget proposed for the Department of Agriculture is justified, despite the decrease from P55.7 billion in 2018 to P49.8 billion in the 2019 proposed budget.
"In general, reductions in the budget of various agencies will be explained by our shift to cash-based budgeting. But for DA, specifically, you will find that a number of subsidy programs have received significantly less funding because of the DA's strategy to focus on credit instead of subsidy," Secretary Diokno disclosed.
Table 1. Agriculture Spending as share of total budget vis-a-vis Agricultural Growth Rate, from 2008-2019.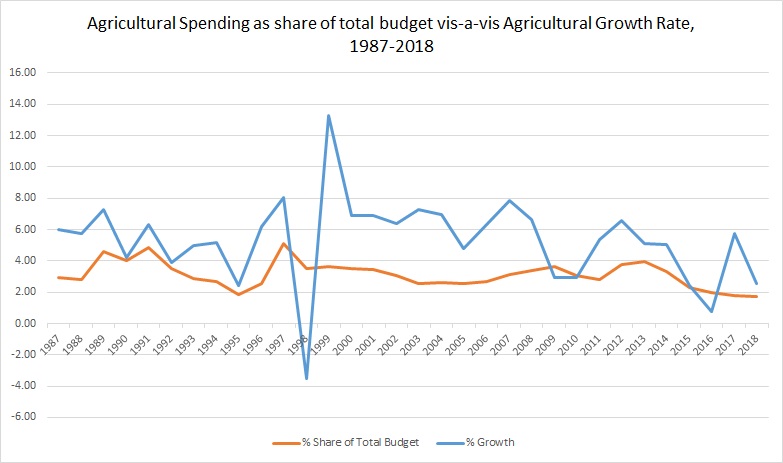 Table 2. Agriculture Spending as share of GDP vis-a-vis Agricultural Growth Rate, from 2008-2019.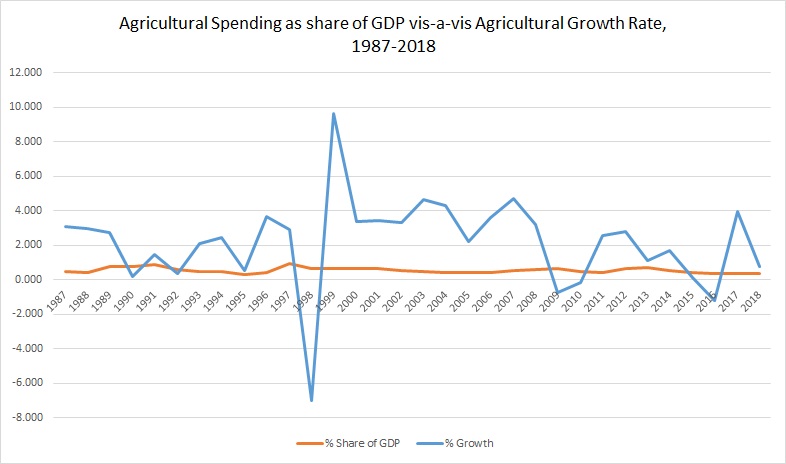 (30)
For inquiries, further questions and requests for interview, please contact Marianne Ongjuco:
Email:

This email address is being protected from spambots. You need JavaScript enabled to view it.


Telephone: (+632)-735-4847