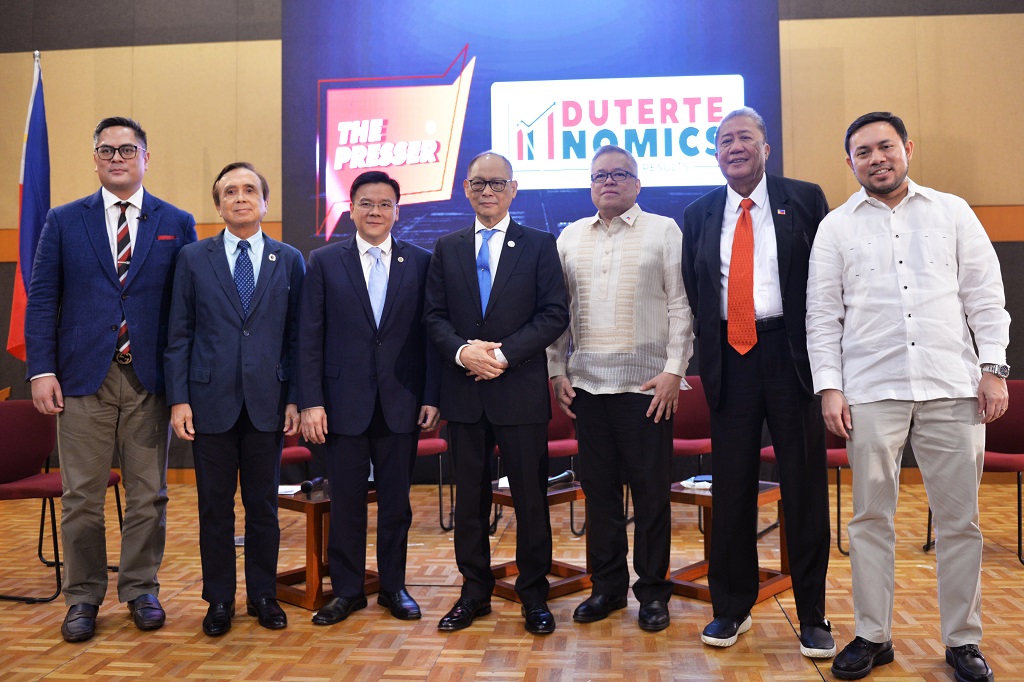 Budget Secretary Benjamin Diokno (Center) is joined by Communications Secretary Martin Andanar, Planning Secretary Ernesto Pernia, Finance Assistant Secretary Tony Lambino, Trade and Industry Secretary Ramon Lopez, Transportation Secretary Arthur Tugade, and Public Works Secretary Mark Villar (Left to Right)
In the DuterteNomics 2.0 forum held on January 28, 2019 at the Philippine International Convention Center (PICC) in Pasay City, Secretary Benjamin E. Diokno outlined the accomplishments of the Department of Budget and Management (DBM) in 2018 and discussed the strong economic performance of the Duterte administration thus far.
Secretary Diokno joined fellow economic managers and infrastructure secretaries in explaining to members of the media the economic reforms initiated by the government and progress of the Build Build Build program.
In his presentation, the Budget Secretary emphasized that "Build Build Build is not only a press release, but in fact, a reality." Spending data from January to November 2018 shows that disbursements for infrastructure and other capital outlays already reached PhP 728.1 billion, higher by 50% from the same period in 2017. This brings the Philippines closer to its goal of spending at least 5% of Gross Domestic Product (GDP) for public infrastructure.
On economic performance, Secretary Diokno explained that the Duterte administration compares favorably to other administrations in terms of public construction and economic growth in the first two years in office. "Public policy works with a lag. Hence, looking at the first two full years in office will give us a better picture of the economic performance by any administration," said the Budget Chief.
"There is usually a sharp decline in public construction during the first two years of an administration. However, under Duterte's watch there was no such contraction in public construction," said Secretary Diokno. "In fact, it even posted a 12.7% increase in his first full-year, followed by an even more impressive 21.2% growth in his second year," he added.
The same trend is observable in economic growth as the Duterte administration posted the highest growth in the first two years in office since President Corazon Aquino. "In 2017, the first full-year in office of President Duterte, real Gross Domestic Product (GDP) growth reached 6.7%. This was followed by 6.2% GDP growth in 2018, making the Philippines one of the fastest-growing economies in the fastest-region in the world [the ASEAN region]," said Secretary Diokno.
"In short, where others fail, President Duterte hit the ground running. This strong economic performance can be attributed to; first, closer link between the budget and the plan; second, the adoption of budget and procurement reforms which put pressure on the bureaucracy to deliver public goods and services quicker and more efficiently; and third, strong political leadership," Secretary Diokno concluded.
(30)
For inquiries, further questions and requests for interview, please contact Marianne Ongjuco:
Email:

This email address is being protected from spambots. You need JavaScript enabled to view it.


Telephone: (+632)-735-4847