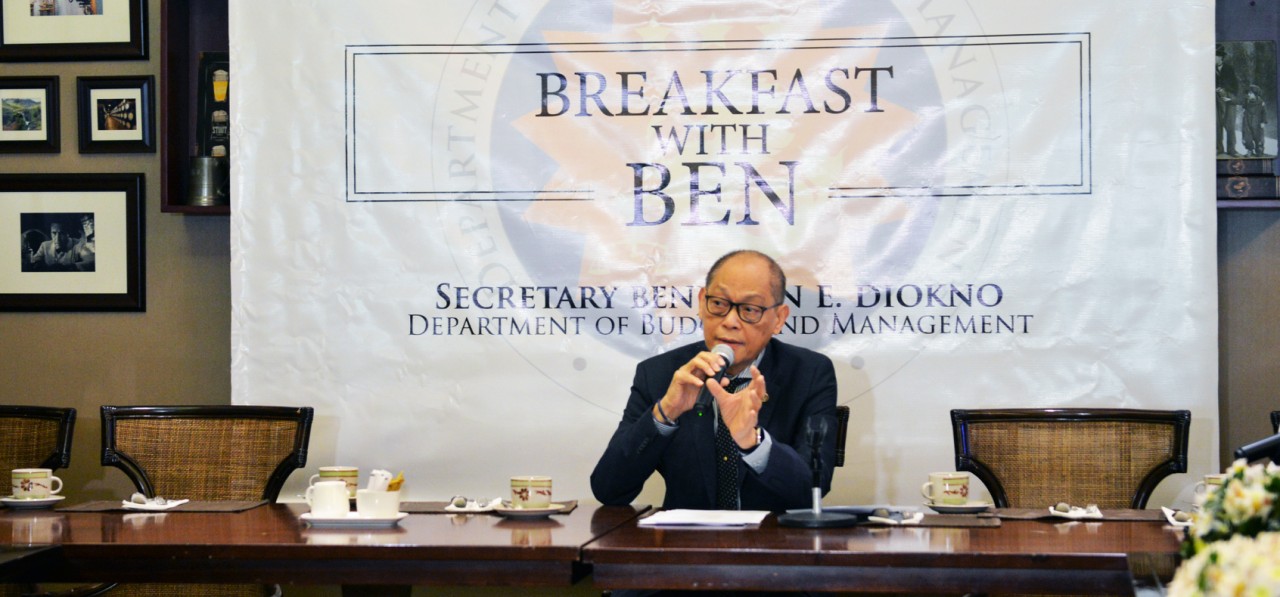 Infrastructure spending surged to 6.3% of GDP in 2017 and is projected to hit 6.2% of GDP in 2018, almost tripling the average of 2% of GDP spent from 1986 to 2016. This is in line with the Duterte administration's target of increasing infrastructure spending to more than 7.0% of GDP by 2022.
Compared to the initial two years of every president when he or she was still learning the ropes of the presidency, President Duterte has shown a much better job than his peers.
This fast-tracked spending performance addresses the country's underinvestment in infrastructure, which has severely dragged the Philippines' economic performances in the past.
Infrastructure Spending as % of GDP

(first two years of each administration)

Ramos

Estrada

Arroyo

B. Aquino

Duterte

1993

1.3

1998

1.4

2001

1.7

2011

1.8

2017

6.3

1994

1.9

1999

1.7

2002

1.4

2012

2.0

2018

6.2
*Infrastructure Outlays are based on actual obligations from 1993 to 2017, and program obligations in 2018.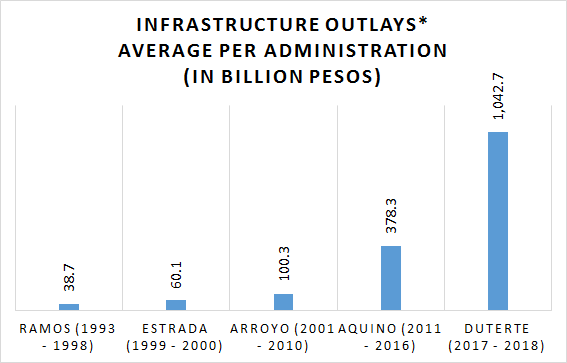 *Infrastructure Outlays are based on actual obligations from 1993 to 2017, and program obligations in 2018.
Notably, according to latest data on government disbursements, infrastructure also remains as one of the primary spending drivers as of November 2018. Year-to-date actual disbursements also stand at Php 3.1 Trillion, increasing the likelihood of zero underspending for 2018.
Years of past neglect through meager spending and fiscal conservatism has resulted to substandard infrastructure and poorer quality of life. Not surprisingly, the Philippines lags behind its ASEAN-5 peers in terms of the quality of its overall infrastructure. The Philippines' overall infrastructure rank has sharply fallen from 94th in 2009 to 112th in 2017.
With subpar road networks and transport systems, traffic congestion in Metro Manila alone costs as high as Php 3.5 Billion daily, according to recent JICA estimates. This does not even reflect the social cost to the health and well-being of commuters.
With the Build Build Build program in full swing, infrastructure outlays are expected to increase from 4.7% in 2019 to 7.0% in 2022. So far, 44 out of the 75 major projects have already began implementation. And this year, the Php 356 Billion Metro Manila Subway Project, the Philippines' first-ever subway system, will commence construction.
Past neglect may no longer be corrected, but through Build Build Build and this renewed interest in infrastructure, things are definitely looking up as the Philippines continues to surge as the fastest growing economy in the fastest growing region in the world.
Below are updates on selected Build Build Build projects:
METRO RAIL TRANSIT (MRT) LINE 7
MRT Line 7 is a 22-km rail line that will connect Quezon City to San Jose, del Monte Bulacan. The manufacturing of the 108 rolling stocks in progress. At present there are 5 train sets completed, equivalent to 15 cars. This project is 35% complete as of November 2018.
  The Project involves the financing, design, construction, testing, commissioning, and O&M of an integrated transportation system consisting 6-lane Highway between the North Luzon Expressway (NLEX) and Intermodal Transportation Terminal (ITT), 22 km rail transit from North Avenue EDSA to San Jose Del Monte Bulacan with 14 Stations and Joint Station of LRT Line 1 and MRT Line 3 along North EDSA.
Once operational, the new train system is expected to accommodate an estimated 420,000 passengers a day.
The road component will divert northern provincial buses operation to San Jose, Del Monte, thereby decongesting EDSA.
The project costs Php 70.84 billion (US$1.37 billion), and is targeted to be completed and operational by 2020.
LRT LINE 2 EAST (MASINAG) EXTENSION PROJECT
LRT Line 2 East Extension is a 4-km extension of the existing LRT-2 line. Two stations will be added: the Emerald Station in Cainta and Masinag Station in Antipolo. The project will reduce travel time from Manila to Antipolo from 3 hours to 30-40 minutes.
The viaduct is completed. On-going construction of station is at 56.49% complete as of November 2018.
The project is estimated to cost Php 9.5 billion (US$ 184.5 million), funded through the GAA and Japanese ODA. The start of operations is targeted in 2020.
MINDANAO RAILWAY PROJECT
The Mindanao Railway will link together Davao City and Digos in the south, and Kabacan and Cotabato City in the west with Iligan City, Laguindingan and Cagayan de Oro in the north, and Butuan and Tagum in the east, in a continuous chain of rail tracks totaling a distance of 830 kilometers. Aside from this, spur lines will link the northeastern part of Mindanao from Surigao to the main tracks of Butuan and the southern part from Gen San to the main tracks of Kabacan, the northwest from Dipolog to the spur lines of southwest, from Zamboanga City to the main tracks of Iligan City, with a total distance of 1,532 kilometers.
The Tagum-Davao-Digos segment will run from Tagum City, Davao del Norte to Digos City, Davao del Sur. This will form the first phase of the proposed 830km Mindanao loop. This will reduce the usual 3.5 hour commute to 2.2 hours. The project is currently in the project development stage, and it is estimated to cost around 31.5 billion pesos for the Tagum-Davao-Digos segment alone.
NLEX HARBOR LINK SEGMENT 10
NLEX Harbor Link Segment 10 is an 8.18-km elevated expressway connecting McArthur Highway, Valenzuela and R-10, Navotas City that will utilize the existing PNR Railroad tracks and will traverse the C-3 Road in Caloocan City & Navotas City. The project costs Php 15.55 Billion, and is already 85% complete as of December 2018.
The project is seen to significantly reduce travel time from Valenzuela City to Caloocan City will be cut from 1 hour to 10 mins.
NEW CLARK CITY
The New Clark City is a 9,450-hectare master planned economic zone designed to be the Philippines' largest and first smart, green, disaster-resilient city. It is envisioned to sustain momentum of economic growth in the Philippines.
It includes a National Government Administrative Center, world-class sports facilities (Stadium, Athletes' Village, Aquatics Center), government housing, medical and commercial facilities, among other services.
It is estimated to cost P607 B (USD 11.8 B) for PHASE I, which includes the construction of sports facilities, the construction of government office buildings and housing units, and the putting up of adjacent small-scale retail and services facilities (e.g. banks, hotels, health centers). However, it will be a Public-Private Partnership with the BCDA having minor equity.
The athletic facilities will be ready by October 2019, in time for the Southeast Asian Games (SEA Games).
NEW BOHOL PANGLAO AIRPORT
Dubbed as the Green Gateway to the World, the Panglao Airport will be the country's first eco-airport and is expected to be the highest standards of green and sustainable structure.
The Panglao Airport, which costs Php7.73 billion (US$150 million) is already operational as of November 2018.
The Panglao Airport can accommodate 2 million passengers annually more than double the capacity of the Tagbilaran Airport.
Selected DPWH Completed Projects
The DPWH was able to complete 8,598 projects as of December 31, 2018. Ongoing nationwide project components total 24,000.
Some of the completed projects include the following:
Upgrading of damaged paved roads Tagaytay-Laguna via Calamba Road

Construction of Flood Mitigation Structure -Construction of Sipa Flood Control Structure Along Apayao River

Construction of Water Supply Systems -Construction/Rehabilitation of Can-eo Water Works, Can-eo, Bontoc, Mountain Province

Road improvement of Soliven St. Brgy. Commonwealth, QC

Preventive Maintenance of Commonwealth Avenue

Construction of Flood Control along Cabugao Rover, Baclig, Cabugao, Ilocos Sur

Construction of By-Pass and Diversion Roads, Surigao del Sur

Asset Preservation- Preventive Maintenance - Secondary Roads along Davao - Sarangani Coastal Road

Rehab/Improvement of Flood Control Wall along Binahaan River, Tanauan, Leyte

Asset Preservation/Rehabilitation/Reconstruction/Upgrading of damaged Paved Roads: Tertiary Roads, Bacon Sawanga-Pto. Diaz Road, Sorsogon
(30)
PR No. 2019-6
For inquiries, further questions and requests for interview, please contact Marianne Ongjuco:
Email:

This email address is being protected from spambots. You need JavaScript enabled to view it.


Telephone: (+632)-735-4847